February 2, 2008 at 8:11 am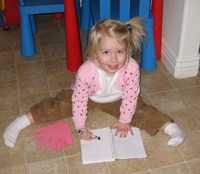 Our beloved TV broke on Thursday.  While I'm sure it's a blessing, it is mostly missed at 6 AM when Maddie wakes up.  It got me thinking about new games to play with Maddie.  We've been taking Maddie's favorite shows and making a real live game with them!  Here are some examples…
Mommy's Clues – This is a take off of Blue's Clues.  Outline your hand on some colored paper or card stock and place them around the house.  Give your child a handy dandy notebook and start looking for clues!  They could lead to "What is Mommy Making for Lunch" or "Where are we Going to Go Today".  Get creative! 
Wonder Pets – Take a stuffed animal and put it in "trouble".  You can place it too high or stuck in a cupboard, or even in the bathtub with some pretend water.  You and your kids put on some capes and use teamwork to get the animal unstuck. 
Mickey Mouse Clubhouse – First decide what problem you want to "solve" then cut a Mickey head out of construction paper for Toodles.  Draw the tools you are going to need to solve the problem.  Such as (I giggle every time I say that phrase…comment if you know why) If you need to find shoes so you can go outside to play, you could have a flashlight (to look in a dark closet).  Solve the problem and don't forget to do the Hot Dog Dance!
These are just a few examples… get creative with your kids' favorite shows!  Oh, and for the older kids, here's a couple to get your mind started…
Hannah Montana – Have your little girl pretend she is a rock star in disguise!  Make sure she puts on a concert for you too! 
Transformers – Have your little boy pretend his is a Transformer looking for the Allspark (Rubix Cube).  Hide it in your house somewhere, and transform back and forth from cars to robots until you find it!
Have fun playing inside with your kids this winter!