January 5, 2011 at 8:15 am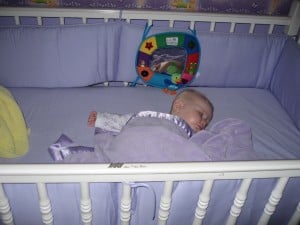 I was having a conversation with my Sister the other day about "nature vs. nurture".  I have always been VERY strict about my children's bedtimes.  On most nights they are both sound asleep by about 7:30 PM.  I've been SLIGHTLY lax this last month because it's been a super hectic month, but it would be a very rare occasion if my children weren't in bed by the LATEST 8:30 PM.  Granted, they are early risers.  Especially my daughter, who rarely sleeps past 6:30 AM. 
The question I'm asking though, is I hear of people who say their kids would never be able to go down that early.  I say "why not?".  I see families out and about at the grocery store, at the restaurant with very young children at 9:30 PM at night.  This may not be a popular opinion, but I always think to myself… get those kids in BED! 
Here is the trick to getting kids to sleep at a reasonable hour (and I warn you, they will wake up earlier, so be prepared for that… I'm naturally an early bird anyway, so I would much rather have an evening alone with my husband then to sleep in.) 
Consistency – This is the most important part.  If you want them to be tired at a certain time, you need to get them to go to sleep at that same time EVERY NIGHT.  Otherwise they won't be tired at the correct time.  It's like when you have jet lag.  It's weird the first couple of days until your body adjusts and then you are tired at the correct time again.
Have a Routine – If you are going to be putting your young children to bed without a fuss, you need to have a set routine that you do every night.  They know that when you give them a bath, put their jammies on, give them their blankie, and read your stories, and put on the same music, it means bed time.  Just completeing the steps of this bedtime routine will help them start to shut down their body and get sleepy.
Leave when they are Sleepy, Not Asleep – When you leave the room, or put them down when they are just starting to fall asleep, if they wake up an hour later and you aren't there, it won't be such a shock for them.  This also helps them learn that when they are in their bed or in their crib, they can put themselves back to sleep by themselves just fine.
So, please, for your kids sake… put them to sleep early so they aren't tired and cranky during the day.  The bonus for you is a wonderful relaxing evening without kids!