October 13, 2011 at 9:50 am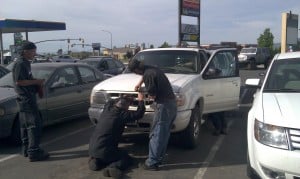 I was so excited this week because, finally, we were going to  be at least a month ahead on all of our bills.  It was going to be so nice to have that little cushion of money in case anything were to happen, we'd have at least a month before we really needed to start worrying.  What happened next?  Well, I'm sure you can relate.  As soon as we were set for an emergency, an "emergency" came up.  We had to take our car in for our registration renewal, and 4 new tires, and some other work later, we're down $1200!  It was definitely a sad day in our house.  I was just so excited to have some extra money, and there it went in a heartbeat!
The good news was that we DID have the money to cover the expense, right?  Even though we aren't a full month ahead in our budget, we aren't behind either.  So there is something to be said about that.  I definitely understand why Dave Ramsey's first step is to set up an emergency fund.  These little expenses that can completely throw off your budget always seem to pop up!  Being prepared for these situations will keep your budget in tact.
While you may not have the money right now to stick $1000 in an emergency fund, you can start working towards it fairly simply…
1. If you have direct deposit from your work, change the deposit amounts so that a set amount of money (whether you can only manage $20/paycheck or if you can do $100/paycheck).  You can set your paycheck to send $20 every check to one bank account, and then the rest to your main checking account.  The best way to do this would be to set the amount to go to a bank account that is not connected to your checking account.  You can create an account at another bank, or just open a new account and don't link them.  This way it's not exactly easy for you to get to your money.
2. If you don't have direct deposit, you can do the same thing, only it is a bit harder when you actually see the money first.  Using the direct deposit, it's just like your check is less, instead of you sending money away.  You can still set up a separate account.  You just have to be a bit more disciplined to get it done.
If you want to keep to a budget, having an emergency fund is essential.  But be warned… as soon as you get that emergency fund funded… you will end up using it.  :(