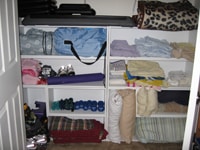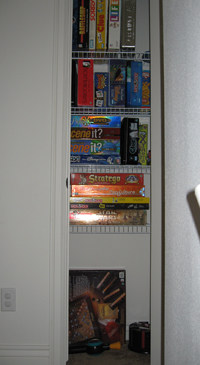 While I have a ginormous pantry that I absolutely adore… my linen closet leaves MUCH to be desired.  The "linen" closet at the top of the stairs isn't even deep enough to hold a regularly folded towel!  How am I supposed to work with this kind of "non-closet" as I call it.  Well, I finally got frustrated enough that I decided to transition the space.  In my office closet we were storing all of our board games, my exercise equipment, wrapping paper accessories, and photographs.  I decided that my "non-closet" could store all our board games, and my office closet could become the linen closet!  It was a wonderful day in my household.  I learned not to resent the "game closet" and I didn't have to fold my towels in some weird messed up way anymore!
So my question to all of you, is there a space in your house that completely frustrates you?  If so, start to think "outside the box" and figure out a better use for the space.  While the closet in my office wasn't frustrating me, it was working just fine with what it had, the "non-closet" bugged me to death!  By switching the functions of each space I now love BOTH spaces not just one of them. 
To help you figure out the best use for your frustrating space ask yourself a few questions.  First what will fit here?  That's how I figured out the "non-closet" was the perfect depth for our games.  If it's an entire room that frustrates you ask yourself what you would enjoy doing in that space.  Is the light just perfect for scrapbooking?  Does your children always play in there anyway?  You could even do double duty in a space.  For example, my office is also a playroom for Maddie.  This way she can play while I work!
Break the mold of what was built to go in certain places in your house, and make your house more functional today!