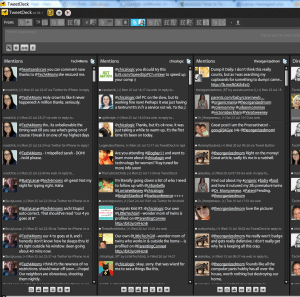 Over on my tech site, I'm talking about "Social Media Overload". With the addition of Google+, many people are feeling a little overwhelmed with the social media options available to them. I'm going to help you streamline the process a bit!
Use ONE tool on your desktop. If you want to keep up with Facebook, and Twitter, and Foursquare, and LinkedIn, and etc and etc, then the best way to do it is installing a tool that will help you either update all of the above at once, or bring all of the content from the individual sites into one nice little interface. On my desktop I love TweetDeck, which is now officially part of Twitter. I can view status updates from all of my Facebook friends, I can add columns for Twitter lists I'm particularly interested in, and I can write one status update and select every service I want it to publish to, and it will go to all of them at once. The other great thing about TweetDeck is that I can post to my various Facebook pages. So I can post a status to my personal Facebook wall, as well as Organized Mom's Facebook wall at the same time. I do this when I have big announcements to make… like the fact that my e-workbook is now also available on Nook and Kindle!
This post may contain affiliate links. As an Amazon Associate I earn from qualifying purchases. For more information, see our disclosure.
Use ONE tool on your mobile device. When you are out and about, it would be a pain to post a picture to your facebook wall, your twitter account, and maybe even one of your Facebook pages. For this I use the Seesmic app. This is the only mobile app I have found that will let me post to my Facebook Pages (such as Organized Mom's Facebook page). Even the true Facebook app won't let you! Tweetdeck also has a mobile app, but again, it will not let you post to your Facebook PAGE (you can post to your regular personal Facebook wall)
Whatever tool you use, pick whichever one works best for you. Some of the other ones are HootSuite, and Pixelpipe. Go forth and be social!