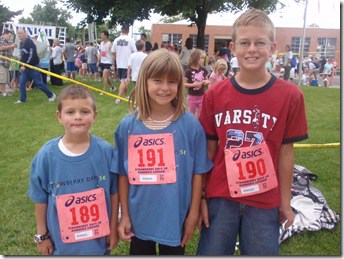 Moms:  Taking care of your bodies is vital if you want to have the energy to take care of your children.  Exercise is a great way to take care of yourselves, and necessary to fit into your busy schedules.  The benefits of exercise include:
Maintaining and building strong bones
Maintaining a healthy weight
Building vital muscle
Keeping you sane! (Seriously, this one is so true.. My husband has been known to say to me on a day when I might be particularly moody.."Did you forget to run today?" To which I snap back with, "I'm NOT MOODY!") LOL
Improves your complexion
Lowers your heart rate
Keeps you "regular"
Allows you to be a good role model!
I'm so passionate about good health, that exercise has always been a priority for me. Because it's a priority, I rarely miss a day of exercise. In the last 13 years, I actually can't think of a day when I didn't exercise.  Every single morning I do something. Whether it's a leisure Sunday morning walk, or a tough 13 mile run, I always do something.  Obviously, it's a habit for me, and can be a habit for you. Here are a few tricks to help jump start your habit.
Do it daily!  This is the biggest obstacle, but the best way to make something a habit.  When people tell me they will commit to exercising 3 times per week, it's too easy for them to say, "If I do it tomorrow, I can still get in three days this week."  It's too easy to fit in excuses.  DAILY on the other hand has no room for procrastination.  Even at 9 months pregnant, I would go for a short 10 minute walk at the same time each morning that I had previously been running.  This kept it a habit for me, although I couldn't really 'workout'.
Get support!  99% of your husbands will be happy to take on daddy duty while you exercise.  Trust me, men like a woman who takes care of her body!  Tell him you are headed out to make yourself hot for him, and he'll smile and watch the kiddos.
Meet someone.  Scheduling your exercise with a friend or trainer is a great way to get yourself out of bed in the morning.
Get enough sleep.  Studies show, the most consistent exercisers are the ones who do it in the morning.   Generally there aren't meetings, sports, or other activities vying for your time in the morning.  If you simply can't get out of bed, you either need to get to bed earlier, or see a doctor about getting more restful sleep.  I'm telling you though, morning is where it's at!  If I have to be somewhere at 6am, I try to get my workout in at 4am!  True! I won't miss it for anything!
So, don't delay. For your own sanity and the health of your family, get some exercise today!