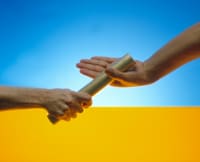 First congrats to the lucky winner of the Taste of Home Cookbook, Emily W!  Random number generator from random.org picked her as the winner! 
A friend in my neighborhood has started a website for the neighborhood for a costume swap for Halloween!  I thought this was a perfect post for today after I heard that.  First, you are getting rid of clutter in your home, which is always a plus.  Second, you can get a costume for free for your children!  Really, it's genius on so many levels.  I've been wondering for a while what I should do with my daughter's old costumes that don't fit anymore.  My first inclination is always to throw it away.  Now I can give it to someone who needs it, and get something I need in return!
A great website for things like this is www.freecycle.org It's a great idea to trade something you don't want anymore for something you need.  On freecycle you don't have to give something too, but a good rule of thumb that I follow is when something new comes in the house something old has to go. 
You can also find/post free things on craigslist.org and usually your local classifieds.  Our local newschannel www.ksl.com has a great classifieds section that is free to post on.  I sold my car in ONE day on KSL. 
Go through your house, find your old Halloween Costumes, and setup your own neighborhood swap!  Good luck!