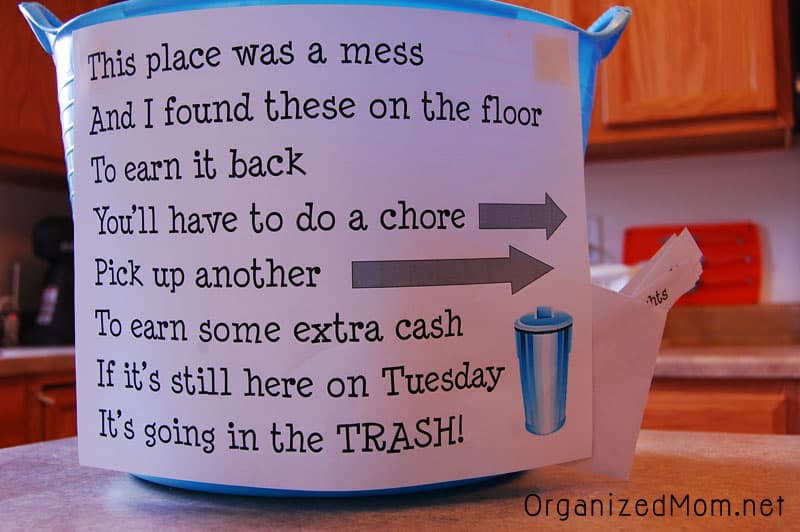 If your kids are anything like mine, they constantly leave things out.  No matter how many times I say "Don't leave your things out" it happens time and time again.  One day I saw something similar to this little project, and I've been meaning to do it for months!
It's finally here, and you can download the files to make your very own HERE.
My rules of the bucket are as follows…
Chores that go in the envelope to choose from should not be chores the children are regularly assigned to do.  If your child already has to unload the dishwasher as part of their daily chores, then do not include that in the group of extra chores to choose from.  These should be EXTRA chores.
FOLLOW THROUGH.  I put Tuesday on the bucket, because our trash gets picked up on Wednesdays.  This way, anything that is left in the bucket on Tuesday night goes in the trash.  It's super important to keep your end of this, otherwise they will never try to earn their stuff back.
As your children get used to the bucket, you should find that they leave stuff out less and less often.  This is when the cash part comes into play.  They can pick a chore out of the envelope at any time to earn a little extra money.  You can set a price on individual chores or a price for any chore in the envelope.
Lastly, the protocol to retrieve an item from the bucket is to pick a chore, go do it, and then turn the slip of paper into Mom or Dad (or guardian).  When you, as the guardian, gets the slip of paper back from the child, go and check their work on the chore, and then give them their item back (or give them the cash).  You can either throw the slip back into the pile (if it's something that needs to be done often) or keep it in another envelope until that chore needs to be done again.
So grab the nearest bin or bucket, print out the list of chores and the poem, and clean your house… your bucket will probably be filled in no time at all.  😉