The dreaded de-cluttering project! Sounds so much easier said than done, right? What's holding you back? Clutter is a battle that has to be faced head-on. Believe me, I have been there too. I don't even care how many years go by, I am never ever getting rid of my daughter's first pink and white sleeper. It doesn't matter that it has been eight years and we are done having kids. I must keep it!
That being said, in order to maintain a semi-organized living space, one must learn to let go. I know it is hard, but think about how much lighter and happier you will feel. You also may discover a few things about yourself in the process.
This post may contain affiliate links. As an Amazon Associate I earn from qualifying purchases. For more information, see our disclosure.
So, let's get started!
1. Find what motivates you
Does the thrill of making a buck or two excite you? In the old days, garage sales were the big thing. Now, online selling is where it's at. Today, you can sell without even leaving the comfort of your own home. Many buy and sell sites, such as OfferUp, are great and easy to use. Chances are, you already have a local group that you belong to on social media. Take advantage! You may find it addicting once you get started. If you are of the charitable type, there are many places to donate. When I was living in a small apartment in NYC, I practically lived at the Salvation Army. As much as I had an attachment to my children's things, I knew that there were other kids who needed the items now. It made me feel good to give back. That was my motivation.
2. Realizing They Are Only Objects/Clothes
Memories are precious and we can't help but associate certain items with them. However, the reality is that the memory does not have to fade just because something gets tossed. In my case, I try and give my kiddos extra hugs and kisses on de-cluttering day, proving that nothing matters more than having them here with me now.
3. Keep a Piece or Two
There is no harm in keeping a special piece for sentimental reasons. I do it all the time! Just make sure one item does not turn into a closet full!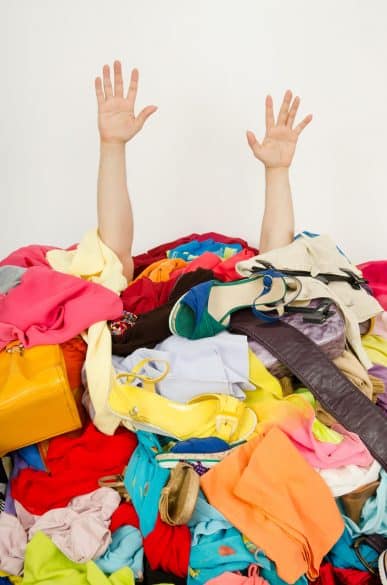 4. Cheat
If you are definitely not ready to part with something, have someone "babysit" it for a while. This is just one of the wonderful things grandparents are good for. Just pass it along to someone trustworthy and "re-visit" it in another month or two. This process provides a tiny bit of help when the emotional pressure gets too much to handle. Chances are, as time goes on, the attachment will fade and you will be able to find a new home for it.
5. Gift it to a family member/friend
This suggestion is great as it is a win/win. For one, that special person in your life gets something they can really use. Also, since you already have a relationship, you can go visit your stuff as often as you like! Family/friend permitting of course! Mostly, seeing someone you love with something so dear to you is a good feeling. Furthermore, you get to witness new memories being made.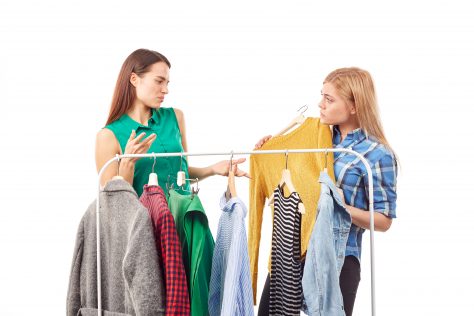 6. Enlist a friend or professional organizer for support
You don't have to go through this alone! Maybe you have a friend that has a knack for de-cluttering and organizing. If money is not an issue, hiring a professional organizer will ease the stress and burden.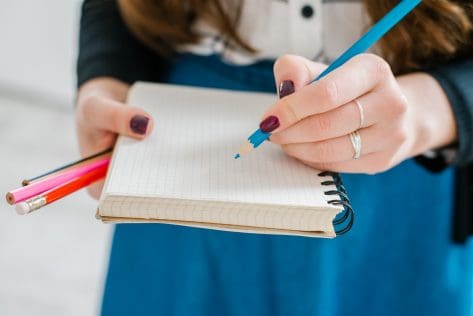 7. Plan ahead
Go through your closets, drawers, and shelves ahead of time in order to help you prepare. Make lists of which rooms and articles that you would like to tackle first. Following this system should make your task an easier one-not to mention that you will be one step ahead in the organization department.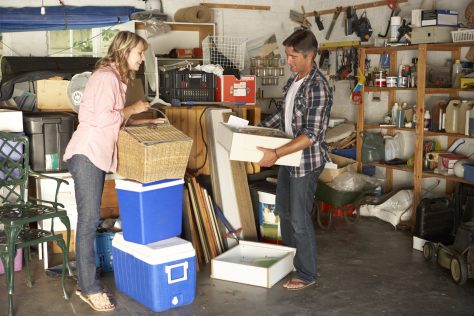 8. Make sure you and your partner are on the same page
De-cluttering projects take a lot of patience and cooperation. If you and your partner are not willing to compromise, it will add unneeded stress. Although it's tricky, it is important to at least discuss beforehand in order to meet somewhere in the middle.
9. Think about how fulfilled you will feel after the project
Recent studies show that clutter in the home can lead to feelings of anxiety and depression. If anything, the act of purging will help you to feel more happy and serene.
So……. what are you waiting for! This is an exciting moment! Why not get started right now? Remember that I will be there with you every step of the way. It will be okay. I promise! Get going and have some fun!
This post was contributed by Kathleen Sullivan.
https://www.facebook.com/Kathleen-Sullivan-Writer-178109662936847/