As you may remember, I posted earlier this year about organizing shoes and jewelry in my master bedroom closet.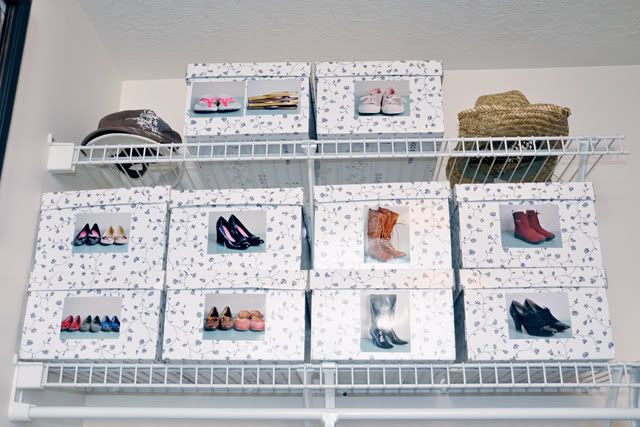 I loved these projects, and they totally helped me keep this little corner of my closet looking tidy.
The problem is… my closet is not just one little tidy corner. It's mostly a whole lotta mess.
In fact, I kinda hate this space and I have been getting increasingly frustrated with the fact I can just Never… Keep… It… Clean.
Ugh!
I hate this mismatched furniture, and I hate that our builder threw in two ginormous clothes rods, but did not install any kind of tiered shelving or drawers.
Oh man, I even hate looking at the pictures!
Our closet is very long and narrow so as you can see this awkward corner has just become dumping grounds.
When it comes to this space, I just have no idea where to begin.  I started by going to Ikea and looked at getting some shelving and better storage. Two problems: The quality was so-so, and nothing there seemed to fit well in this space. I can just imagine myself going to a TON of work bringing shelving home, putting it all together, and then realizing it doesn't fit.
Time to pull out the big guns my friends!
I'm talking a custom closet by a professional.
Wahoo!
My husband and I decided it was time for a real upgrade. We debated over the time and investment, and we both feel really good about the decision as we have both heard that investing in a custom closet actually helps the resale value of your home. Sweet!
For all you locals, I decided to go with Organized Solutions of Utah. I actually met the brother owner duo at a local home show in Salt Lake not to long ag0. These boys were awesome to chat with, and answered a billion questions I had about having a custom closet made. Not only were they very patient with me, the offered to come in and do a free consultation and quote.
Here's basically what I told them I wanted:
-Get rid of the bulky dressers.
-Brighten the space.
-Lots of shelving. And I want them adjustable too!
-One wall left blank so I can add my own personality  with some fun hooks for scarves and jewelry.
-After I empty the closet, I don't want to lift a finger. I most definitely don't want to install anything myself!
-Quick turn around. I don't want to be living out of clothes piled in my bathtub for months.
-I want to know exactly how it is going to look, and I want to be able to make changes to the plans if I don't like them.
That's it!
I know, I know, I am a little bit of a stinker when it comes to obsessive details.

After informing the fab staff at Organized Solutions of Utah what I wanted, I was pleasantly surprised that they totally and positively agreed to my terms.
Suckers!
Kidding.
Mostly.
So last week was the big "consult" day, and two gentlemen showed up at my door ready to measure away. The also brought tons of impressive samples of all the different types of wood and vaneers the closet shelving can be made out of.
Organized Solutions of Utah products are impressively made  in 22 laminate colors and 8 different wood veneer finishes. Nice! I love having lots of choices.
I was so impressed with the samples, I actually begged them to let me take some pictures so you could see them:
I ended up choosing a lovely white that has a really fun wood grain texture to it. I think it will really help brighten my closet and give it a clean seamless feel.
Dude! I am seriously so excited!
After the consulting and measuring appointment, within just a day or two, I was emailed an estimate and provided with several photos showing what my closet would look like.
Okay, I am going to show you the illustrations now. Just know that I cried when I saw them.
Yes, I am serious.
I think I just didn't realize how much I hated my closet until I saw its true potential.
(Ironic how that statement applies with so many things in life, dont'cha think?)
Ready???
Ahhhh! Can you believe that?
Have you ever seen anything so wonderful in your entire life?
I kid you not when I say I am seriously considering moving into this closet. I think I will just curl up on the floor and live there forever.
And install a lock on the door so the kiddos will never ever ever find me again.
Yup, definitely that second part.
After the folks over at Organized Solutions of Utah sends you illustrations they actually encourage you to make any changes you want. Of course I spent hours going over these drawings, but every time I thought about moving something I realized it was already where it needed to be. It made me realize these guys are really good at what they do! Everything I had calculated I needed, like room for shoes, sweaters, and luggage; there was a perfect space already designed for it.
After approving the designs just last week, the shelving was ordered and is scheduled to arrive and be installed in just two days! Talk about a quick turnaround!
I spent a few hours yesterday unloading the closet and am now taking advantage of the opportunity to purge so many unused items that have been stuffed in corners. Nothin' like an upgrade motivating you to get rid of some extra clothes and junk!
I will be taking pictures througout the process and will keep you posted on how it goes with the install.
Or how it goes with me sipping strawberry lemonade on my patio, while someone else builds my dream closet.
Stay tuned!
And for all our fabulous local friends: Organized Solutions of Utah has a wonderful website where you can view photos and samples of closets, pantry's, garages, and more right HERE. I just might have pinned half of them on Pinterest.

Disclaimer: I was not financially compensated for this post, however Organized Solutions has donated their times and services for review purposes. All opinions, and hoarders worthy before photos, are my own.