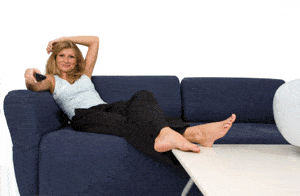 We interrupt our previously scheduled Emergency Preparedness posts to bring you to home theater school.  This is something my husband and I are very passionate about.  WE LOVE watching movies and TV.  So we have a pretty sweet setup.  We were waiting for our free Playstation 3 to come in the mail (gotta love the company my husband works for… and Sony).  It finally came, and my husband was at work.  We have a VERY complicated setup due to all the devices we own, and all by myself I took the whole thing apart and hooked up the Playstation 3.  I still needed a couple of cables, so I couldn't finish till my husband, Trevor, came home with them.  I told him that day… "You are lucky….not many wifes can do that, eh?"  Since I set all of it up except for the missing cables!  I want to empower the rest of my wonderful readers with the knowledge to help in the decisions you make for the media in your home (and maybe even teach your husband a few things), and we'll help you get it all organized in the process, and so my friends I turn my blog over to the VERY capable hands of my wonderful husband, Trevor…
Ladies and Gentlemen:
Who am I kidding……Ladies! Today I felt somewhat inspired to write a bloggity blog blog about the pros and cons of shopping for Home Theater Audio and Video. My name is Trevor Kimmel, and I am the very lucky husband of Sarah who is the beautiful brains behind www.dailyhomeplanner.com and of course, www.organizedmom.net. I currently work for a "big box" retail where I serve as a Manager over the Home Theater department and every day, just about every other customer wants to know what the best is for his/her needs. I want to take this time to take about the different types of televisions out there and also talk about the different things you can hook up to them. The idea came to me while reading one of the many magazines out there about organizing your media (cds, dvds, and video games) and looking for smaller, more compact audio/video components. So, let's talk about organizing first shall we? Sarah and I love movies. We have over 600. I know this, because we log them in a Microsoft Excel spreadsheet. Those are, of course, alphabetized a-z. Our media is also organized via alphabet on the shelves, so finding a title is piece of cake. The one thing that we are so very strict on, is keeping the media in it's case. This can be a big deal. Keeping them in its case will save you money in the future. If they get scratched, you'll end buying another copy of your favorite movie or Van Halen cd. Most customers I know end up buying another dvd player that's higher end thinking that it will help with scratched media. It won't. Plus, if you ever want to sell them on EBay or something, you'll get a higher price for them for the good condition. That being said, avoid using storage sleeves or storage wallets. These ruin the discs! Yes, I know that the sleeves are soft, but so is steel wool. If you love media like we do, you'll find the space. If you refuse to find the space, then maybe you might consider ripping all your movies onto your computer and stream them to your TV. Something like Tivo, Playstation 3, Xbox 360…. Or this:
http://www.bestbuy.com/site/olspage.jsp?skuId=8586041&st=media+center&lp=9&type=product&cp=1&id=1190677231320
Now, down to the good stuff: What to shop for?
Honestly, it's quite simple. From my many years in retail, I've come to learn that everything is based on opinion. Meaning, if you were to go to www.consumerreports.org and read what people have to say about Sony, or Samsung, or Pioneer, you'll learn that everyone there always tends to lean towards one brand or the other. Just about every brand is good. Really. The top 4 best selling brands of LCD televisions are Sony, Samsung, Vizio (sold at Costco, WalMart) and Insignia (sold at Best Buy). I guess what I'm trying to say is compare a Honda or Mazda to a BMW or Mercedes. Personally, I think they are all great cars; the last two brands just have a little something more. Next week we'll break down the differences of televisions out there… So stay tuned!!