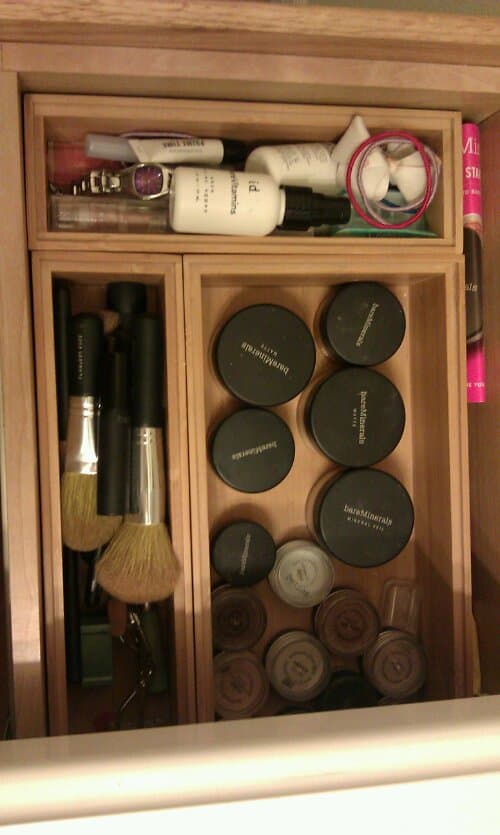 Since it was a holiday weekend, that was packed with activities, I decided to tackle a very small weekend project.  These are also projects that need to get done, so when you don't have a ton of time during the weekend, small projects like this one are perfect!  Also, I swear I wasn't just making excuses to NOT do the box o' weeds in the yard… I swear!
My mission was to get my makeup drawer in order.  If you caught my Dump it Daily post on our Facebook page you know I got rid of a Caboodle makeup organizer.  What does NOT work about this organizer is the fact that I had to store it under the sink, then pull it out and open it whenever I wanted to get to my makeup.  If it's difficult to get out, I won't use it, if it's difficult to put away, I won't put it away.  That's just facts.  Make it easy to get to and put away if you use it often.
Hence this fantastic set up in my makeup drawer!  We got a few dividers, you can find them pretty much anywhere, and now all of my items are nicely separated and I can find exactly what I need quickly and easily.
All of the brushes are together, along with my eyeliner and lip liner, all of my powder's (blush, face, eyes, etc) are together and very easily accessible, and then the other things I use, hair bands, a couple of lotions I use daily and my watch.
The key here is also that I only have exactly what I use.  Our fan Rebecca wrote on our Facebook wall this, and I just could not agree more (especially love the last sentence!)
Rebecca Smith I sell AVON—and believe it or not all I have is one quite small make-up bag.  If I find a new product that I like, I get rid of the product that it is replacing once I use that one up.  If the old product just sucks I ditch it.  No sense keeping your "Wet n' Wild" make-up from K-Mart in high school!  Are you really going to have a day that you feel THAT wild?
Thanks for the tip Rebecca!  I completely agree.  As soon as you find the perfect shades, ditch your old stuff!
Also, I forgot to take a before picture, but it was definitely not as pretty.  🙂