Few things in our lives rack up as many miles in terms of use as our cars. The majority of people are in and out of their car at least a couple of times every day. And during all that driving around, both the exterior and the interior of your car can take a beating in terms of road dirt outside and accumulated trash inside. No matter how busy you are, keeping your car clean makes good sense. It's good for maintaining the car and keeping the resale value high. It is also simply more pleasant to drive around in a clean car. But taking your car through a car wash can add up quickly. For many of us, the best option is to clean our car at home. A DIY car cleaning kit can help you do that. And here are the must-have items you need in a car cleaning kit!
12 Must-Haves for Your Car Cleaning Kit
1. Bucket
It may seem obvious but a bucket is vitally important for washing your car. It also makes a nice container for your car cleaning kit items in between washes. I actually recommend that you have two buckets. One bucket for your sudsy water and the second for rinsing your washing mitt. There is no need for anything fancy, any bucket that holds water will do. So, find one that works for you and get to washing your car!
2. Car Shampoo
It may seem like when it comes to cleaning, soap is soap. But when it comes to car care that is simply not the case. Car shampoos are specifically designed to clean and shine your car's exterior. Resist the urge to use dish soap or other products. Purchase some shampoo that's designed specifically for a car.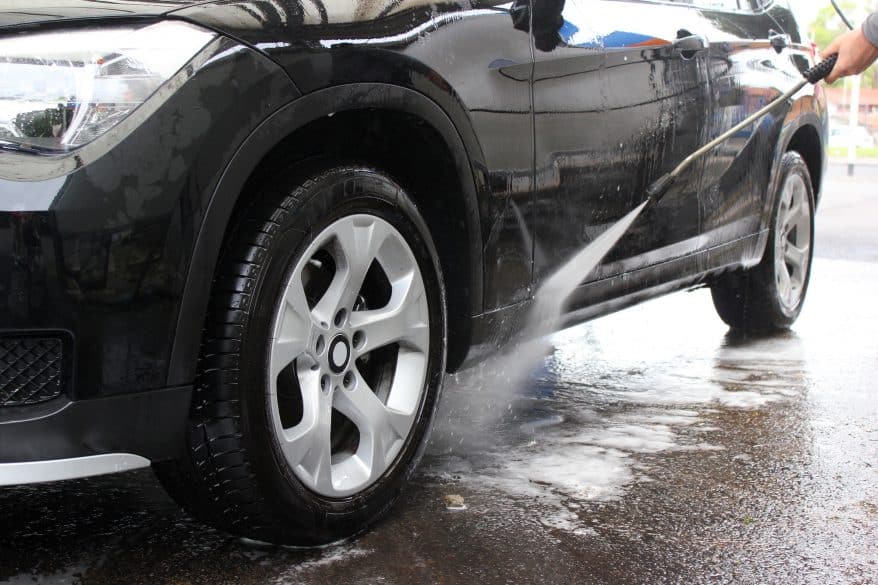 3. Hose Nozzle
If you've ever rinsed your car with a plain garden hose you know it is a less than ideal method. Give your hose some rinsing power with a fire hose nozzle or a power wand. A jet spray will really help get your car rinsed and cleaned.
4. Grit Guard
A grit guard is a small plastic screen you put in your soap bucket. Scrub your sponge against the plastic to remove grit and dirt that might scratch your car the next time you use that sponge to wash it. Some buckets designed for car washing come with a grit guard built in, but you can also buy one and add it to your own bucket.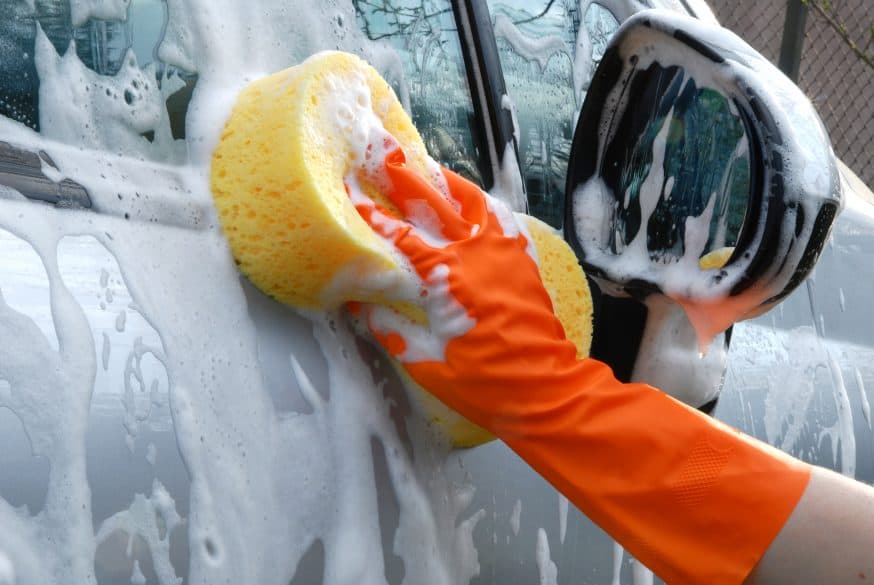 5. Washing Mitt
If you want to really take care of your car and preserve the paint, you'll want a good washing mitt. A nice soft mitt will hold plenty of soap and will go easy on your car's exterior and paint. Toss out your old towels and exchange them for a mitt for a more professional level of car cleaning.
6. Wheel Brush
A wheel and rim brush will make a big difference in how clean you can get your car's wheels. This brush will allow you to get the dirt and dust out of even the hardest to reach places.
7. Tire Shine
A little tire shine will make your freshly cleaned car look like new again. With this product, a small amount will do. And it also protects your tires from wear and tear over time.
8. Car Wax
For a truly polished car, you'll want to use car wax. You'll love the shine it gives your car. There are even some car shampoos that contain wax, so do your research to choose the best products for you.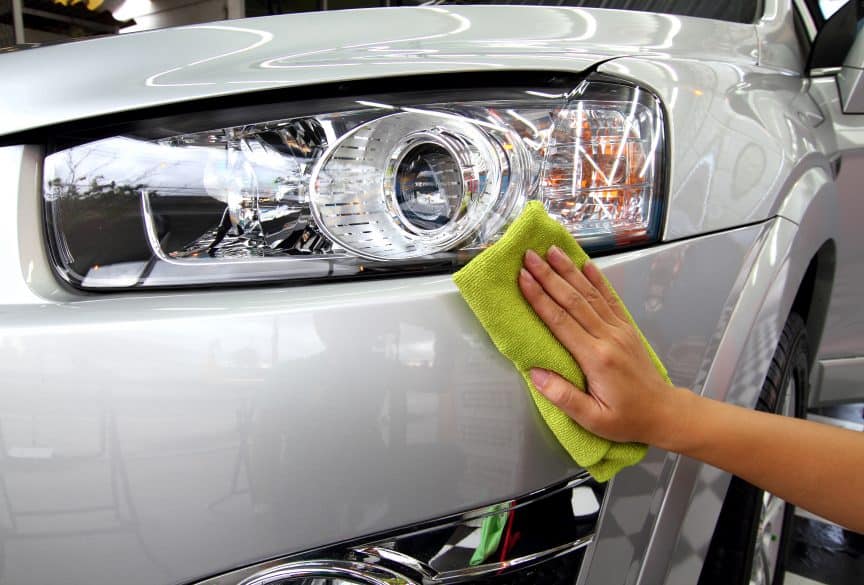 9. Microfiber Towels
For a spot-free car cleaning, you'll want to dry your car once you've finished rinsing. Microfiber towels are the perfect drying tool. They are super soft and won't scratch. They are also super absorbent and will remove all the excess water.
10. Car Dash Duster
Dusting the dash of your car is something you should do at least as often as you wash your car, likely more often. Keep a duster in your car for easy maintenance! You can buy a duster designed specifically for a car dash. These are nice because they often fit into nooks and crannies for a thorough dusting. But I've also been known to use dust cloths and even baby wipes in a pinch to keep the dash dust free.
11. Glass Cleaner
Window cleaning wipes can be handy for cleaning the interior and exterior windows on your car. But for a more thorough cleaning, it's a good idea to get the anti-glare window cleaner designed for car windows. There are also window treatments you can add after washing that will help water bead up on your windows and roll right off, taking road grime with it.
12. Dust Buster
If you want a self-contained car cleaning kit, a small dust buster vacuum is a must-have. You can quickly clean carpets and seats inside your car to keep them free of dust and crumbs. You can also tackle this job with an upright vacuum if you have the right attachments. You'll love seeing your car crumb and dirt free every time you get inside.