Winter will soon be here. Depending on where you live, you might have already experienced your first snowfall of the season! When it is cold and snowy, it is easy to get in the habit of just wanting to stay inside. If you don't have some favorite winter family activities check these out.
Winter-time provides a variety of outdoor activities that we can enjoy with our families. So bundle up, get out, and enjoy nature and some fresh air!
Here are 9 family activities to enjoy this winter.
This post may contain affiliate links. As an Amazon Associate I earn from qualifying purchases. For more information, see our disclosure.
Some of these activities do cost money, but I also have included others you can do in your backyard or neighborhood for free!
Go snowshoeing.
Snowshoes aren't something most people have lying around. But the good news is that if you live in a snowy climate, these are usually pretty easy to find to rent. Check out local sporting goods stores, or if you have a college campus nearby, check with their outdoor recreation center. These places can also give you good recommendations of where to go in your area.
If you have little ones, you can bundle them up and have them in a backpack or carrier. This is a great way to get some exercise while also enjoying a beautiful winter day!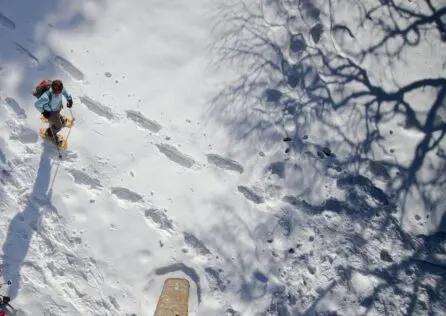 Go ice skating.
For a true wintery experience, you can try to find an outdoor skating rink in your area. But an indoor skating rink is also fun if it is really cold outside or you don't want to deal with iffy weather.
If you think you or one of your family members might need a little assistance on the ice, ask if the rink has a skating trainer device. This is a support that glides on the ice in front of you to help you stay upright. This is a great tool for kids just learning to skate (or adults too!).
Go snow tubing.
If you are close to a local ski hill, check to see if they have a tubing hill as well. Most will provide tubes for you with the cost of admittance to their hill. Check ahead of time to see if there is a minimum age requirement. You can also look into renting tubes at a local sporting good store and find a sledding hill that is free to use.
Go skiing.
Skiing can be notoriously expensive, especially if you have a large family, but there are ways to do it more cheaply. If you have a local sporting goods store, check to see if they do rentals. Many times these places will offer ski rental packages that are more affordable than renting from the ski resort. Plus if you rent ahead, you don't have to worry about standing in the long lines in the rental lodge.
Also, check out half day or mid-week passes. A half-day pass might be a good option if this is your first time going up skiing as it can be pretty physically tiring until you get the hang of it! When we first took our 7-year-old up skiing, he enjoyed it, but after a few hours he was wiped out and ready to head home. We were glad that we hadn't spent money on a full day pass.
If you have flexibility in your schedule, you can also check to see if the resort offers mid-week passes. These are often cheaper than the weekend passes. Plus, it is usually less crowded during the week, which is an added bonus.
Many resorts also offer 2 to 4 hour lessons for newbies if this is your first time. These are usually worth every penny!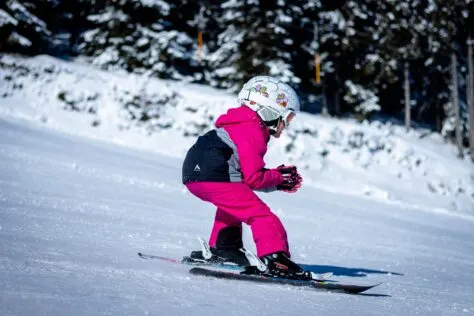 If you don't want to spend much (or any) money, here are some winter family activities to get out and enjoy nature for free or for very little cost!
Have a snowman building competition.
Team up with your with kids or have a parent(s) vs. kids competition. Or if you live around other families with kiddos, ask if they want to participate and it can turn into a fun neighborhood challenge. Before you begin, gather up all the essential snowman decorations—hats, gloves, scarves, carrots, sticks, etc. Figure out how much time you want to spend building and get rolling!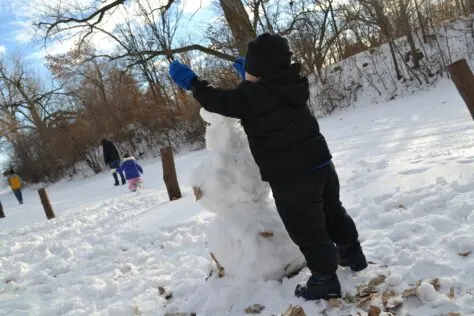 Play snow tag.
This is a fun game to play when you have fresh snow that hasn't been walked on yet. Have your kids help you create a large track by stomping down the snow as you go. Have multiple connecting points throughout the track so participants have various paths to choose from during the game.
Decide who is going to tag first and give everyone else a few seconds head start. You must stay on the designated path. If you hop off, then you become the chaser.
Build a snow fort.
Of course this only works well if you have good sticky snow! Gather up plastic tubs and buckets of various sizes and start building a snow fort just like you would a sand castle at the beach. If you are feeling really ambitious, you can build two forts and then have an epic snowball fight using each of your forts as protection!
Go sledding.
I couldn't leave out this tried and true winter activity that kids of all ages tend to love. The great thing about sledding is that the age of your kids doesn't really matter. This activity can be easily adjusted to fit whatever age kiddos you have, you just need to find the right equipment.
If you have littles, find a blow up sled that has a back support so you can pull your littles around your flat yard. If you have older kids, go on the search for a sled designed with speed in mind. The bonus is that everyone gets great exercise trudging up and down the sledding hill!
Make a snow painting.
Grab some spray bottles and fill them with a mixture of water and food coloring. Have each family member spray paint a picture or design of their choosing using the colored water mixture. This is a fun activity for all ages, especially for little ones that love to see the snow turn bright colors.
Enjoy this winter season with your family with fun activities! Let it snow, let it snow, let it snow!