When you have a family, your expenses add up quickly. From food, rent, and utilities to childcare, kids activities, family vacations, and dreaded medical expenses—it all adds up fast. Here are some tips to set up a budget and save on common family expenses
You might find yourself thinking at the end of every month, "Where exactly did all my money go?" If you overspending month after month, then setting up a budget can be a helpful way to get your finances back on track.
Tips to set up a budget and save on common family expenses.
This post may contain affiliate links. As an Amazon Associate I earn from qualifying purchases. For more information, see our disclosure.
When you are trying to save money, you have to know exactly what you are spending your money on! This first step is to set up a budget and track your expenses. There are plenty of helpful budgeting sites out there, like Mint or Pocketguard, or you can just use a simple spreadsheet on your computer.
Once you pick a budgeting tool, set up your spending categories. These include your regular fixed payments such as mortgage or rent, a car payment, insurance, childcare, etc. You also need to include categories for variable expenses such as entertainment, groceries, utilities, etc.
The more specific you can be, the better. You might also consider including a savings category, a vacation category, or other items you are setting aside money for each month.
When you first set up your budget, assign a dollar amount you plan to spend in each category. If you have never tracked expenses before, this can be tricky, but do the best you can.
You will probably discover after the first month that you have budgeted too much in one category and not enough in another. But by tracking all of your transactions for a few months (and I mean every last one of them), you can get a true picture of how and where you spend your money.
Now that your budget is all set up, here are some tips to save money within some of the most common categories:
Groceries
Most families find food to be one of the biggest expenses each month. Here are some tips to save on your grocery bill.
Buy in bulk.
Consider shopping at a warehouse store for those grocery items that can be stored easily. Fresh food items are harder to buy in bulk, obviously, but you can easily save money buying in bulk on dry goods like cereal, snacks, detergent, garbage bags, diapers, etc.
Use apps to track the best prices.
Flipp is an app that browses weekly ads to help you find deals from over 2000 stores. Basket allows you to compare in-store and online prices, so you always know you are getting the best value.
Participate in grocery store promotions.
Every year, our grocery store has a Monopoly game where you can win free items and coupons to use at your next visit. My kids love helping me "play" the game tickets, and I have earned gas rewards, free grocery gift cards and free items, just for spending a few extra minutes participating in this promotion.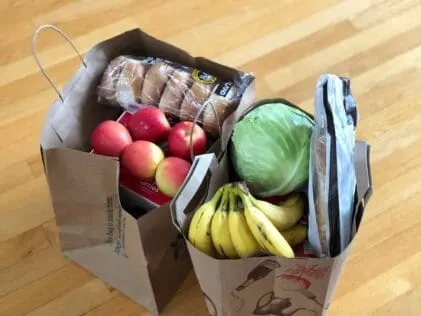 Insurance and Medical Costs
Bundle car and home insurance.
We have all been annoyed by the endless advertisements to bundle home and auto insurance. But seriously, this advice should not be overlooked! If you are able to use the same insurance company for car and home owner's insurance, those discounts can really add up!
Ask your employer if they offer EPAs or FSAs.
It is hard to budget for medical expenses because health can be unpredictable. But look into whether your employer offers an Employee Assistance Program or a Flexible Spending Account.
With an employee assistance program, you have access to services like counseling, legal assistance, financial help, and wellness resources for free or at a reduced cost.
With an FSA account, money is aken out of your paycheck (pretax) to help pay for medical expenses throughout the year.
Household Items
Peruse Craigslist.
Why buy something brand new when you get a much cheaper new-to-you item? Our family has found some great buys on Craigslist, from bike trailers, to strollers, to furniture…the list goes on and on.
Join a Buy Nothing Group
These groups are amazing! Search for "Buy Nothing (insert your town name) on Facebook. These are community groups where you post things you no longer want or need that are still in good condition. You can also make requests. There is no charge for any item…it is just about being a helpful community member.
Kid Expenses
Shop consignment stores
Often you can find gently used kids clothing, furniture, accessories, and toys for much cheaper prices at your local consignment shop. You can also sell your no longer wanted items and get some extra cash or in store credit.
Participate in a babysitting exchange.
Date nights can get pretty pricey by the time you spend money on a babysitter, food, entertainment, etc. Find a family you trust that has kids similar in age to yours and do a date night swap with them once or twice a month. Your kids will have fun having friends over, and you get free babysitting when it is your turn to go out!
Traveling
Family vacations can be very expensive. But there are easy ways to save money if you plan ahead.
Use hotel rewards.
Book your hotel stays through web-sites like Hotels.com or Expedia that offer travel rewards. With hotels.com, if you stay 10 nights, you get a free night. With Expedia, you earn points on purchases that can be used on future travel.
Stay at a hotel with perks.
Stay at hotels that offer free parking and continental breakfast. You can easily pay $50 a day just in parking and breakfast alone! And if you staying somewhere for awhile, those costs add up fast! These hotels might not be the fanciest, but they are more financially friendly on your budget.
Choose airlines that have a bags fly free policy.
At $30 plus dollars per piece of checked luggage, that can really add up!
Consider opening a credit card with mileage rewards.
This can take some planning, but if you know of a family vacation coming up in a year or two, it might be worth opening an account for the bonus miles. Often, these credit cards will have you "spend" a certain amount in the first few months and then reward you with tons of bonus miles.
Once you have earned the bonus miles and booked your ticket(s), you can cancel the card if you don't want to pay an annual fee. You also can score free luggage with some of these cards. Just remember, pay your balance off in full each month to avoid paying interest.
Try to be flexible with your travel dates.
There are certain days of the week that are general cheaper to fly on than others. If you can be flexible with your dates, you can save hundreds of dollars on your airline tickets. Just play around with the dates to see when you can get the best deal. Also, if you can plan your vacation outside of peak travel seasons, that will save you money.
If it's feasible, pack your own lunches and snacks.
If you are traveling by car, throw a cooler in the trunk full of drinks, snacks, and lunches. If you are doing a family vacation at an amusement park, bring in food to the park (most places will allow this). The snacks and meals at amusement parks are generally pretty spendy.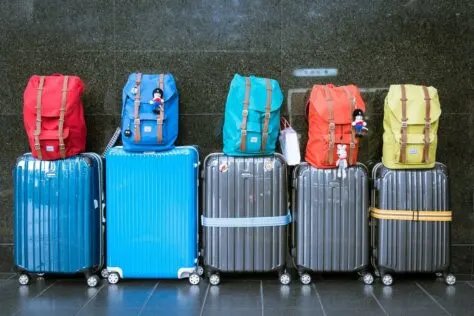 Setting up a budget is simple way to make sure you know exactly where your money is going. I hope this article has given you some new ways to save money each month!