If you need an excuse for baking your favorite peanut butter recipe, now you have one! January 24th is National Peanut Butter day. Woohoo!
Peanut butter and jelly sandwiches are a staple in our house, but really anything with peanut butter in it gets devoured pretty fast!
This post may contain affiliate links. As an Amazon Associate I earn from qualifying purchases. For more information, see our disclosure.
Below are some of my favorite recipes containing peanut butter. I hope you are able to give one or more of these a try.
Enjoy celebrating National Peanut Butter Day on January 24th!
No-Bake Peanut Butter Oatmeal Cookies
Don't want to mess with the oven? These no-bake cookies are easy to whip up!
Ingredients:
2 cups sugar
Dash of salt
1 stick butter (1/2 cup)
½ cup milk
1 cup peanut butter
1 teaspoon vanilla
3 cups oatmeal
Cocoa (optional)
Powdered sugar (optional)
Directions:
In a large saucepan, combine the sugar, salt, butter, and milk.
Bring to a boil. Boil over medium heat for 1 full minute.
Remove from heat immediately.
Add peanut butter and vanilla and stir well.
Add oatmeal and stir until thoroughly mixed.
One a sheet of waxed paper, drop mixture by the teaspoonfuls.
Drizzle with a mixture of cocoa, powdered sugar, and water if desired.
Cool until firm.
Colossal Peanut Butter Cookies
The use of crunchy peanut butter in this recipe makes these cookies extra delicious!
Ingredients:
¼ cup butter
¾ cup granulated sugar
2 eggs, beaten
¾ cups brown sugar
½ teaspoon vanilla
1 ¼ teaspoon baking soda
1 cup crunchy peanut butter
3 cups old-fashioned quaker oats
6 ounces chocolate chips
Directions:
Mix all ingredients together and place dough in freezer for about an hour until firm.
Form dough into balls and place on an ungreased baking sheet.
Bake at 350 degrees for 10 to 12 minutes.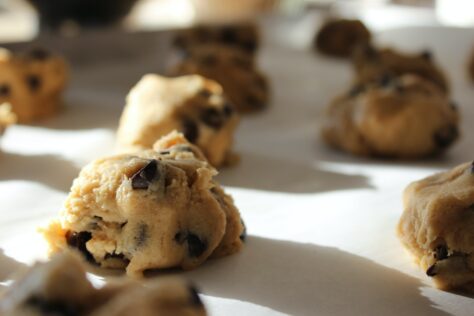 Peanut Butter Cup Rice Krispie Treats
Two of my favorites combined: Rice Krispie Treats and Reese's Peanut Butter Cups. Yum!
Ingredients:
7 cups mini marshmallows
7 tablespoons butter, divided
½ cup peanut butter
7 cups plain Rice Krispie Cereal
24 Reese's Peanut Butter Cups, unwrapped
1 ½ cups chocolate chips
Directions:
Melt 4 tablespoons butter over low heat in a saucepan.
Add the marshmallows and still until completely melted.
Stir in the peanut butter.
Pour the cereal into the marshmallow mixture and stir in until completely combined.
Press half the cereal mixture into a buttered 9 x 13 inch pan.
Place the 24 peanut butter cups over the top of the rice krispies in the pan.
Spoon the rest of the rice krispies over the top and press down.
Let cool completely.
Please the chocolate chips and remaining 3 tablespoons of butter in a microwave safe bowl and heat for 1 minute.
Stir until creamy. (You may need to heat for an additional 10-15 seconds).
Spread the melted chocolate chips over the top of the rice krispie treats.
Let cool and then cut into squares.
Monster Bars
If your family loves monster cookies, but you want a recipe that will be easier and quicker to make, then this is a perfect recipe for you!
Ingredients:
½ cup butter
1 cup white sugar
1 cup brown sugar
3 eggs
1 ½ cup peanut butter
1 teaspoon vanilla
2 teaspoon baking soda
4 ½ cups oatmeal
1 ½ cup chocolate chips
1 ½ cups mini M & Ms
Directions:
Preheat oven to 350 degrees.
Cream the butter and sugar together.
Add eggs and peanut butter and mix together.
Stir in vanilla, baking soda, and oatmeal.
Stir in chocolate chips and mini M&Ms.
Put in lightly greased 9 x 13 inch pan.
Bake for 25 minutes.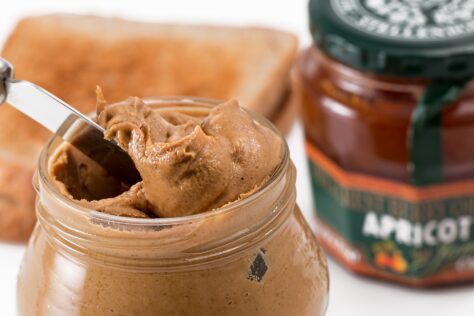 Peanut Butter Rice Krispie Squares
A rice krispie treat with a peanut butter flare. My grandma would bring these over every Christmas. They were one of my favorite treats growing up. These have become a favorite of my boys as well.
Ingredients:
1 cup brown sugar, firmly packed
1 cup corn syrup
7 cups Rice Krispie cereal
1 cup peanut butter, smooth or crunchy
Cooking spray
Chopped nuts (optional)
Raisins (optional)
1 cup semi-sweet chocolate chips (optional)
Directions:
Combine the brown sugar and corn syrup in a large saucepan.
Cook over medium heat, stirring frequently, until sugar is dissolved.
Continue stirring until mixture just begins to boil and then remove from heat.
Stir in peanut butter and mix well.
Stir in the cereal, until it is evenly coated, adding more cereal if it appears overly gooey.
Spray 13 x 9 inch pan with cooking spray.
Press evenly and firmly into pan.
Let cool completely and cut into squares. (You can put pan into freezer for 15 minutes if you need to speed up cooling process.)
Optional: You can add chopped nuts or raisins to the cereal mixture before it is pressed into pan.
Optional: Melt 1 cup of semi-sweet chocolate chips and spread over top.
Peanut Butter Cup Cookies
Another recipe to try if you love Reese's Peanut Butter Cups. The cookie dough surrounding the candy creates an irrisistable sweet combination.
Ingredients:
1 ¾ cup all-purpose flour
½ teaspoon salt
1 teaspoon baking soda
½ cup white sugar
1 egg, beaten
½ cup butter, softened
½ cup peanut butter
1 teaspoon vanilla extract
½ cup packed brown sugar
2 tablespoons milk
40 miniature peanut butter cups, unwrapped
Directions:
Preheat oven to 375 degrees.
Cream together the butter, sugar, peanut butter, and brown sugar until fluffy.
Beat in the egg, vanilla, and milk.
Sift together flour, salt, and baking soda. Add in and mix well.
Shape into 40 balls and place each into an ungreased mini muffin pan.
Bake at 375 degrees for about 8 minutes.
Remove from oven and immediately press a mini peanut butter cup into each ball.
Cool and carefully remove from pan.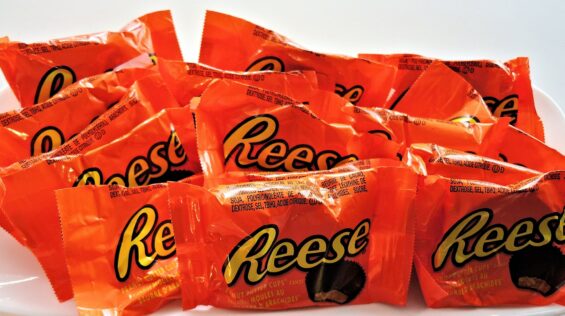 Traditional Peanut Butter Cookies
You can't go wrong with a traditional peanut butter cookie!
Ingredients:
1/2 cup softened butter
1 cup firmly packed brown sugar
1/2 cup peanut butter
1 large egg
1/2 teaspoon baking powder
1 teaspoon vanilla extract
1 1/2 cups all-purpose flour
1/2 teaspoon baking soda
1/2 teaspoon salt
sugar
Directions:
Heat oven to 350 degrees.
Combine brown sugar, butter, and peanut butter. Beat at medium speed until well mixed.
Add egg and vanilla. Continue beating until well mixed.
Add baking powder, flour, baking soda, and salt. Beat at low speed until well mixed.
Shape dough into 1 1/2 inch ball. Roll in sugar.
Place dough balls 2 inches apart onto ungreased cookie sheets.
Flatten balls in a criss-cross pattern with a fork dipped in sugar.
Bake 8-10 minutes or until edges are lightly browned.
Enjoy all these delicious peanut butter recipes as you celebrate National Peanut Butter Day!