Almost 50 years ago, President Nixon declared the third Sunday in June a dedicated day to recognize and honor fathers. Hard to believe, but Father's Day is just around the corner. The hunt for the perfect Father's Day gift is upon us!
It can be challenging to come up with new ideas year after year, especially if you have a husband or partner who is hard to shop for. (Raises hand).
This post may contain affiliate links. As an Amazon Associate I earn from qualifying purchases. For more information, see our disclosure.
I like to involve my kids when it comes to Father's Day gifts. But, "Let's go to the store and pick out Dad a new power tool, shirt, etc." usually doesn't work for me because my husband will have already bought anything he needs. And he is also notorious for saying "I don't need anything" when I ask him for gift ideas for special occasions.
This forces me to get creative when it comes to involving the kids in a present for my husband. (He seems to appreciates the extra effort I put in to involving his offspring, or at least he acts like he does.) I hope this article will provide you with Father's Day gift ideas that can be from your kids. Maybe an idea to try or spur on a new one!
Here are five Father's Day gift ideas from the kids.
"We Love You" Foot Picture Gift Idea
This can be a bit challenging with little kids and ticklish feet, but the end result is so worth it! My husband still has this picture sitting in his office several years later. If you have more than two kids, you can just add extra words to your message. (Ex: WE LOVE YOU SO MUCH DAD)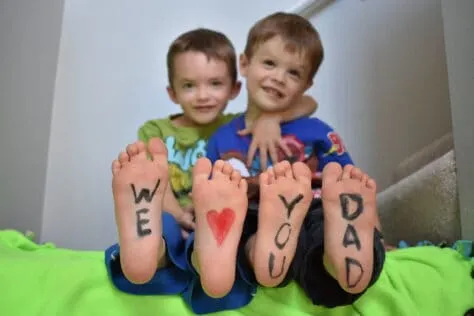 There are a couple methods to add the words to the bottom of your kids' feet. I would recommend using washable markers with younger kids because they have a harder time holding still while you are writing the words. This method is just quick and easier. You could also use an acrylic craft paint and paint your message on with a fine brush if your kids will hold still long enough.
Tip: Apply the marker or paint in the location you will be taking the picture. Once the marker/paint has been applied, you don't want it smeared by your kiddos walking around.
If you have a camera with a zoom lens, you can really focus in on the feet and get a nice blurred effect in the background. Having your kids sit on the stairs creates a nice angle for you to capture the feet.
If you have more than two or three kids, and are having a hard time fitting them on the same step, you can take individual pictures of each kiddo and then create a collage of their feet with the message.
Another tip: Put a blanket or sheet underneath your kiddos to prevent any accidental carpet stains. Little kids are wiggly, and are bound to accidentally put their feet down at some point. Also, have a wet-wipe or soap and water handy to quickly remove the marker or paint while your kids are still sitting.
This would make a great gift for Grandpas, too!
Special Golf Balls
If you have a husband or partner that likes to golf, then you probably know how quickly they go through golf balls! Surprise Dad with some personalized golf balls.
Using a pack of new golf balls, have your kids write special messages to Dad on each ball with a permanent marker. With littler kids, have them come up with the messages and then you or an older sibling can help write the messages.
Every time Dad reaches into his golf bag for a new ball, he will be greeted with a message of love by one of his favorite little people.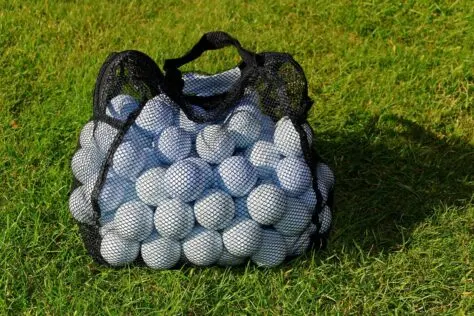 Personalized Gift
Photo gifts have come a long way in the last several years. A new coffee cup with a cute picture on it is always a good go-to option for all the coffee-loving dads, but there are so many other fun gifts to choose from now. What dad wouldn't love a Father's Day gift with pictures from his kids–the ideas are limitless!
Go through your photo roll and have your kids pick out their favorite pictures with Dad. There are several web-sites that offer personalized photo gifts, but one of my favorites is Shutterfly. They are often having sales, and the quality is pretty good for the price.
And they have a huge variety of gift options to choose from—mugs, phone covers, water bottles, coasters, beer steins, sweatshirts, laptop cases—and so many more.
If you would rather shop from a small business, the Etsy web-site also offers unique personalized gift ideas. Just make sure with either site to order in plenty of time to allow for processing and shipping.
Kid Interviews–Father's Day Gift Idea
Put together a list of questions to ask your kids about their Dad. It is especially fun to see what younger kiddos will say. Questions might include things like: What's your favorite thing about Dad? Name your favorite memory with Dad. What makes Dad happy? What is Dad really good at? Name something Dad always says to you.
Grab your phone or camera and record your kids answering these questions. It will be fun for your husband or partner to hear their answers and will also bring back lots of great memories years down the road as you both ooh and ahh over how adorable they were!
Dad's Day Out
Make Dad feel like a kid again by taking him somewhere to do an activity he hasn't done in awhile…maybe several years. A go-kart track, a batting cage, mini-golfing, laser tag, an amusement park, etc. This is a fun gift for older kids to give their dad because it is something the whole family can participate in together. Afterword, you can take him out to dinner at his favorite restaurant, or get his favorite sweet treat.
Just remember…the gifts that Dad will probably treasure the most don't need to cost an arm and a leg. They just need to be given from the heart. Happy Father's Day to all the wonderful dads and father figures! You make the world a better place!