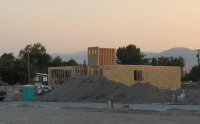 I've mentioned before that we're building a new house. It's so fun and almost surreal to see our plans becoming a 3-D reality. We've been really lucky because we've been able to draw up our own plans with an architect, hire our own contractor and make changes along the way.
This post is about my favorite house feature. It is a hole in the wall. You read that right.
You already know I have a touch of OCD so you may be able to imagine how much pleasure I get from knowing our laundry room will be right next to the master bedroom and central to all of the bedrooms upstairs. But the hole in the wall is where I take my organizing passion to a whole new level.
Here's the plan… The master closet shares a wall with the laundry room. I've measured out shelves in the closet just right for the height and width of laundry baskets. The third shelf up is backed by a hole in the wall so I can push the laundry basket right through into the laundry room.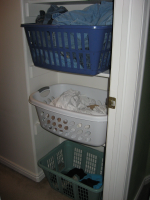 I'll have color-coded laundry baskets (white for whites, blue for jeans, etc.). Dirty clothes go right into the appropriate color. I NEVER have to sort laundry! I've already been doing this at my current home but now I'm adding a hole in the wall and I can't tell you how ridiculously happy it makes me!
My husband thinks I am completely ridiculous that I can't walk the five steps around to the laundry room. He just doesn't get it. You guys do though right? Seriously, don't you all wish you had a hole in the wall now?
I was trying to explain this system to our contractor and finally had to take him into our current master closet to show him what I meant. He walked into the closet and said, "Wow. You guys are really organized." Picture me. Beaming. (See picture from last post.)
What are your little "ridiculous" organizing things that make you giddy? I love to find new systems that work for me, that stream-line my life. Have you ever gotten a "you're organized" compliment? Feeds the ego/organizing addiction doesn't it?