We probably all have an art piece laying around that doesn't quite fit our taste anymore. At the time of purchase, it was fresh and trendy, but now it's starting to look a little dated. If you have a canvas piece that fits this description – don't give up on it quite yet. It's easier than you think to take canvas art from blah to ooh la la! All you need is a little paint, and a little courage.
If you're not an artist, and most of us aren't, don't be intimidated. This project involves an abstract design, and abstract artwork leaves a lot of wiggle room for mistakes. Here's how it's done.
1. Make a plan
This post may contain affiliate links. As an Amazon Associate I earn from qualifying purchases. For more information, see our disclosure.
Assess your artwork, and decide what you want to change. Starting over from scratch would be tricky, and if you're going to do that – you might as well buy a blank canvas. The point here is to take the artwork that is already there and make a few tweaks to transform it into something more current. With this piece, I wanted to brighten it up and add more color. That meant getting rid of the dark brown areas but preserving the aqua and teal color.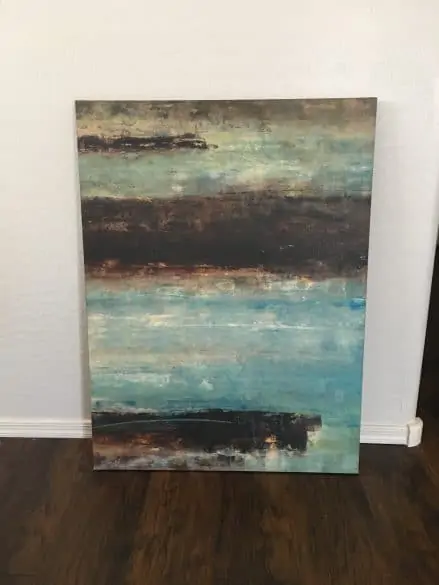 2. Choose your colors and start painting
Okay here's the scariest part, your first brush of paint. I chose a color scheme of pink, white, yellow, and blue – so I started with the pink. Using a cheap foam brush, no need to get fancy, I applied my first coat of pink over one of the brown areas. I used acrylic paint, that you can purchase at any craft store.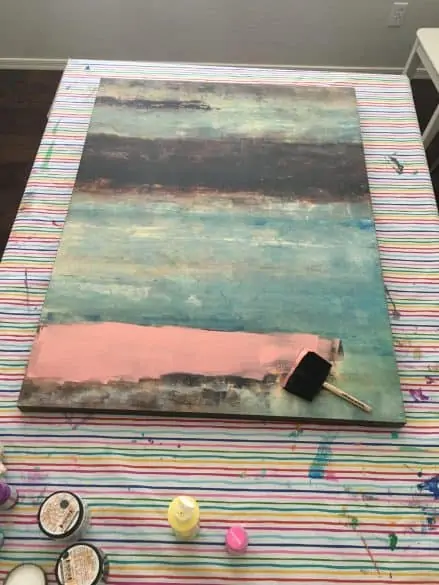 3. Apply base colors
I knew I wanted to get rid of the dark brown, so my first goal was to paint over those areas with my base colors. I chose white and pink to be my main focal colors. Choose the colors you want to see most, and apply those as your base areas.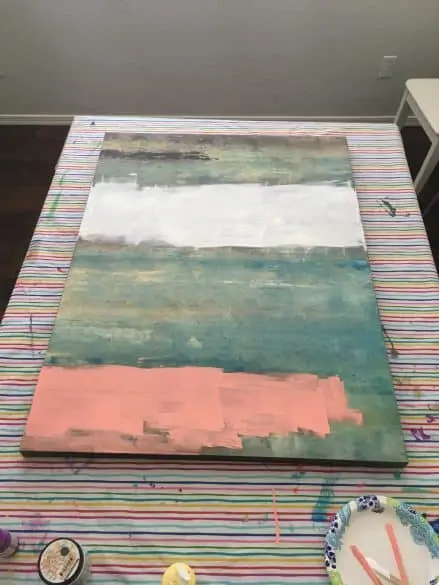 3. Layer, layer, layer
The trick to abstract art that doesn't look flat is to add dimensions with layers. After you've done your base colors, go back and layer on other colors with a smaller paint brush. I started with big strips of white and pink, then went back to add accents of yellow and dark pink. Step back every once in a while to check your design and ensure it's going in the right direction.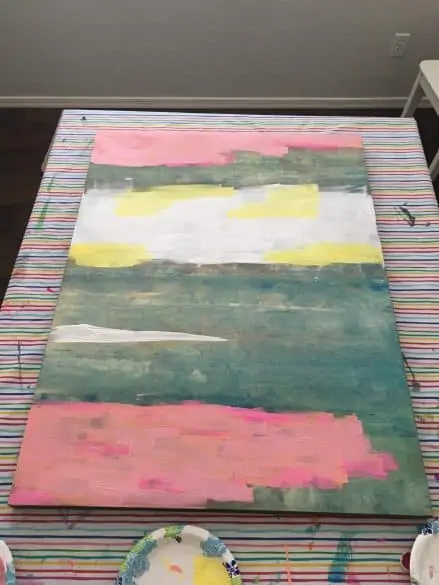 4. Finishing touches
Lastly, I added some saturated aqua and dark teal colors to tie in the blues that already existed on the canvas. Keep in mind, there are no strict rules with a painting like this. Go with your gut and have fun. I also added more white and yellow to the bottom of the canvas to give the overall painting more consistency.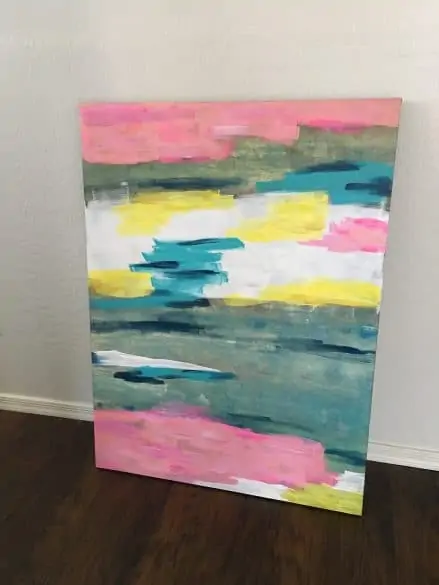 5.Display your masterpiece
Looking at the final product, you'd probably never guess that this piece started out as something dark, dreary, and dated. Now it looks fresh, fun, and colorful. Hang up your finished piece and admire your new title as an abstract artist!