The long awaited time for all 2022 graduates is finally here! Need help with a gift for the grad? Try one of these personalized graduation gift ideas.
Individualized Graduation Gifts
Socks
That's right, socks aren't just for Christmas anymore. They become an awesome graduation gift when you can personalize them.
This post may contain affiliate links. As an Amazon Associate I earn from qualifying purchases. For more information, see our disclosure.
Check out these socks with the graduates name, year and school printed on them. You can get these fancy socks in school colors.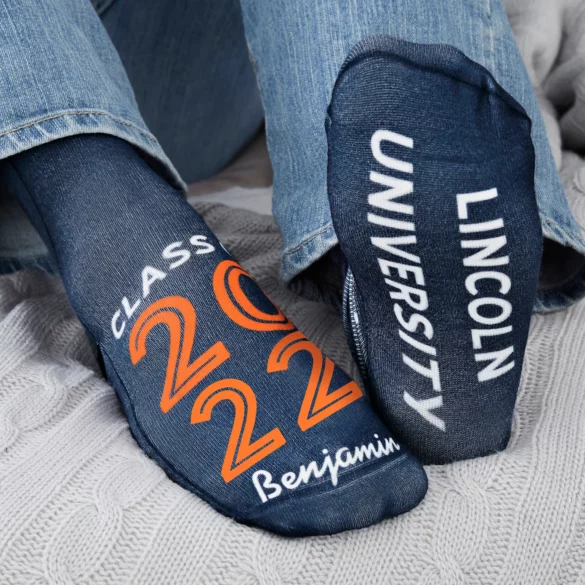 Feel like gifting something even MORE personalized. Try these socks with the graduates picture on them.
You can even customize the color and wording. Be sure to give them to the grad before commencement so they can be sporting them with their cap and gown.
Customizing a pair of socks is a fun and useful graduation gift idea.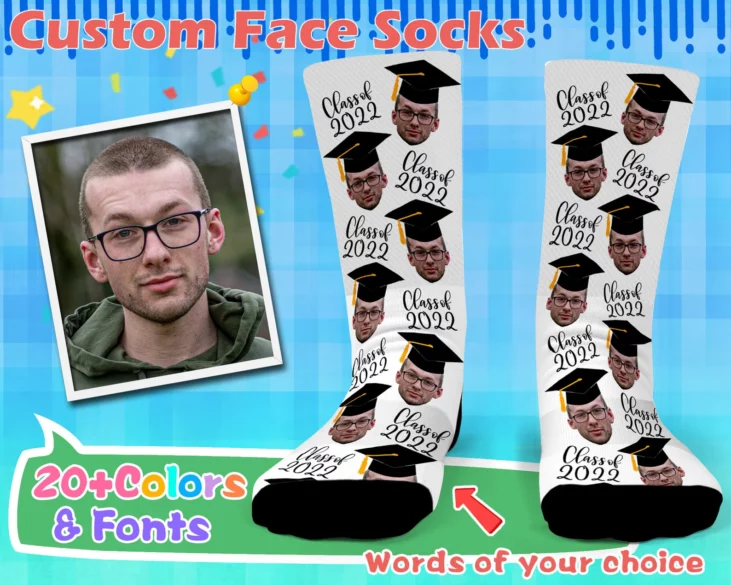 College Map
I love this idea so much! Gift the grad a framed map of the college they will be attending or the college they just graduated from.
It's a more grown up piece of artwork that they can use to decorate any dorm room, apartment or home they live in.
It would be so fun for them to be able to talk about places on the map and the memories they made there.
Or for the new freshman to be able to look at their new campus and the new memories they are sure to make.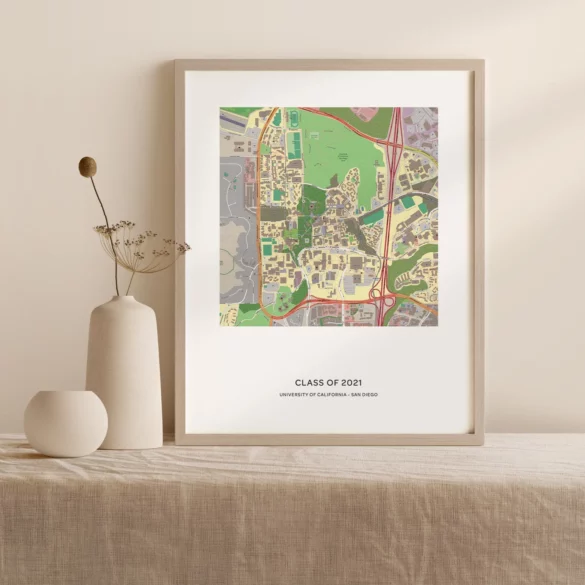 Yard Flags and Signs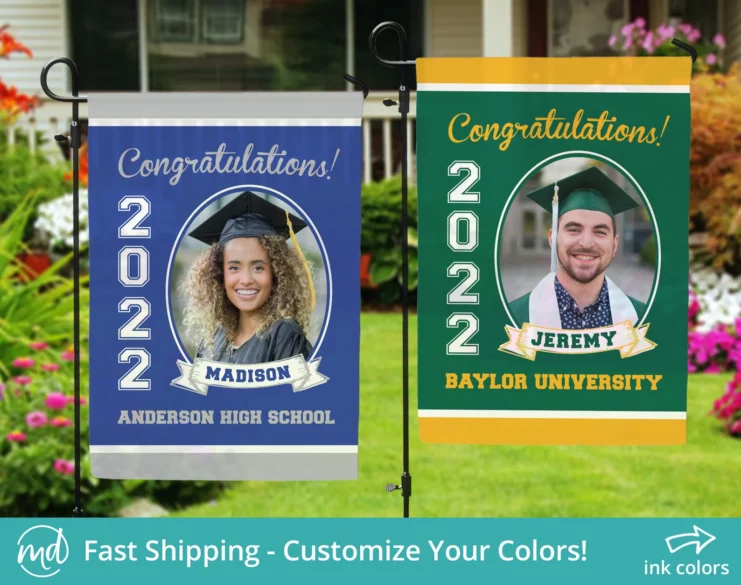 It's big news and everyone around should know. Gift the grad their own yard flag so they can toot their own horn.
Whether you are a high school or college graduate this flag will be a fun way to share the news with others and a keepsake for years to come.
Personalize it with a picture and school colors.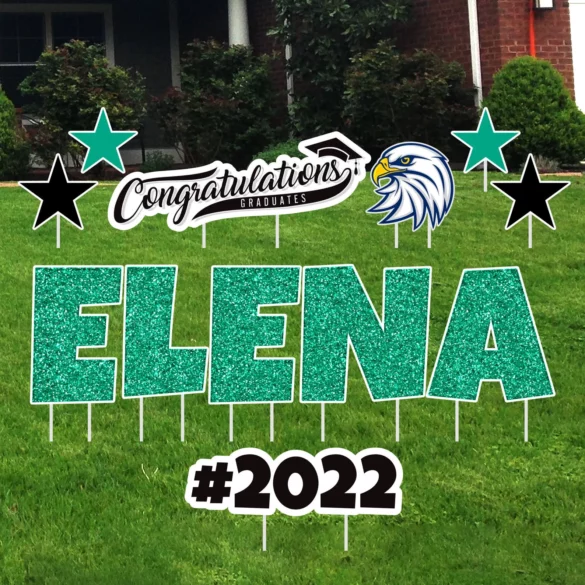 Want the gift to extend to more of the yard? Gift the graduate yard signs that spell out their name and the year and the message you want to share.
You can wrap it up and they can open the gift and put it in their yard for the big day. Or you can surprise them and put it out for them and for everyone to see.
Candy Bar Wrappers
Many graduates would LOVE something chocolate to help celebrate their big day. That's why gifting the grad a candy bar with a personalized wrapper would be an excellent gift idea.
The wrapper allows you to add a picture and personalize the date and wording on the front. You also get to add a personalized message to the back.
Don't forget to use the school colors of the grad or maybe just their personal favorite color. The choice is yours!
These wrappers come in sets starting with 25 wrappers. So there will be extra to share with friends and family. You could also use them as party favors or as a personalized thank you for the gifts received at graduation.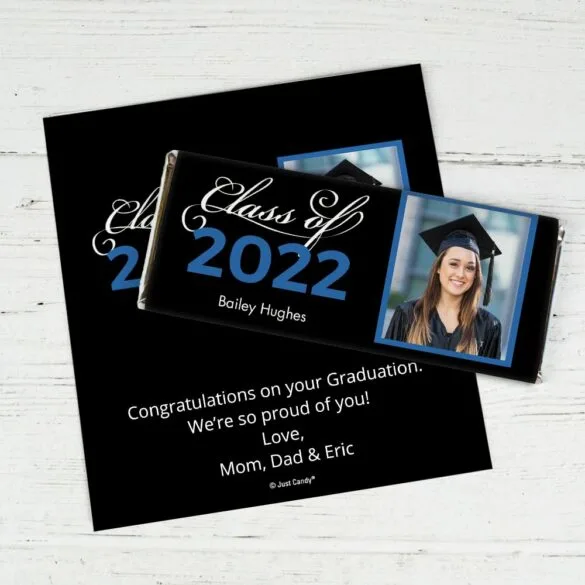 Personalized Mini Fig
Have a Lego fan in your midst? They might truly appreciate this personalized gift. It's a graduation Lego Minifigure.
Now the personalizations on this gift are very limited. You really only get to pick out the face (glasses, freckles and smile). Yet, there is one more surprise for the grad…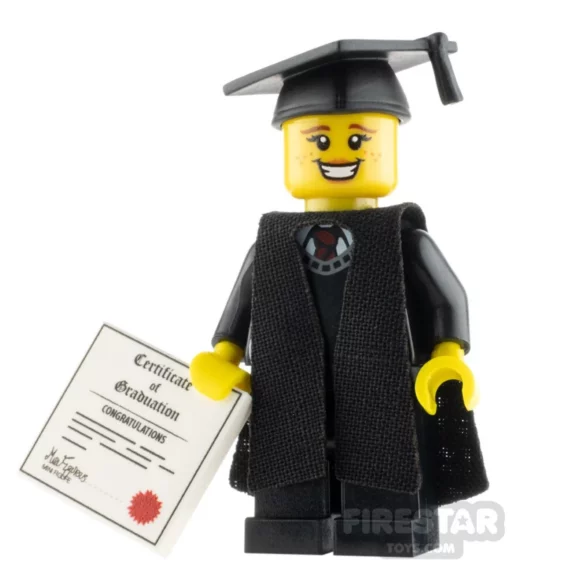 It can come in this epic packaging that can be personalized! So think of your witty saying, words of advice, congratulations or whatever it may be and add it to the packaging.
This is a gift the grad is sure to keep for years to come.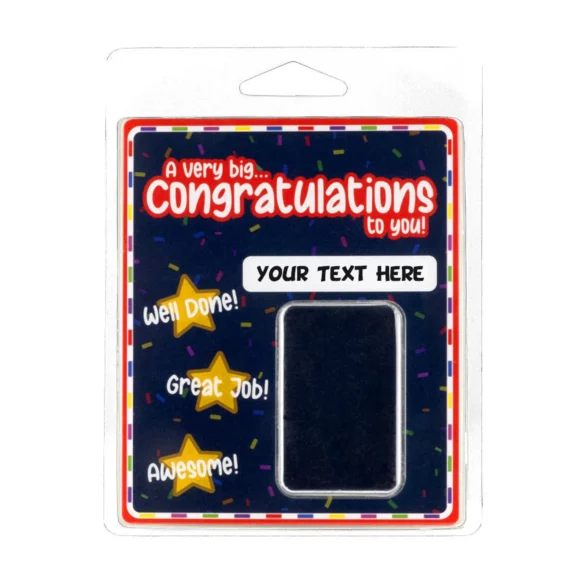 Personalized Pillow
Everybody loves a good pillow. So a fun gift for the graduate would be a personalized pillow. There are throw pillows that can be personalized with the grads name and a school color. Imagine it on their bed in their new dorm room!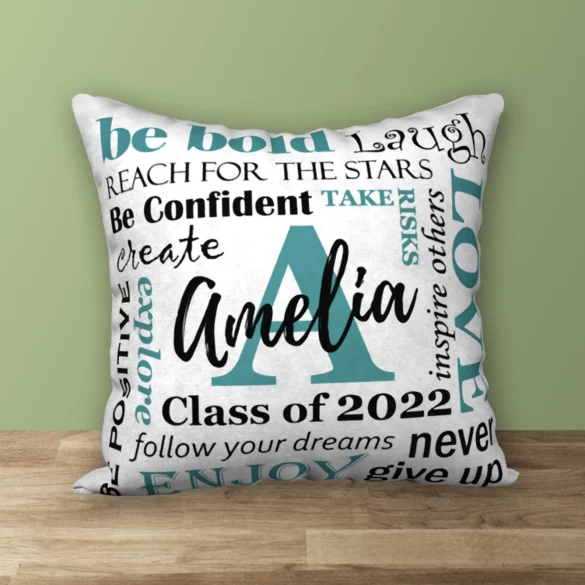 Or you can go old school and buy a pillow case and iron on paper and go to work creating your own personalized pillow case.
Iron on their grad picture or a picture of yourself holding up some graduate advice. You can get creative on this one.
Grab some Avery Printable Fabric Sheets from your local store or on Amazon to get you started on your personalized project.
Framed "Class of 2022"
You can't get more personalized than personal messages from friends and family!
Gift the grad this framed "Class of 2022" and then let all the well wishers add their congrats and words of advice.
It would be perfect to have out after graduation or you could plan ahead and take it around to loved ones and friends to have it signed before you gift it to the grad.
You can even text friends and family that live far and ask what they would like written on it and add their personalized message as well.
It would make a great gift that could follow them to college and be hung up in their dorm room.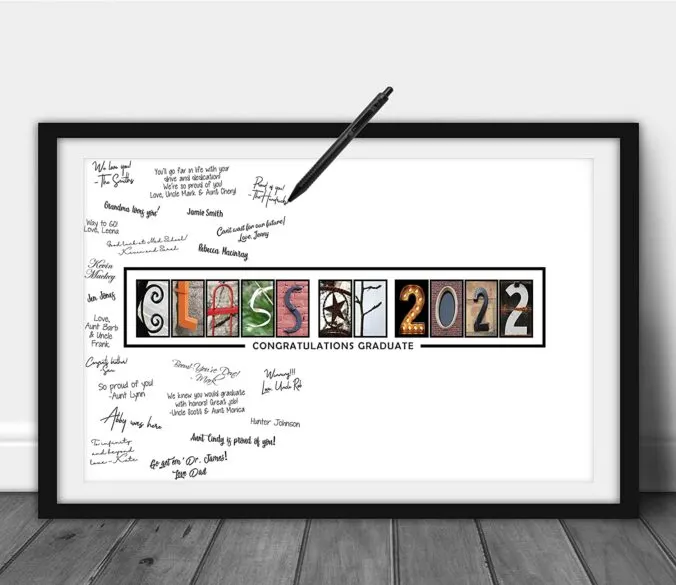 Personalized Penny
Check out this 2022 penny with a heart around the 2022 (graduation year) and then a jaunty little grad cap stamped on Abraham Lincolns head.
It's a fun and creative way for your grad to remember their big day. Also since it's not big or bulky it can easily slip onto any key chain and be something that they can carry around with them for years to come.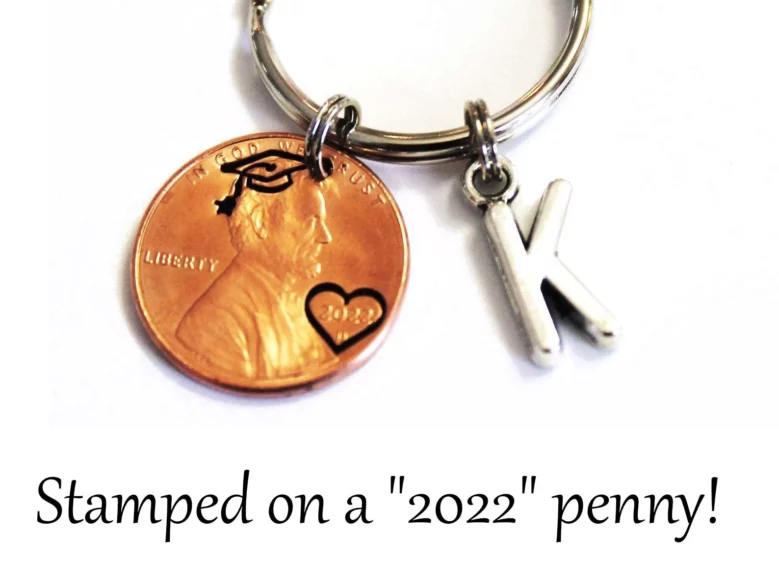 Message in a Bottle
This gift allows you to choose 3 pictures to go on a photo booth like strip that is then put inside the glass bottle.
The back of the photos has your personalized message. You can also purchase the stand for the bottle and it too can have a personalized message.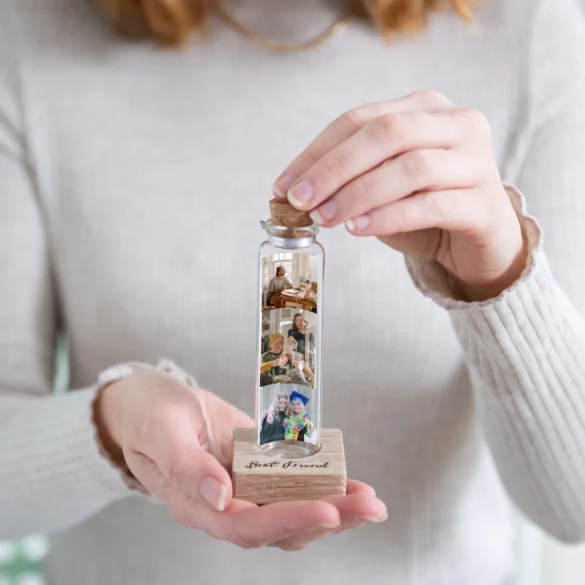 Your grad has put in A LOT of work to finally arrive at graduation day. So give them a gift they can use and cherish and that is personalized for them to remember their big day. From framed art to something they can wear, there is something to be personalized for every grad.