One of those big annoyances in life is rushing out the door for a party or other gift-giving event only to realize you're out of wrapping paper. If you dedicate a space in your home for gift wrapping, you'll alwys know where your supplies are located. Plus, a quick glance will show you when you need to restock. No more rushing around the house looking for a gift bag! I like to use a section of my guest room closet for gift wrap organization. Here's a step-by-step guide for creating an organized gift wrap closet.
Pick a closet
Any closet will work for your gift supplies. We know storage space is precious, but don't worry – you won't need much. A guest room closet, part of your linen closet, or even an empty cabinet will work. The key is to designate a permanent spot to keep all your supplies, and never again be without a pretty bag and matching tissue paper.
Clear it out
This post may contain affiliate links. As an Amazon Associate I earn from qualifying purchases. For more information, see our disclosure.
Empty the closet of all of its contents and start with a blank slate. Clean any shelves with a damp cloth. Now it's time to choose what goes back. Remove anything unrelated to gift giving. Keep the supplies you use every time you wrap a present. This includes gift wrap, gift bags, tissue paper, cards, envelops, gift tags, pens, tape, and scissors. It's a one-stop shop!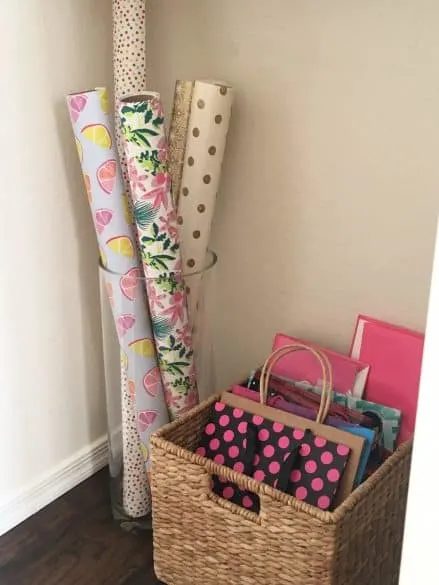 Choose your containers
You don't need to spend a fortune on organizers to keep your supply stash tidy. But a few well-chosen items will make all the difference in your gift wrap organization. A large, tall vase is the perfect vessel for rolls of gift wrap. For larger gift bags, line them neatly in a basket.
Corral the cards
For gift-giving emergencies, it's nice to have a stash of cards already on hand so you don't have to run to the store. Store a variety of cards for different occasions: anniversaries, birthdays, baby showers, and weddings. I like to keep a few blank cards in stock as well. Put them all in an affordable plastic drawer unit, and you can use one of the extra drawers for scissors and tape.

Use the wall space
As always, don't forget to think vertically when it comes to organizing. Don't waste all that blank wall space – use it! A couple of wall-mounted baskets can hold smaller gift bags and colored tissue paper.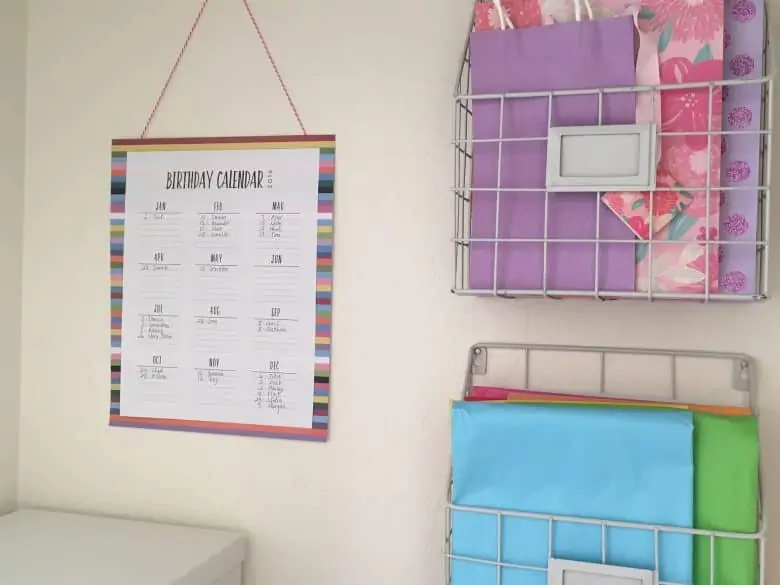 Hang a birthday calendar
We know Facebook keeps you in the know when it comes to birthdays, but it can be good to plan ahead with a good old-fashioned paper calendar. Print out a simple calendar and hang it in your gift wrap closet. This makes it easy to look ahead and see what present or card you need to send out next.
A gift wrap organization is convenient, useful, and oh so pretty! Knowing that you always have the right supplies at your fingertips makes gift-giving much easier. Plus, when you see a killer gift wrap sale you can stock up; and you'll know exactly where to put it when you get home.