These adorable Sloth coloring pages and activities make a great addition to a rainforest party or just as fun sloth printables to color any afternoon.
Sloths are some of the cutest animals around, so whether you are planning a sloth themed birthday party or just looking for some free printable sloth coloring sheets, these are perfect for any occasion!
This post may contain affiliate links. As an Amazon Associate I earn from qualifying purchases. For more information, see our disclosure.
There are even sloth coloring pages for adults and activities like a word search, maze, a template to make a sloth mask, and even a cute sloth paper craft template!
Be sure to scroll all the way down to check out the different activities and to grab the link for the free printable to download.
Free Printable Sloth Coloring Pages
Don't Worry Sloth Coloring Sheet
Relax and don't let stress take over with this cute sloth who reminds us to not worry!
Born to Be Mild Coloring Page with Sloths
We can definitely relate to these sleepy sloths—nothing wrong with a little relaxation!
More Sloth Coloring Sheets
How precious are these baby sloth drawings! We love how fun and playful the sloths are, and the little details in the background make this a fun coloring page for teens as well.
Sloth Coloring Pages for Adults
Sloths are an adult favorite too—after all most of us can relate to the desire to lounge around all day—so we made some fun adult coloring pages with sloths as well!
These adult coloring pages feature intricate, mandala-inspired designs and smaller details to help relieve stress for those who enjoy coloring.
Just click here to print all of these fun pages (plus more above) or click the image to be taken to the link to download.
Sloth Mask Outline
Cut out this simple sloth mask template and use string, elastic or even attach to a popsicle stick to make a fun photo prop for a rainforest themed party.
Sloth Printable Activities
Use this activity pages as party table activties, in a classroom, or add to a party bag.
Sloth Word Search
Sloth themed maze
Build a Sloth Template
Make your own adorable Sloth Craft using this easy printable template. All you have to do is print the colored sloth pieces, cut out, and glue together with a gluestick.
Tip: Print on Cardstock for a heavier paper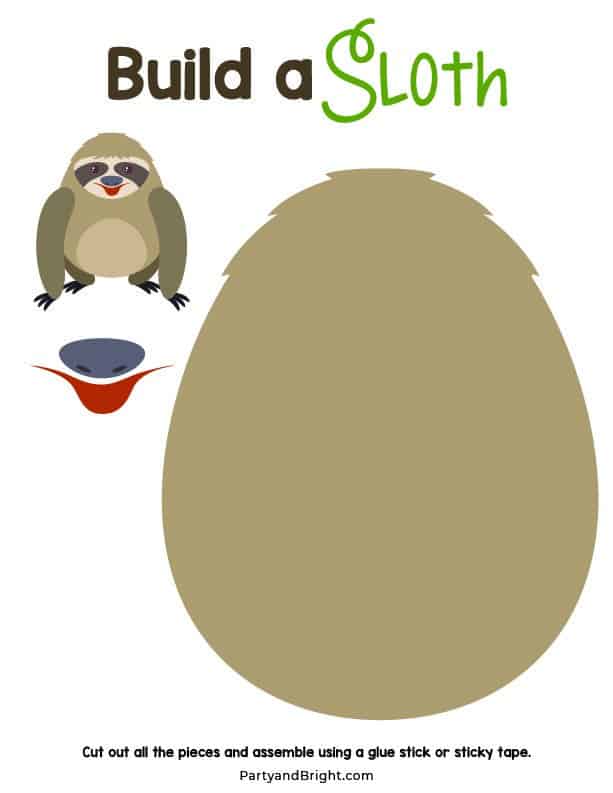 More fun coloring pages: