As parents we are always on the lookout for teaching opportunities for our kids to learn skills that will help them for a lifetime. Most of the time those opportunities naturally present themselves in everyday life. For example: When a child leaves their toys out on the floor and someone accidentally steps on one and it breaks, it's a hard way for a child to learn why we put away our things. Or when a child wants to take a certain toy to Show and Tell and can't find it because it wasn't put back in the appropriate spot. We have had some tears shed over this when my son couldn't find his yo-yo and had to take something else instead. Luckily there are easier ways to learn these life lessons and skills than having broken toys and disappointments. Reading about it in a fun kids book that is entertaining and educational is a much easier and nicer way.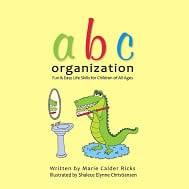 This post may contain affiliate links. As an Amazon Associate I earn from qualifying purchases. For more information, see our disclosure.
a b c organization written by Marie Calder Ricks is a great children's book that teaches valuable life skills in organizing and helping out. The "a b c" format is easily recognizable for kids and each animal engages the child in something they are doing that also correlates with the letter. My daughter's favorite page is the "C is for clutter" page where Claudia Cougar claims "We can say goodbye to clutter by cleaning up this room." The illustrations by Shalece Elynne Christainsen are colorful and simple for children to look at and understand. My youngest daughter was helping put dishes in the dishwasher the other day and she said she was just like the snake. I was completely lost as to the connection between the dirty dishes and a snake until she brought me the "a b c organization" book and we went to the "S is for system" page where Sally Snake is demonstrating having a system for doing the dishes. I didn't know whether to laugh or to beam with pride that my 2 ½ year old had actually listened and learned something!
It's no wonder that Marie has written a fabulous organizing book, she has over 25 years of experience sharing home and professional organizing skills with others. She also knows a thing or two about kids since she has five sons of her own! As I'm sure she knows teaching kids organizing skills that will last a lifetime isn't always easy to do. With a great book like a b c organization, life skills can be taught in an easy and fun way that will stick with kids for a lifetime.
For more information about a b c organization and Marie Clader Ricks please visit https://houseoforder.com While you're there be sure to check out some of her other great books like The Children You Want With The Kids You Have.