Organizing can be done in different forms, and by just changing a few elements in your house you can accomplish this.  Not only will you be changing the entire looks of an area in your house, but you also get to improve the systems of organization surrounding it. One of the most popular rooms in the home to renovate is the kitchen, but this can prove to be quite expensive if the work has to be done by a professional. But never fear, because it's fairly easy to cover up your expenses and you can do the job by yourself.
Here are 5 great tips to transform a kitchen without breaking the budget.
The first option is to change colors. Simply giving the walls a different color can change the landscape considerably. Fresh paint can brighten any room in the house. Selecting light colors will help open the room up and make it feel bigger than it actually is. Choosing a coordinated color palette can be a great place to begin this process. Even refreshing the cabinets as well as the walls can transform the room.  When we lived in California we first just painted the walls and the cabinets and it went from this…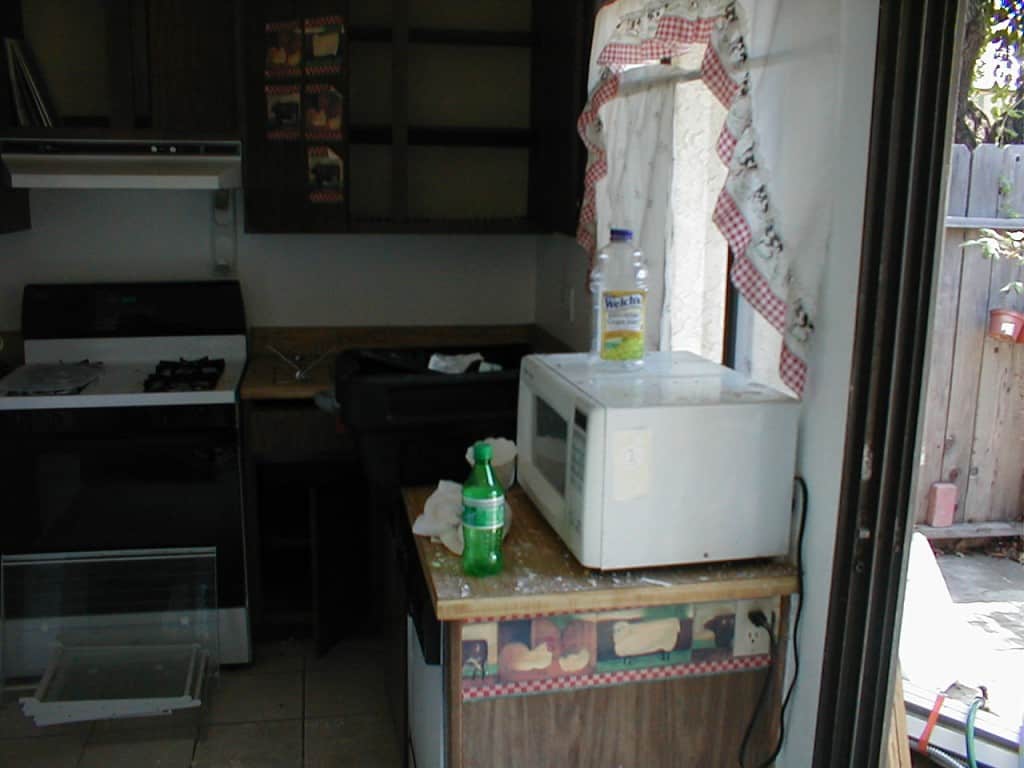 to this…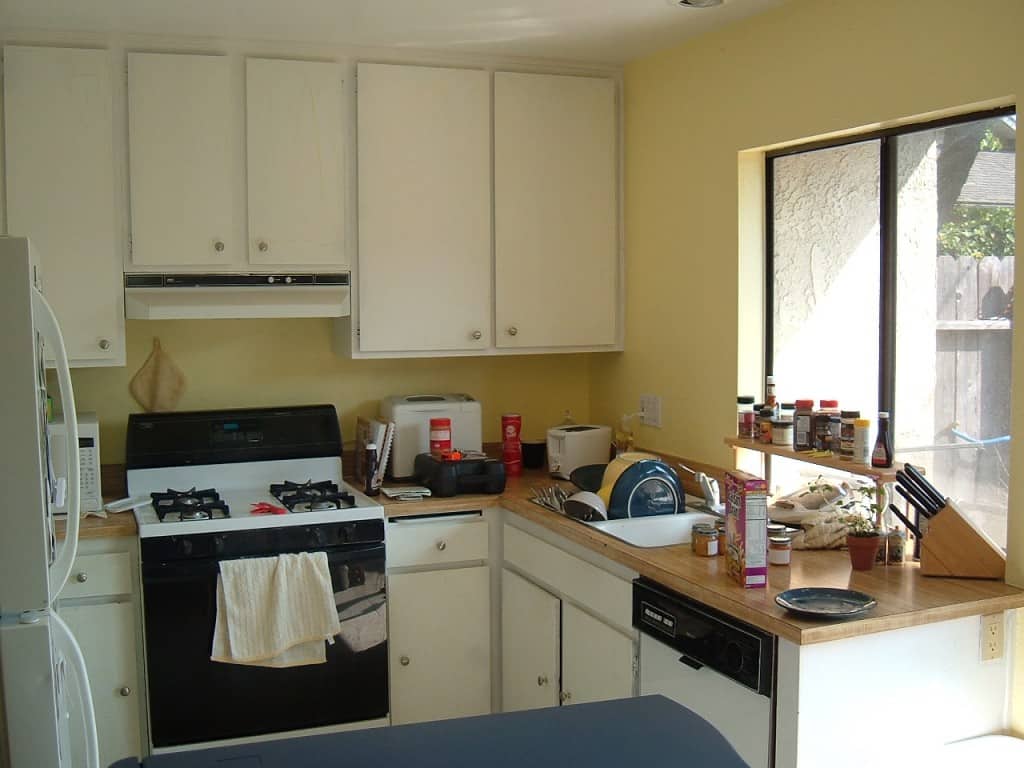 Of course this will involve some preparation of the cabinet doors first.  Each door should be removed, cleaned of any dirt and then sanded smooth again. While you are doing this, you have to remove everything out of the cabinets.  This is a perfect time for you to go through your kitchen items and start throwing away or donating things you don't use, and then when the cabinets are all painted you can make sure you have a great organization system in place when you put them away.  Once the cabinets have been sanded its important to use a primer on the material so that the paint will stick properly. Once priming is completed, then you are ready to paint!  In the kitchen area, an oil based option for your paint is the best method to use. This type of finish will resist damage better and is easier to maintain over the long haul. In addition, there are a number of special products that contain mold inhibitors specially made for the kitchen area.
This can really help to spruce up this area, and help to transform the appearance of the room into something special. Another great way to update a kitchen area is to reface the cabinets. This can effectively improve the appearance by upgrading the shell without having to replace the entire unit. Many kits are now available that can reface a set of cabinets at a small fraction of the cost of a set of new ones. Cabinet refacing can also be done using pressure sensitive veneer. Most of these products are made of quality wood that can provide an instant make-over. This is the fastest way to upgrade the look and feel of any set of cabinets. You can adjust your cabinets in terms of space sizes where storage solutions would just be a breeze, like piling your herb containers, canned goods or dry ingredients. Or spruce up your cabinets for your glassware, plates and other kitchen utensils.
Veneer can be used on most applications to give it a high quality look. Exposed edges can be covered using veneer strips or edge bands very effectively. The best part is that the cost will be substantially less than a full renovation, but still adds great value to any home.
Another smart idea is to replace or reface the counter tops in the kitchen. Over time, these units tend to get worn or out of date and they can be replaced quite easily with a new style. There is also an option to reface or even repaint a laminated counter top as well. This is due to the new paints that are available on the market, specifically formulated for this kind of usage. Different styles can even mimic granite, stone or concrete for a more natural look.  After we had lived in the California house for a while, we actually decided to do both (reface the cabinets AND put in new counters.  Now it looks like this…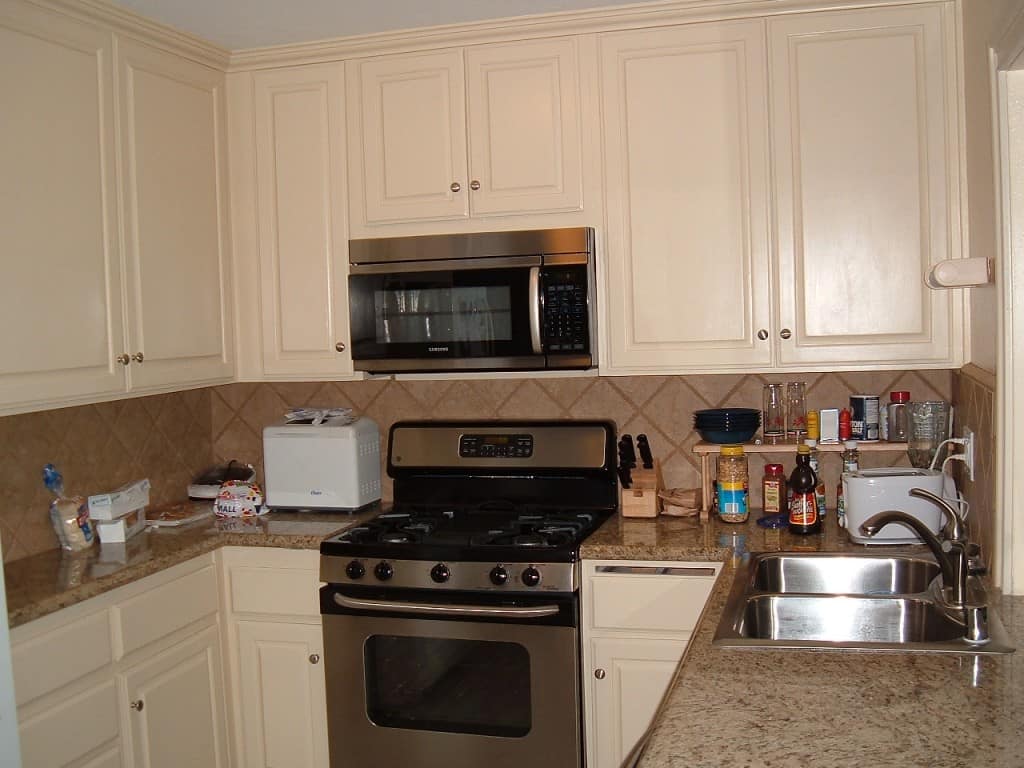 Although our kitchen is much bigger now… I still REALLY miss this kitchen.  It turned out amazingly gorgeous.
Some homeowners will choose to upgrade their set of appliances (which you can see that we also did when we re-did our kitchen).  Almost all of these now come in standard sizes, so a newer model will fit right in the old space. Since the more modern ones are generally more energy efficient, this can be a bonus. Getting a renovation loan through a refinance mortgage is easy to help cover the expenses since the cost will be recouped. While replacing appliances is not cheap, it is still less than replacing all of the cabinets.
The final option to consider is lighting. Replacing existing lighting with a different style can really dress up the kitchen. For example, using LED's or under cabinet styles can bring a feeling of warmth to the room. It can help to make it bright and cheery too.
It doesn't have to cost a fortune to renovate a kitchen. Using any of these steps can help a homeowner transform the room without breaking the bank.