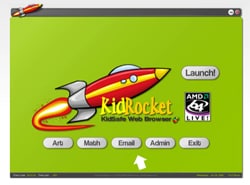 If you've ever been to my house, you have most likely seen my daughter on the computer.  At the ripe old age of 2 1/2 you can watch Maddie completely navigate and play games (either on my laptop or on the desktop, she uses the touchpad on my laptop like a pro!) on either starfall.com, nickjr.com or playhousedisney.com (those are her favorites).  She usually doesn't need my help at all, so she can play on my laptop at the kitchen table while I work out or read in the family room (they are pretty much the same room, just separated by a couch)!  Frequently, as I've periodically checked up on her she'll be in my Outlook, Photoshop, Microsoft Word (her personal favorite program).  Not anymore though!  For a while I contemplated getting her that toy where you can place different characters into a slot and it will pull up those specific websites for your child.  It was a bit expensive, and didn't go to the sites that she liked the most.  So I didn't. 
I recently found www.kidrocket.org which completely solves the problem for me, and for FREE!!  Greg Killam is the brains behind Kid Rocket.  It's a browser for kids that only allows access to a certain number of kid friendly sites.  The REALLY awesome part is that you can lock the program so that you can not access any other part of your computer without a password!  No more emails going out to vnraoupeihdfvdalkdmnviuerllllllllllllll!!  His slogan is "Protect your kids from the internet, and your computer from the kids!"  There is a timer feature where you can lock up the entire program and your desktop when the "time" is up!  According to the message board on the site, he is working on allowing parents access to add sites to the list of sites that the child can access, but currently you are limited to the ones he has chosen (which includes all of Maddie's favorites, so we are ok)
I've taught Maddie which icon she needs to push to get to her games (which is just a cute little rocket).  She is actually having fun exploring other sites that we haven't even been to yet, like the Crayola & PBS sites.  I love that I can concentrate on my workout knowing that she isn't destroying my laptop, and that she is not getting to any website that I don't want her to go to.  It hasn't been an issue in the past, but I really like KNOWING that she will not be accessing any other sites.  I am just really excited about this program! 
It's so nice that there are some people out there that are just passionate about keeping kids (and computers) safe!  So much so that they are giving it away for FREE!  Greg, my hats off to you!  Thank you, thank you, thank you for this fantastic browser!  Go download it today and leave a comment to tell me what YOU think about it!