Halloween is my favorite holiday! I love the costumes, pumpkin decor, candy, and Halloween parties. But I don't love spending tons of time preparing food. Who wants to be stuck in a kitchen making food when they can be out enjoying all the fall festivities? I have compiled a top 10 list of simple yet festive Halloween dishes that you can make in no time.
Easy Halloween Party Treats
If you're looking for easy Halloween party treats that are totally amazing, we have you covered!
This post may contain affiliate links. As an Amazon Associate I earn from qualifying purchases. For more information, see our disclosure.
This is definitely a favorite of kids and adults alike! The hardest part is writing "RIP" on the gravestones. If that intimidates you, try just decorating the top with candy pumpkins or gummy worms.
My sister does a witches tea party with her girls every year and she makes these adorable cookies. Best part: no baking required!
I thought this was such a cute and easy idea to spice up your typical glazed donut. Just add candy eyes and vampire teeth!
Okay, so this one does require baking. It is made from two different mixes (brownie mix and white cake mix) so still low effort. I love how it has the festive Halloween colors.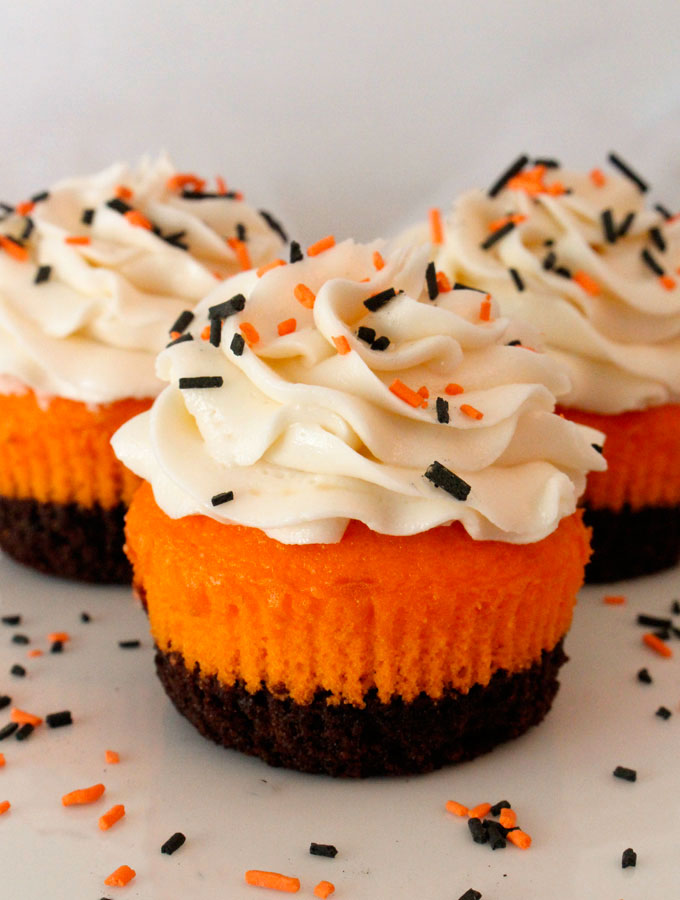 Rice Krispie treats are so quick to make and what a great idea to shape them like a pumpkin! Love the simplicity of this treat.
This is a Halloween tradition in my family. My mom even adds almond slices for fingernails. A bit gross-looking? Yes, but perfect for Halloween.
These cute ghosts are made from bananas dipped in chocolate. Perhaps this is a slightly healthier treat then some you might find around this time of year.
This is another semi-homemade treat. You use a cake mix as the base and add green food coloring. Perfect for a monster-themed party.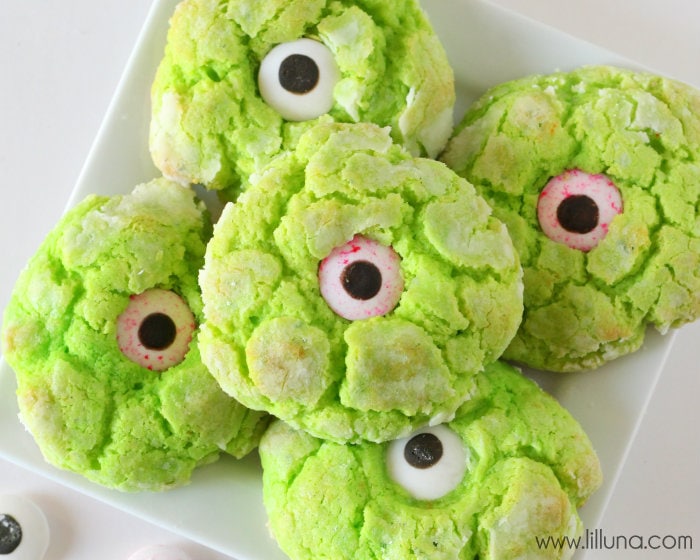 These are a treat you can make in no time. You buy donut holes at the store and dip them in chocolate to look like mummies. This would be great for a class party!
I've done spiderwebs with seven-layer dips but this one is even easier! I love that it is also a lighter alternative to some of the other intensely sugary things around Halloween time.
Hope you enjoy making these recipes for your upcoming Halloween parties! Happy Halloween!