With the weather beginning to cool and the leaves starting to change, a feeling of fall is in the air. But just because your summer flowers are starting to fade doesn't mean you can't have a beautiful front porch!
Decorating your front porch for fall is a wonderful way to enjoy the colors of the season and keep your outdoor space looking beautiful. Check out these fall front porch decorating ideas for your home this season!
Fall Front Porch Ideas for Your Home
This post may contain affiliate links. As an Amazon Associate I earn from qualifying purchases. For more information, see our disclosure.
If you are looking for some great fall porch decor ideas, look no further. We have some helpful tips and tricks so you can get started with the perfect autumn decor for your front porch.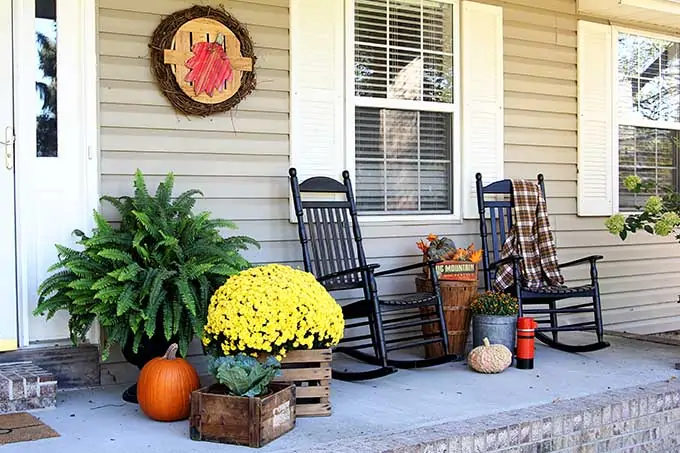 If you are currently loving the farmhouse home decor trend, you'll love this post on farmhouse porch decor. I love the use of wooden crates to hold fall flowers and pumpkins and leaves.
The rustic farmhouse style wreath and plaid throw on the porch rocker are the perfect finishing touches. So many great ideas from this post!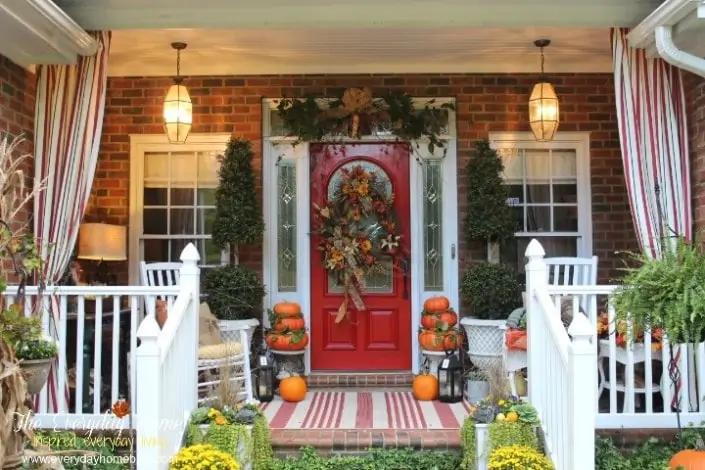 If you love to decorate your front porch in all the rich colors of fall, you'll love this post! The beautiful fall wreath is inspiring.
I love the stacked pumpkins on top of the planters with the green moss and grapevine. Even if you aren't lucky enough to have a red door to coordinate your fall decor, you'll love these fall front porch ideas.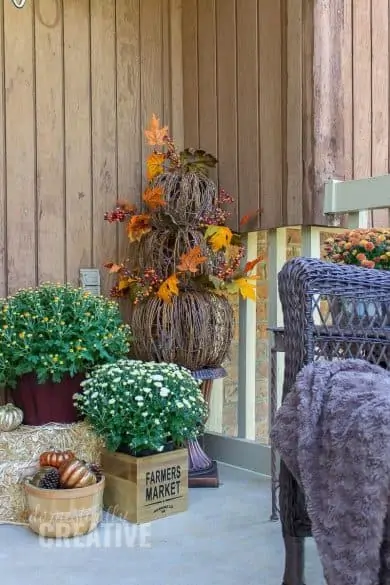 This cozy front porch is another rustic take on fall decor. I love the pumpkin topiary! And the mums and hay bale make the perfect combination for a fall front porch.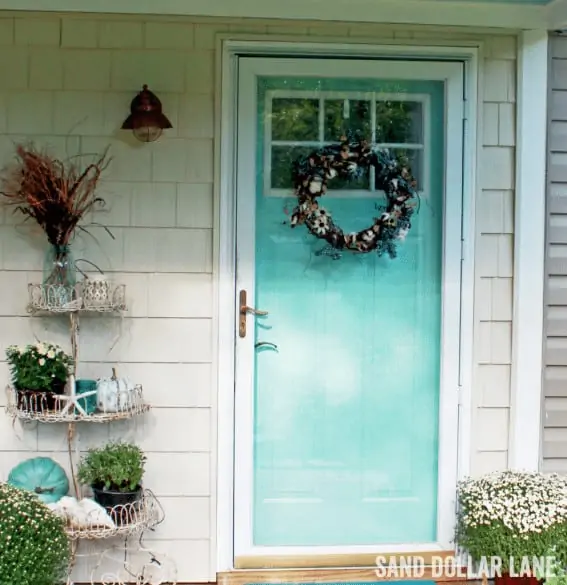 If you live life at the beach, or just like to pretend you do, you'll love this idea for a coastal style fall front porch! The blues and whites are beautiful.
Although I never expected to see a pumpkin that color, it looks amazing. And the cornstalks add the perfect finishing touch.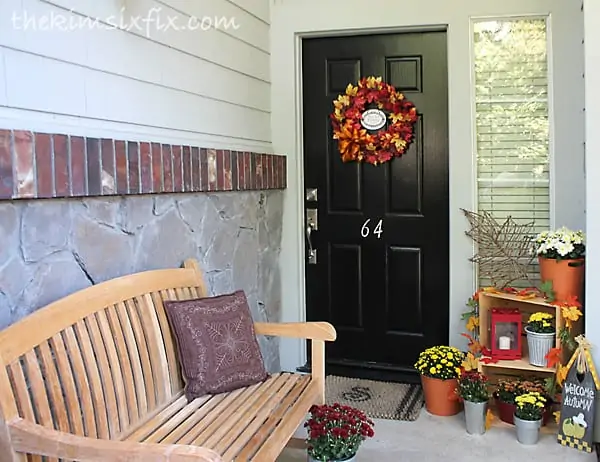 If your home doesn't include a large front porch for decorating, you'll love these ideas for a narrower space.
I love the wooden leaf that is so perfect for fall and manages not to block her window. The colorful mums and wreath really show off the beautiful colors of fall.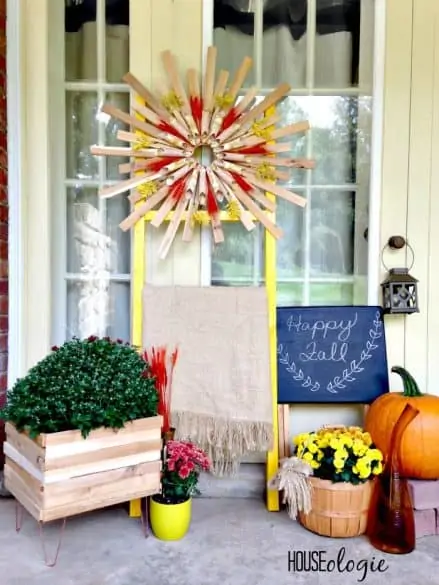 Fall is a season of bold colors and here are some great ideas for including them all in your front porch decor. I love the sunburst wreath! It is so unique and yet perfectly fits the fall season.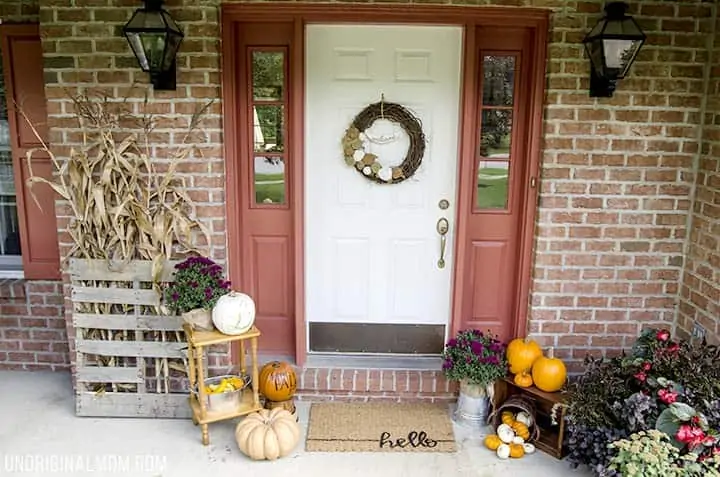 Pumpkins and mums are staples of fall front porch decor but I think they are used to particularly beautiful effect here. And I love the corn stalks and pallet for a perfect fall touch. The pumpkins are also beautifully unique.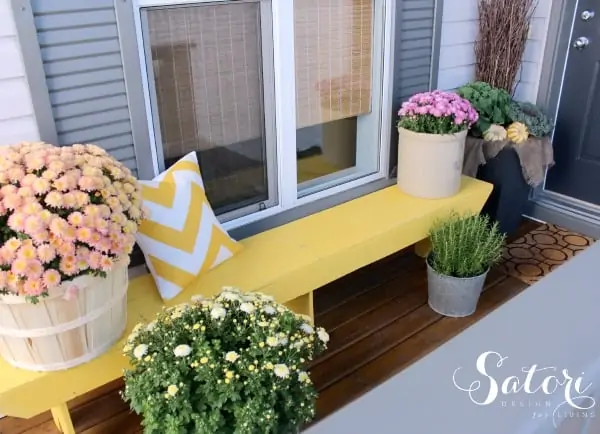 For a less traditional take on fall decor, check out this post with it's warmer color scheme for your fall front porch. The pumpkins and cabbage are still there but with a unique blend of colors that really sets this front porch apart.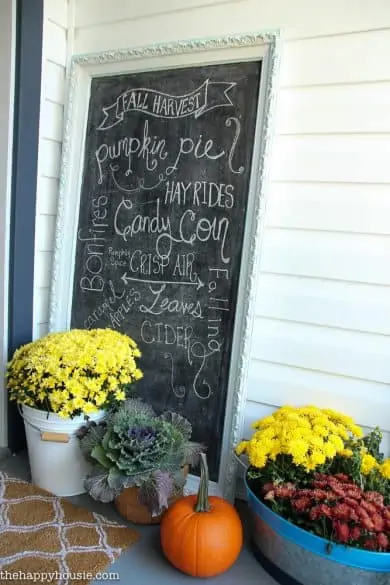 Another post to inspire those of us with smaller porches on how to decorate them for fall! I love the chalkboard idea. And it could easily be changed throughout the year to reflect all the coming seasons.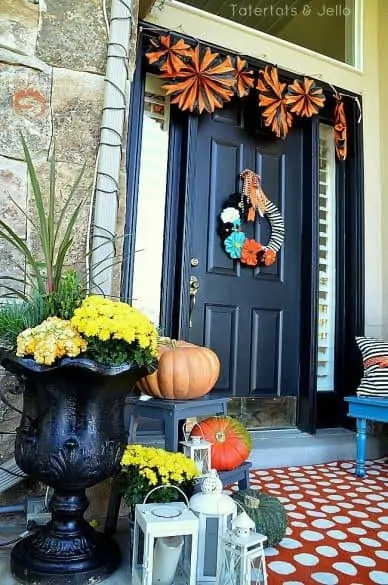 I love this more modern take on fall front porch ideas! The wreath on the door is amazing. And I love that colorful rug. The traditional touches are there too. But this really stood out as unique and fun.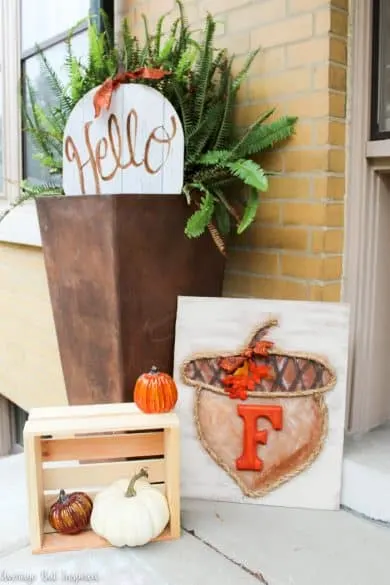 No matter what the size of your front porch, everyone can make room for this beautiful and fun DIY acorn front porch sign. Add a few more fall themed touches and your porch will look stunning throughout the season of changing leaves.