It's that time of year again! The highlight of autumn has to be Halloween. Who doesn't love the candy, the scares, and the fun parties? With all of the events going on in mid to late October, sometimes parents and kids alike can forget the one thing that they need the most this time of year…a costume.
Last Minute Halloween Costumes for Kids
If you are one of these people, or your child has suddenly changed their mind here are a few ideas for a last minute halloween costume for your child.
This post may contain affiliate links. As an Amazon Associate I earn from qualifying purchases. For more information, see our disclosure.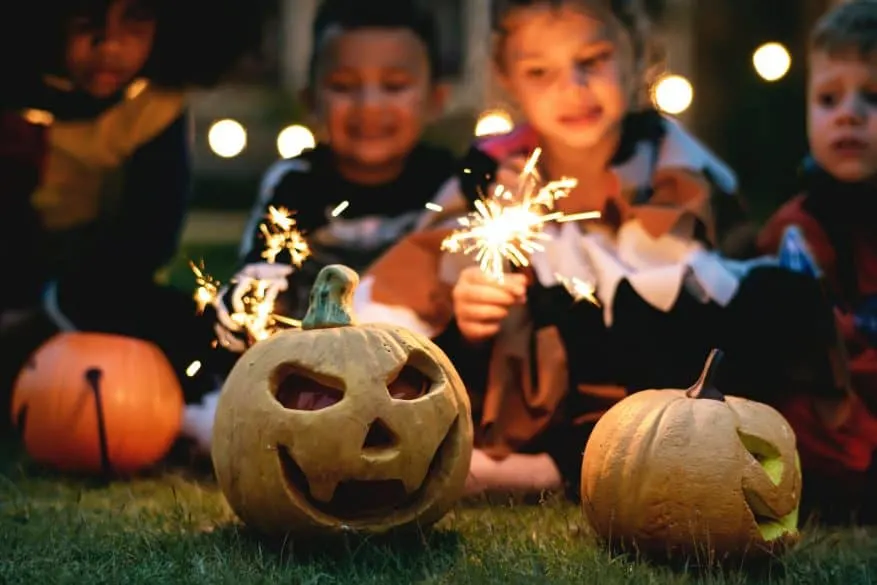 The Scarecrow
This is an easy and classic costume for boys or for girls. All you have to do is head down to your local department or farm store and purchase a pair of children's size overalls, a flannel shirt, and a straw or cowboy hat.
If you want to make it a little more unique cut out some cool shapes from a few pieces of felt paper and pin them on the overalls in different places with a few safety pins. Also, a little bit of face paint can also spice up the costume a little bit too! This is both easy to make happen and most of the costume can be worn again!
The Bandit
This one can be a lot of fun creating! Your kid probably has a pair of basic black pants somewhere in their dresser or closet. Then all you need is a black and white striped shirt and a black winter hat or black ski mask and they are good to go!
This is not only a silly but very simple to throw together at the very last minute and it will also keep your child nice and warm while they are out trick-or-treating. Extra points if you can find a canvas bag to draw a dollar sign on for them to collect their loot in (candy not cash)!
The Mummy
Got some toilet paper? Good! To start, have your kid dress in black from head to toe. Next, have them raise their arms up in front of them.
Take the roll of toilet paper and use a safety pin to secure to near their shoulders. From there, work your way down their body, wrapping it all the way around their body, including their arms.
You will likely need to use more than one roll in order to cover their entire body. Anytime you start or end a new roll use a safety pin to secure it.
Also, give the toilet paper a little slack so it's not too tight on your child and so they have the ability to move more freely while they are out collecting their candy. If you can create a small cap out of the toilet paper to put on their head and if possible, maybe some white face paint to top it all off!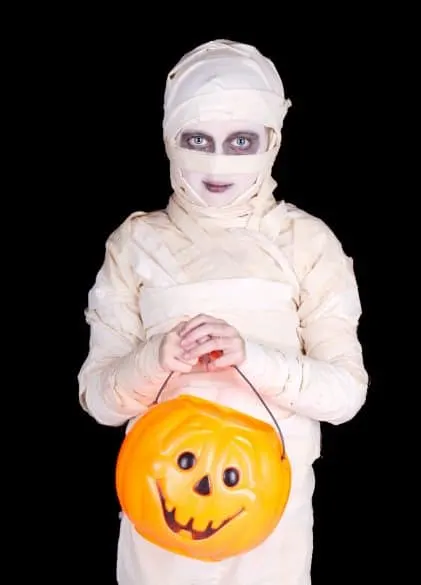 The Skeleton
Have your child dress in a pair of black pants and a long-sleeved black shirt. If you don't have any white or silver reflective duct tape, quickly run down to your local department or hardware store and pick up a roll or two.
Once the black outfit is on and the tape is at hand, peel off several small pieces at a time and tape them onto the shirt and pants in a bone like pattern. This won't be anatomically correct, but it'll get the job done!
Also, the reflective duct tape will make it much easier for people to see your child as they are out walking on Halloween night. The tape will peel off easily once they are done trick-or-treating!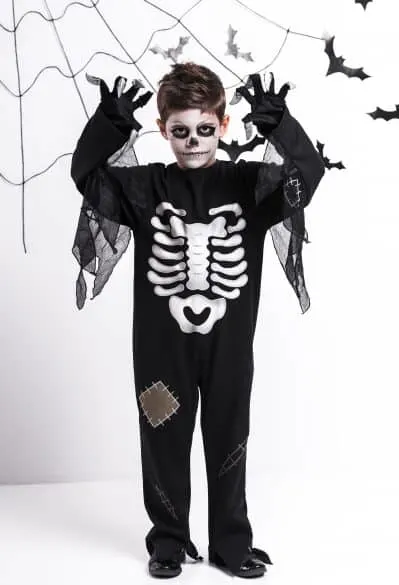 The Woodsman
Taking a pair of your kid's favorite pair of jeans, a flannel shirt, and an orange winter hat you can create a pretty awesome lumberjack/hunter/outdoorsman costume for your favorite little boy!
Using some safe face paint, create a faux beard out of brown or black face paint. If you have time to swing by a store, see if you can locate a play ax for them to carry around to top off this easy, cheap costume!
The Inspiration
This one's for the girls! Have your girl put on a pair of black slacks or dark colored jeans. If you can find a long-sleeved button-up denim shirt beforehand, even better! If not, a navy blue long-sleeved shirt will do!
You will need a classic red bandana and a pair of tennis shoes and you are all set. Just make sure she rolls her sleeves up past her elbows. Your sweet girl can now go as Rosie the Riveter, one of the most inspirational women of all time and that's pretty cool!