The 4th of July is a favorite holiday for many. Spending time with family and friends, lighting fireworks, going to parades, and backyard barbecues have all become a signature of this special holiday.
Part of hosting a gathering on the 4th of July is figuring out what you want to serve your guests. Traditional favorites such as hot dogs and hamburgers, watermelon, chips and the like are good and easy options.
This post may contain affiliate links. As an Amazon Associate I earn from qualifying purchases. For more information, see our disclosure.
But if you have a little extra time, you can add some of the following homemade menu items that your guests will be sure to love as well.
Here are some of my favorite 4th of July backyard barbecue recipes.
Pulled Pork Sandwiches
This is a great way to get that barbecue flavored main course without having to actually turn on the barbecue! This delicious instant pot recipe can be made the same day or made ahead of time.
Ingredients
3 lbs. boneless pork roast, cubed
2 T olive oil
1/3 cup apple cider vinegar
1 cup barbecue sauce
1 ¼ cup chicken broth
½ teaspoon cumin
2 teaspoons onion powder
1 teaspoon pepper
2 teaspoons garlic powder
1 teaspoon salt
2 teaspoons paprika
1 T brown sugar
Directions
Mix cumin, pepper, salt, onion powder, garlic powder, paprika, and brown sugar in a small bowl.
Season meat with spices by rolling meat in the spice mixture.
Mix vinegar, barbecue sauce, and 1 cup chicken broth.
Set instant pot to saute mode and heat olive oil.
Brown pork on all sides. Depending on the size of your instant pot, you might have to do multiple batches.
Turn the instant pot off and use remaining ¼ cup broth to de-glaze the bottom of the pot.
Add back the meat and vinegar, barbecue sauce, and brother mixture.
Seal and cook on manual high pressure for 40 minutes.
Allow pressure to release for 10 minutes.
Shred meat and add some juices from the instant pot until it is as juicy as you want it.
Serve on hamburger buns.
Optional: Add extra barbecue sauce, crispy fried onions, cheese, and coleslaw.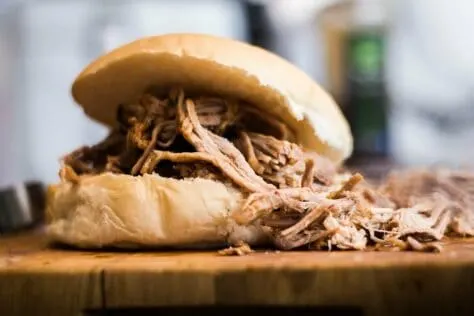 Potato Salad
A yummy potato salad is a must have for any backyard picnic. The secret that makes this one so delicious is the added pickle juice.
Ingredients
6 boiled eggs
6 potatoes
½ teaspoon onion salt
3 baby dill pickles
½ cup miracle whip
½ cup mayonnaise
2 T pickle juice
1 teaspoon mustard
Optional: paprika
Directions
Peel boiled eggs and chop into small pieces.
Peel potatoes and boil until soft.
Chop potatoes into small cubes.
Chop up pickles into small pieces.
Mix together onion salt, miracle whip, mayonnaise, pickle juice, and mustard.
Combine the eggs, potatoes, pickles, and dressing mixture.
Optional: sprinkle with paprika.
Chill in the refrigerator before serving.
Pasta Salad
This simple pasta salad is super easy and quick to throw together if you are needing to make something at the last minute. It is made out of ingredients you probably already have on hand.
Ingredients
1 box of spiral pasta (or whichever kind you like).
1/2 cup to 1 cup Italian salad dressing
1/2 cup shredded parmesan cheese
1 small can sliced olives
½ package pepperoni, chopped into quarters
Directions
Boil pasta according to directions on the box. Cool pasta by running under cold water.
Stir in olives and pepperoni.
Add Italian dressing. The amount can vary depending on how much flavor you want to add.
Top with parmesan cheese.
Chill in the refrigerator before serving.
Steak Kabobs
Kabobs are a great 4th of July backyard barbecue recipe because they are so versatile. This recipe involves steak, but you can easily substitute a different cut of meat and add other vegetables if you desire.
Ingredients
2 T white vinegar
½ cup canola oil
¼ cup soy sauce
3 T honey
½ teaspoon garlic powder
½ teaspoon ground ginger
1 ½ pounds top sirloin steak, cut into 1-inch cubes
2 medium onions, cut into wedges
1 medium sweet red pepper, cut into 1-inch pieces
½ pound whole fresh mushrooms
1 medium green pepper, cut into 1-inch pieces
1 medium yellow summer squash, cut into ½ inch slices
Rice (optional)
Directions
In a large bowl, combine white vinegar, canola oil, soy sauce, honey, garlic powder, and ginger.
Coat beef with this mixture. Refrigerate for 8 hours.
Using 12 metal or soaked wooden skewers, thread beef and vegetables.
Grill kabobs, covered, over medium heat 10 to 12 minutes or until steak reaches desired doneness, turning occasionally.
Serve with rice if desired.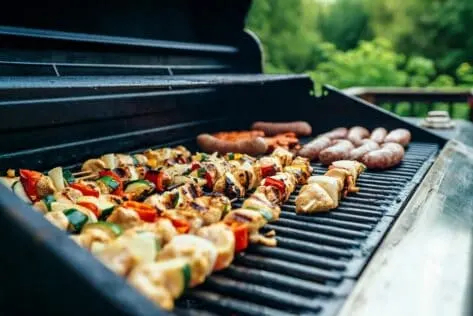 No-Bake 4th Of July Cheesecake
This refreshing cool treat is perfect to serve on a hot summer day, and of course the flag shaped fruit arrangement on top adds holiday flare.
Ingredients
1/4 cup white sugar
2 T unsweetened cocoa powder
1 1/2 cups finely crushed graham cracker crumbs
6 T butter, melted
1 cup cream cheese, softened
1 cup mascarpone cheese, softened
2 teaspoons lemon juice
1 teaspoon vanilla extract
2 teaspoons grated lemon zest
1 1/4 cup cold heavy whipping cream
1/3 cup white sugar
20 large strawberries, halved lengthwise
24 large blueberries
Directions
Combine graham cracker crumbs, sugar, cocoa powder, and melted butter in a bowl until thoroughly combined and crumbly.
Transfer mixture to a 9 x 11 inch baking dish and evenly press crust into bottom of the dish.
Cover dish with plastic wrap and refrigerate until set, about 30 minutes.
Mix cream cheese and mascarpone cheese in a bowl until combined.
Stir in lemon juice, lemon zest, and vanilla extract.
Whisk 1/3 cup sugar into whipping cream in a separate glass bowl until fluffy and the cream forms soft peaks.
Add whipped cream to the cream cheese mixture and gently whisk until filling is fluffy, soft and thoroughly combined.
Spoon filling on top of the graham cracker crust, smoothing the top. Tap the pan gently on your work surface several times to settle the filling and crust.
Cover pan tightly with plastic wrap and refrigerate until chilled and set for at least three hours.
At the bottom of the cheesecake, arrange strawberry halves in a horizontal line, with the pointed bottoms of the strawberry halves pointing to the right. Make three more of these long rows. Form two shorter rows (about 2/3 the length of the other rows) in the upper right hand corner.
Fill in the rest of the upper left hand corner with the blueberries.
Cut into squares and serve.
Wishing you a safe and joyous 4th of July celebration with your friends and family! We hope you enjoy these 4th of July backyard barbecue recipes!