DECORATE YOUR DOORSTEP FOR THE 4TH OF JULY THIS YEAR!
As 4th of July approaches, it's time to think about how you'll celebrate! Aside from fireworks, BBQ's and parades – it's fun to bring the festive spirit to your home decor as well. There's nothing more welcoming than a patriotic, 4th of July front door or porch. Here are a few simple ideas to bring the red, white, and blue to your front door or porch.
The Fourth of July Banner and Star
Bunting
This post may contain affiliate links. As an Amazon Associate I earn from qualifying purchases. For more information, see our disclosure.
Source: Lolly Jane
This American flag-inspired bunting is super easy to make. According to Lolly Jane, just freehand a template on regular paper. Then cut out burlap and fabric. Make sure the fabric is a little smaller than the burlap for a layered look. Adhere the pieces together using spray-on adhesive. Then use a strip of burlap for the string; simply attach the individual pieces with a hot glue gun. The result is a beautiful and festive banner! And we love the giant metal star to finish off the look.
Decorating your porch with Patriotic flags
Simple Look with Flags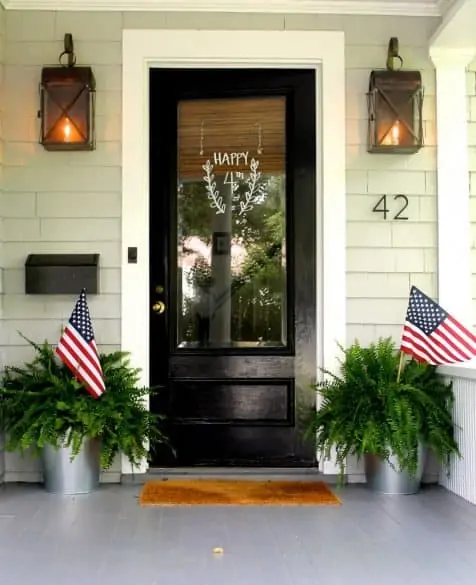 Source: Most Lovely Things
Keep in mind, holiday decor doesn't have to require a lot of effort. This simple look only requires a couple of flags inserted into your regular potted plants. Then, add a stick-on decal to your front door, or paint on a design using removable paint markers.
Hang a simple 4th of July sign
Hanging Sign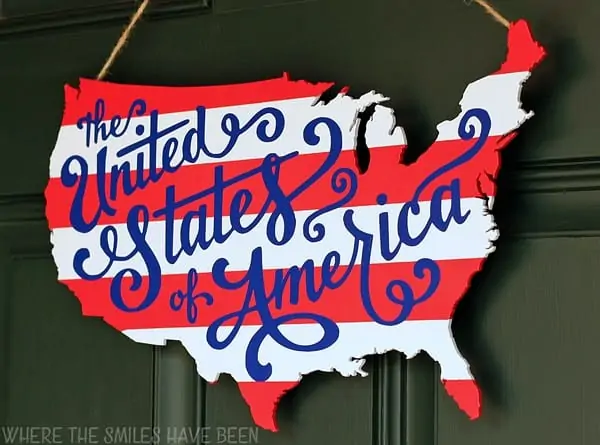 Source: Where The Smiles Have Been
This DIY hanging sign was made with a pre-cut United States wooden shape. Red and white stripes were painted on using painters tape. Finally, the script font was made with a vinyl cut-out machine. But you could mimic the same look using a stencil or if you're handy with a paint pen, freehand lettering.
Use 4th of July themed fabric!
Fabric Door Ha
nging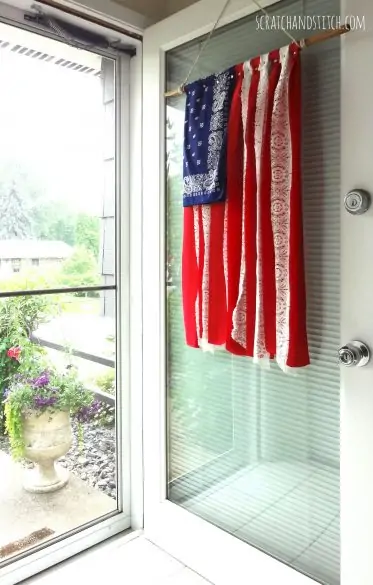 Source: Scratch and Stitch
Anyone can make this adorable fabric door hanging! All it takes are some strips of fabric and a wooden dowel to hang them on. We love the blue bandana for the "star area" of the flag, it brings a rustic charm to the project.
Classic Wood Pallet 4th of July Flag
Source: Mother's Niche
This wooden flag project was inspired by a Pottery Barn product, but was made with a wood pallet for less than half the price! A giant piece like this transforms your porch into a show stopper, you'll be the envy of all your neighbors!
Looking for more great 4th of July ideas? Check these out!