It's 4th of July! What are your plans? Do you want to have a patriotic celebration with friends and family? This article will provide you with all the information that you need for an ultimate 4th of July party. It will include how to decorate, what food to serve, ideas on celebrating and being in the patriotic spirit. So read on if you're looking for some 4th of july party ideas!
What do you do for a 4th of July party
The 4th of July is a great excuse to get friends and family together to celebrate Independence Day.
This post may contain affiliate links. As an Amazon Associate I earn from qualifying purchases. For more information, see our disclosure.
Here are some fun favorites that people like to do.
Decorate in red, white, and blue (more on that later!)
Invite friends and family over to enjoy some BBQ (more on menu ideas).
Play some 4th of July themed games (more on that later!)
Witness a dazzling fireworks display
Sing along to your favorite 4th of July songs like "America The Beautiful" and "God Bless America".
Now that you have some ideas, let's dive deeper on ways you can make your 4th of July celebration the best ever!
How do people celebrate 4th of July at home?
If you're looking to stay home for the 4th of July, you can still have a great time.
In fact, the 4th of July is probably one of the holidays that people do choose to have at home, just because of the nature of it.
Check out these great ideas for lots of fun in your own backyard.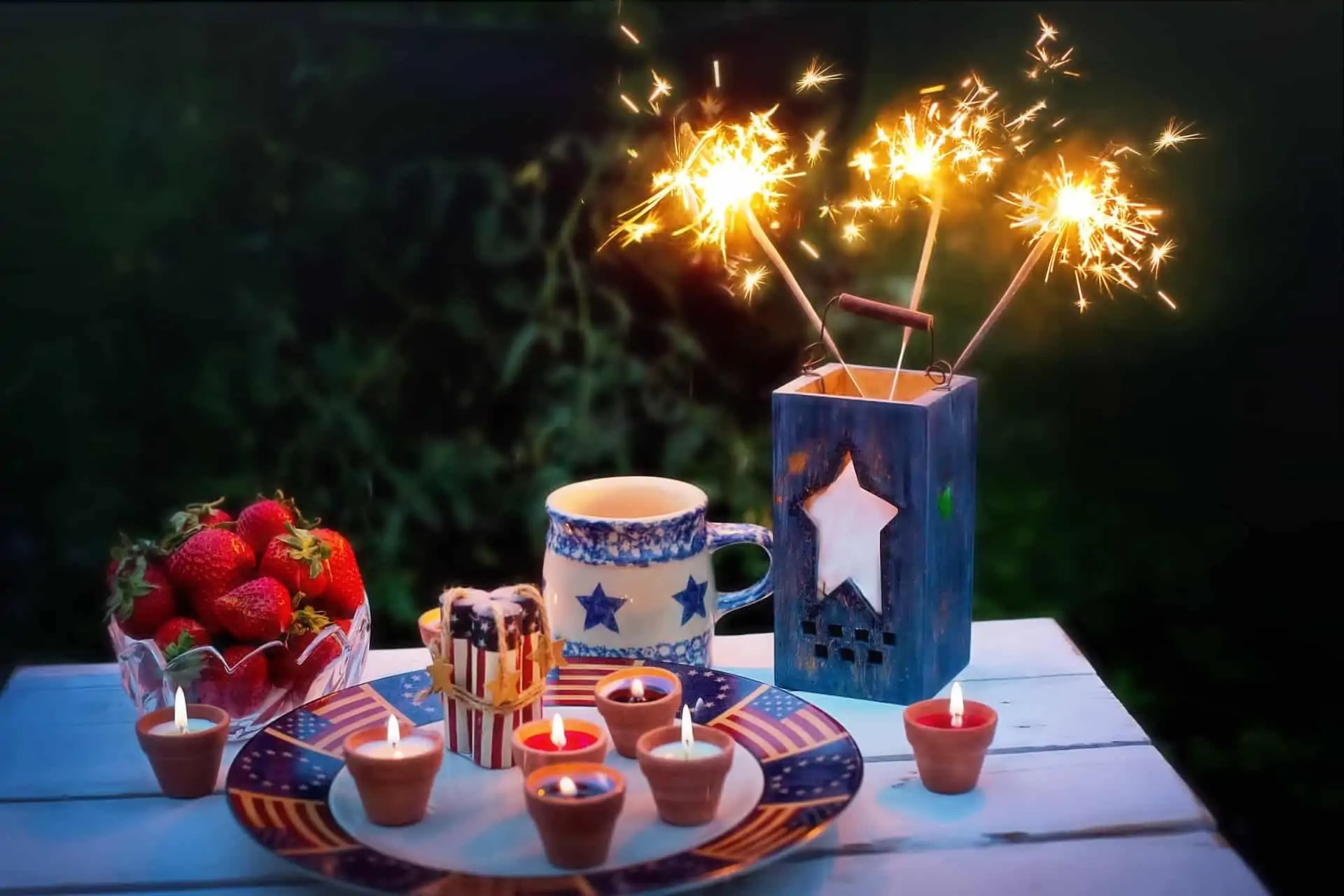 Make Carnival Food at Home
Just because you're celebrating at home doesn't mean you can't enjoy your favorite treats! In addition to burgers, dogs, and sides, try your hand at homemade funnel cake or even snow cones to give the day a more festive feel.
Here are some recipes to get you started: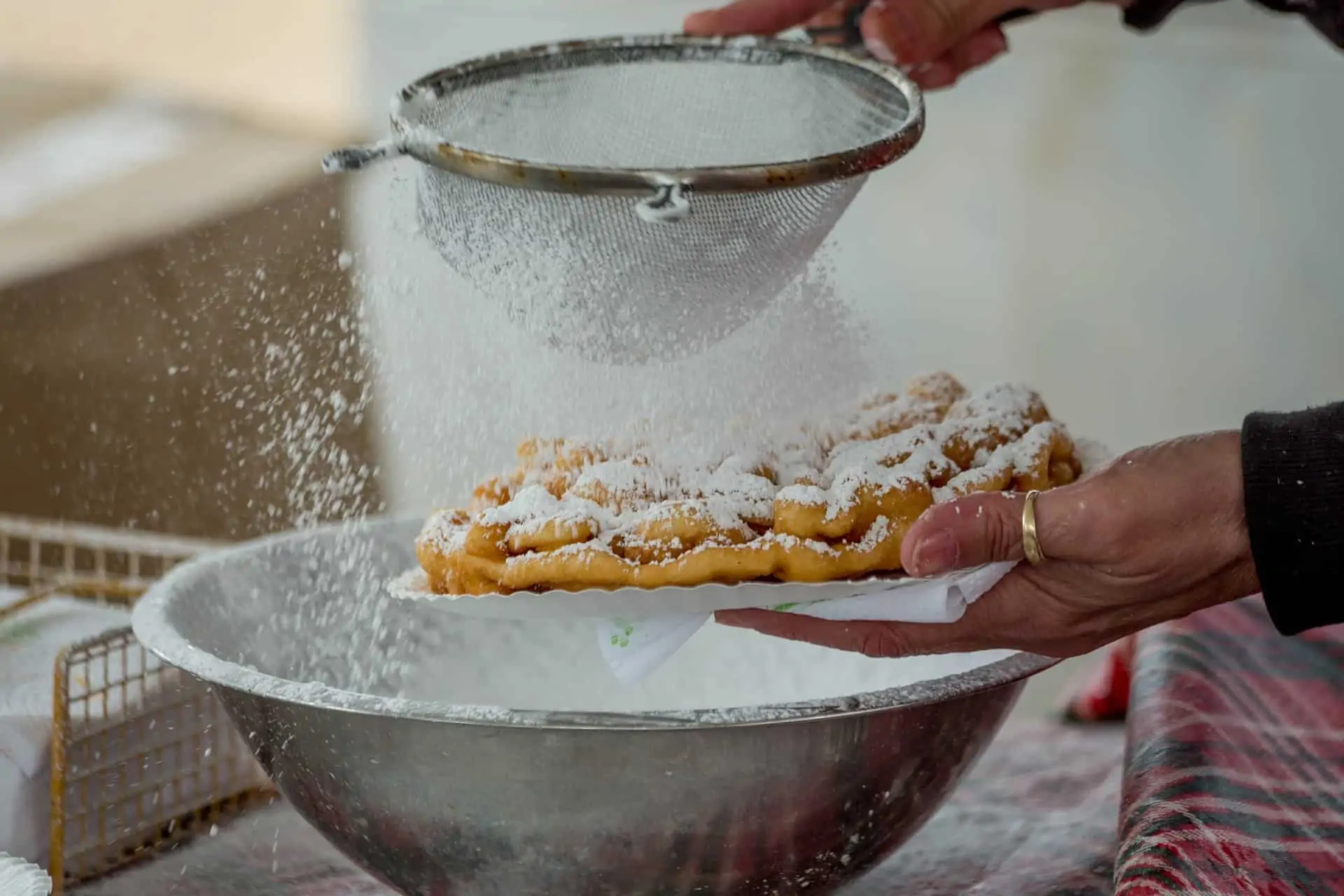 A 4th of July Parade
Organize your very own 4th of July parade! Host a bike decorating contest with the neighborhood kids. They can drive down the "parade route" for judging. Give out prizes for "Most Patriotic," "Noisest," and "Most Creative." Or let the kids make their own band for a parade.
Give them a box full of materials they can use to make their own instruments, like empty paper towel rolls, tissue boxes, rubber bands, tape, and dried beans and rice. They'll have so much fun creating their very own instrument and strutting in the parade.
Carnival Games
Before you get to the main event (the fireworks!) guests can play some carnival games. This can be as simple as setting up horseshoes, ring toss, cornhole, or any other backyard games that you already own.
Or, you can go all out and create a full-on carnival in your yard! Culdesac Cool has a great list to get you started. For an added incentive to encourage guests to play, award prizes for winners!
Safe Fireworks
The main event for most 4th of July celebrations is the fireworks display. Stock up on safe fireworks to set off in your yard. There are so many types to choose from, so take into consideration the size of your yard and the ages of your children to find the best fit.
Before you get started, cue up some patriotic music to play during your fireworks show for added authenticity. And remember, sparklers are fun for all ages!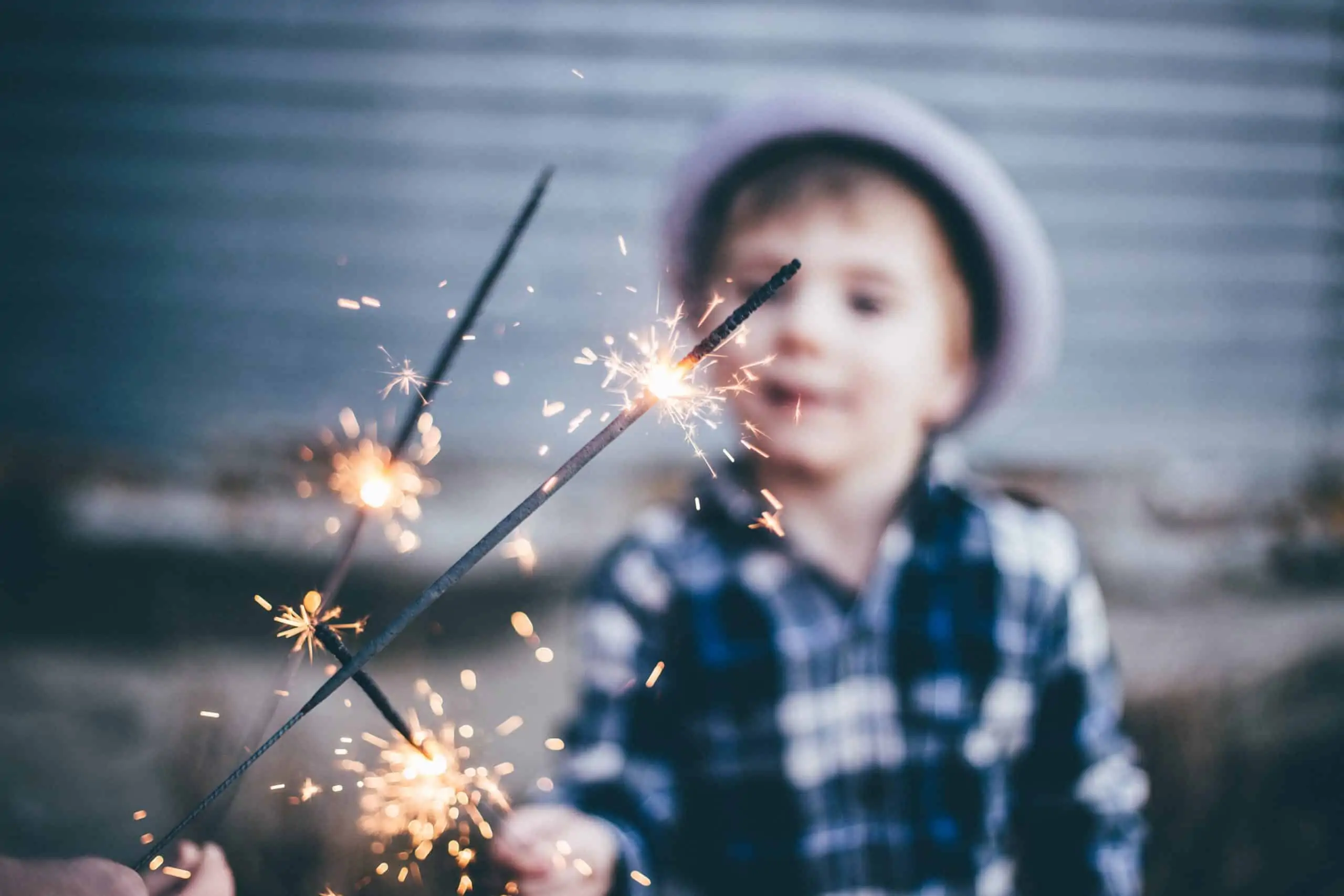 Celebrating 4th of July at home can be a blast with just a little bit of preparation! In fact, you and your guests might have such a great time, you'll want to celebrate at home every year. It might just be the new tradition!
The Ultimate 4th of July Party Ideas
A well-executed 4th of July party can be one of those perfect summer moments that everyone remembers. It has all the right elements – friends, family, yummy food, cute decor, and good ol' patriotism.
If you are hosting a 4th of July party this year, chances are you've searched for some ideas on Pinterest – and that can be overwhelming. Lucky for you, we've done the footwork for you. From 4th of July treats and food to decorations, we've narrowed down our favorite ideas to get you organized.
4th of July Streamers and Lights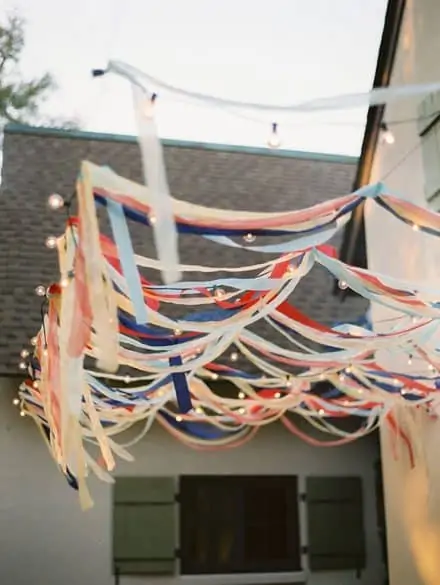 Decorations don't have to be complicated – throw up some outdoor string lights and layer them with red, white, and blue streamers. The result looks effortless and beautiful.
Source: Style Me Pretty
4th of July Candy Favors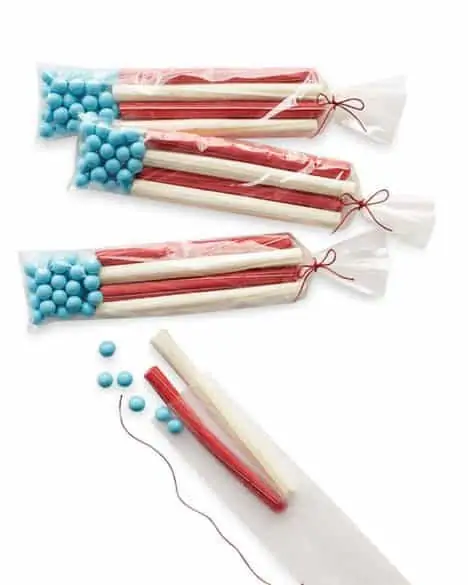 Send your guests home with these adorable candy favors arranged to look like an American flag. Start by partially filling a cellophane bag with blue candies to stand in for stars. Then add red and white candy sticks to mimic stripes.
Source: Martha Stewart
DIY Fabric Scrap American Flag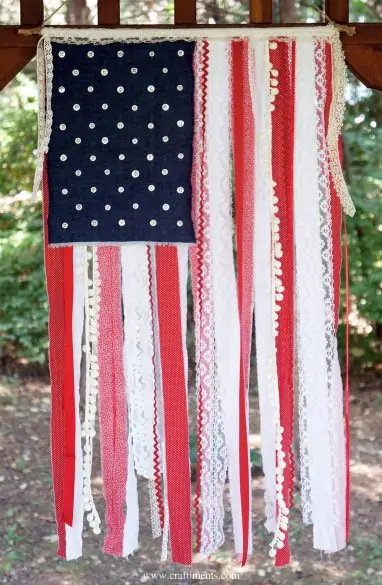 For a photo backdrop or simply as outdoor decor, make this cute American flag using fabric scraps. To create the stripes, layer strips of torn fabric with bits of lace, ribbon, ric rac and pom-pom fringe. Create the "stars" by sewing or glueing buttons onto a piece of frayed denim.
Source: Craftiments
Patriotic Lanterns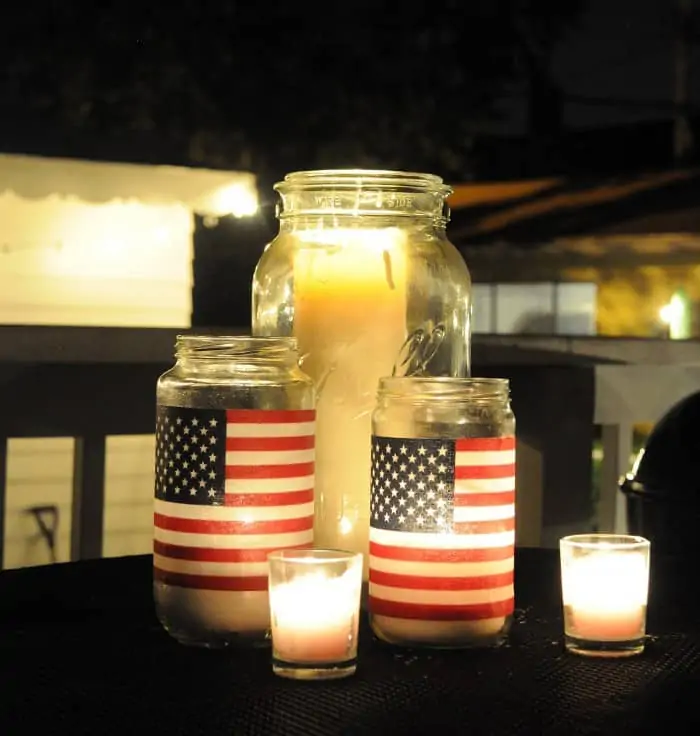 To create nighttime ambiance, make these super easy American flag lanterns. You'll need glass jars, fabric flags from the dollar store, and Modge Podge Gloss. Apply a thin layer of Mod Podge to the back of each flag, and then attach it to the jar – smoothing out any wrinkles.
Then apply one more layer of Modge Podge to seal the flag to the jar. These would make beautiful centerpieces, or could be lined up along the walkway to your party entrance. Source: Modge Podge Rocks
Hot Dog Bar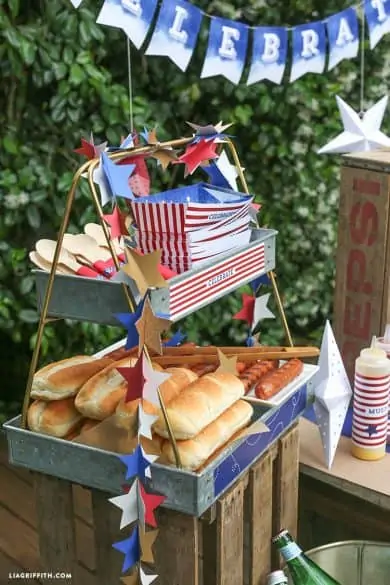 For cuisine, you'll need all-american classic cuisine – hot dogs! For a fun twist, serve them as part of a hot dog bar. Use cute paper trays and layout a selection of toppings and condiments. Finish it off with a paper star garland for extra festive vibes. Source: Lia Griffith
Red, White, and Blue Berry Trifle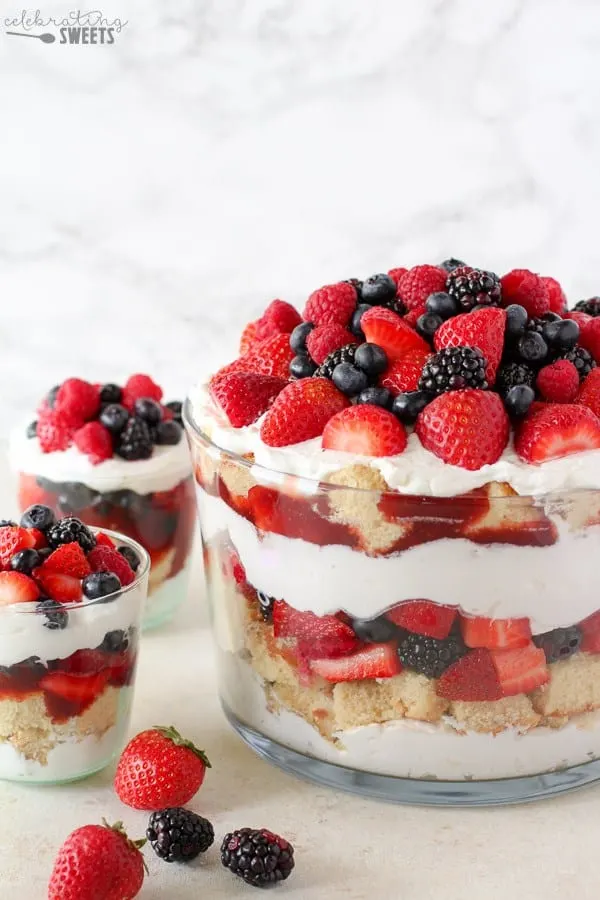 A refreshing berry trifle is perfect for dessert. Layer whipped cream, pound cake, strawberry jam, and berries for this beautiful and decadent dessert. To make it even easier, use store-bought pound cake. Serve in one large trifle dish, or individual glasses. Source: Celebrating Sweets
Watercolor Straw Flags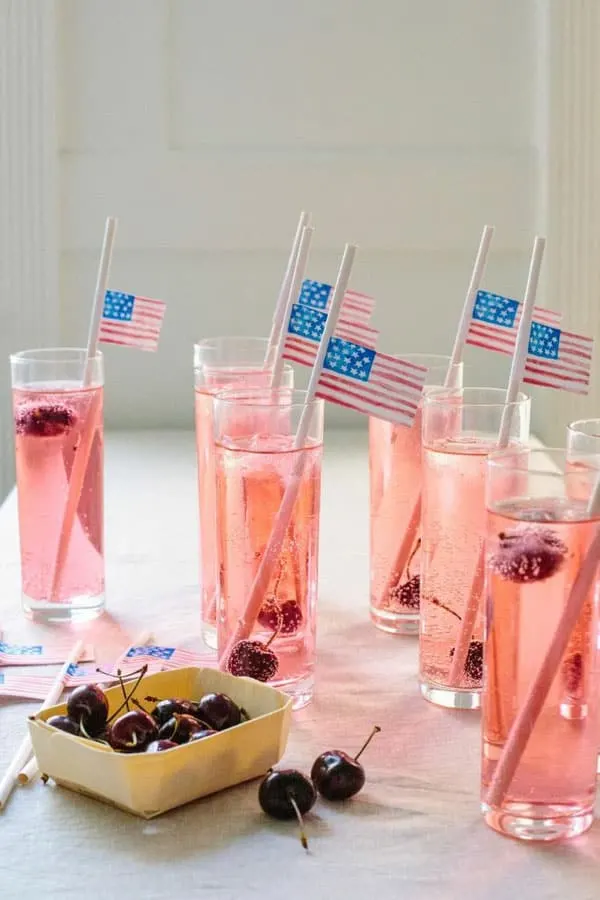 Your drinks deserve the 4th of July treatment too! These watercolor flags are so cute, and could not be easier to make. Print out the templates from Oh Happy Day. Cut the flags out along the lines, then wrap the tab on the flag around the straw and glue. Be sure to leave space at the top so your guests have room to sip.
Awesome 4th of July party decorating ideas
One of our favorite things to do when it comes to the 4th of July is decorate!
If you're looking to decorate for the forth of July here are some great ideas no matter how big or small your gathering is.
-Decorate your front door with a wreath of flowers or flags. Here's some of our favorite 4th of July door decorating ideas.
-In the living room, put out some 4th of July pillows and maybe even an American flag on the wall
-On a table place candles that have been lit for evening time. Use these to light up the party area if need be
-Decorate with anything red, white and blue
Some of the classic 4th of July party decorations include flags, American flag shirts or outfits (think Uncle Sam), paper stars in red white and blue colors.
Your local dollar store is a great way to get started decorating. Don't miss our favorite DIY Fourth of July decorations here!
Keep reading for everything you need to decorate and have the perfect 4th of July party.
What is a good 4th of July menu?
If you're looking for some food ideas for your 4th of July party, some of the most traditional menu items relate to picnics and BBQs. Typical 4th of July food includes hot dogs, hamburgers with lots of condiments and toppings, potato salad and coleslaw.
When it comes to what to server at a Fourth of July party, there are plenty of options to choose from.
Be sure to check out our favorite 4th of July recipes ideas here! We have the recipes you need for something special for your BBQ like pulled pork sandwiches, potato salad, and steak kabobs.
What is a traditional 4th of July meal?
The most traditional 4th of July party meals are probably hotdogs and hamburgers, though anything you feel like grilling goes well on the Fourth of July.
If you're looking for a red, white and blue theme to dress your table with, try using stars and stripes as the centerpiece! Use individual glasses in different colors to serve drinks at your 4th
Some other 4th of July food ideas are ice cream sundaes, s'mores or a traditional barbecue with lots of condiments and potato salad.
What do I need for a 4th of July picnic?
Here's what you need for the perfect 4th of July picnic :
Tablecloths, plates and utensils for the main course (burgers, hotdogs or sandwiches), cold drinks of all kinds like water or lemonade, and soda.
Don't forget to include salads in your 4th of July picnic! Potato salad is always great during the summer, along with pasta salad or macaroni salad and coleslaw.
Also consider what to have for dessert. Besides these red white and blue dessert ideas, some classic 4th of July party foods when it comes to dessert are ice cream sundaes or s'mores.
Also, I'm sure you probably already have a kiddie pool hanging around someplace. Check out all of our great party ideas for using a kiddie pool.
Everything You Need for a 4th of July Party
Now that we have talked about your Fourth of July party, let's get down to how to quickly and easily find what you need to get started.
4th of July Party Decorations & Supplies
Here is the ultimate list of 4th of July Party Decorations & Supplies! Everything you need to celebrate the 4th of July is right here.
Looking for more great 4th of July party ideas? We have you covered!
Check out everything else we have to celebrate the 4th of July!