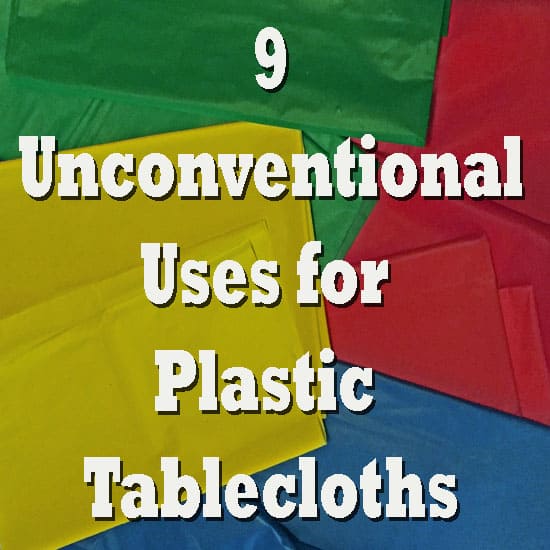 I love party and gift wrap supplies that are inexpensive and versatile! This is why I am such a fan of plastic tablecloths. There are so many different and creative uses for them. And, when you are done with them, you can just throw them away. I don't have to worry about them getting stained or where to store them when I'm not using them. Today, I want to share with you 9 unconventional uses for plastic tablecloths.
This post may contain affiliate links. As an Amazon Associate I earn from qualifying purchases. For more information, see our disclosure.
Now, before we jump into these ideas, let me give you a quick tip on buying plastic tablecloths. It is possible to find them at your local dollar store. However, the ones at the dollar store are very thin, and I usually have to double or triple them to keep them from being transparent. The ones that you find at the party store, which cost $3-4 a piece, are actually much thicker and more durable. In the long run, I spend less money by buying the thicker ones as opposed to using the $1 variety.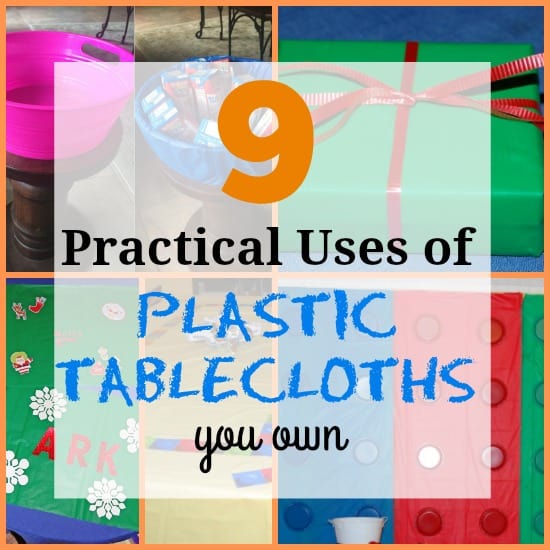 1. Custom Tablecloths
Ok, I know that using a tablecloth as a tablecloth is not very out-of-the-box! But, using plastic tablecloths to create your own custom tablecloths is unique. I came up with this idea when planning my son's birthday party. I found some plastic Lego tablecloths at Target which I bought for his party. However, when I got home and opened them, I was very disappointed. They had Legos printed around the edges of the tablecloth, but the middle was plain white. Once I saw that, I didn't like them as much. I didn't want to use plain tablecloths for the party, though. So, I decided to create my own custom Lego tablecloths. I cut the printed Legos off of the ones I bought at Target. I then used double-sided tape to attach them onto a solid colored tablecloth to create a pattern of Legos in the center of the table. They turned out super cute and were very easy to make!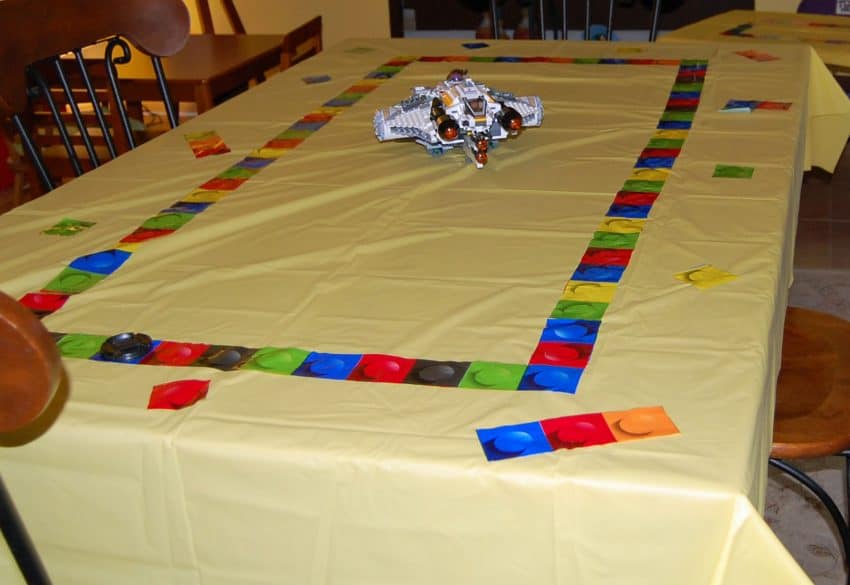 You could do this with any printed tablecloth. You could also cut an image or logo out of a shopping bag, advertisement, or paper to use on your tablecloths. To make them even more personal, try printing out photos and attaching those to the tablecloths! Another idea for making a custom tablecloth is to layer solid colored tablecloths and then cinch up the top layer at various points to let the bottom layer show.
2. Decorations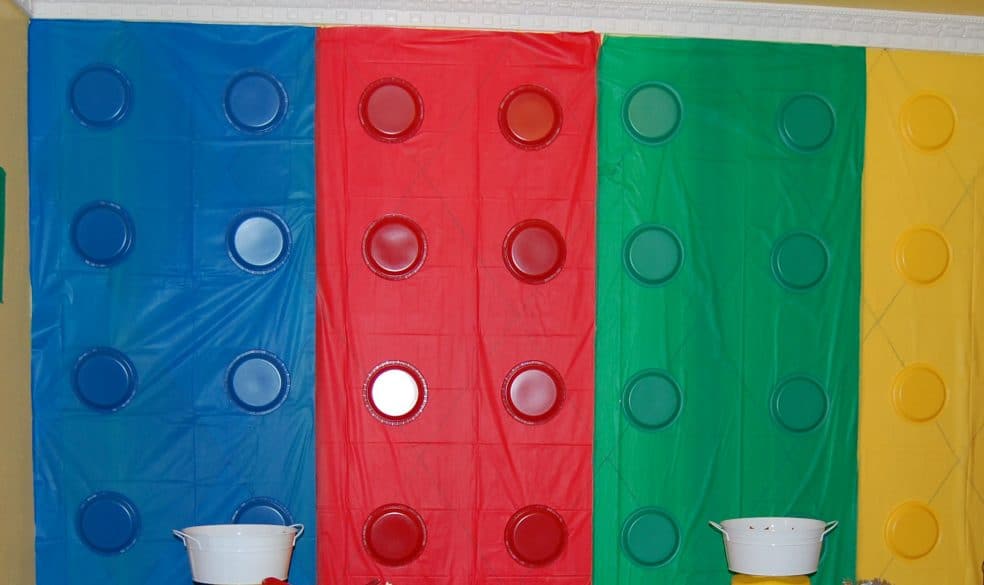 Another one of my favorite ways to use plastic tablecloths is for decorations. For my son's Lego party, I decorated the walls with giant "Legos" made out of tablecloths and plastic plates. I covered one entire wall with four tablecloths and then attached plastic plates in the same color using double-sided tape to create the bumps on the Legos. For the other walls, I cut the tablecloths into various sized squares and rectangles and added the plates. These were a great way to create an overall feeling of being surrounded by Legos while also making the room feel very festive. And, once again, it was easy to do.
Another idea for decorating with tablecloths, which I have done, is to mimic those shade sails you see on patios. I cut the tablecloths into large triangles and then attached them at the corners to the ceiling of the party room. I covered the entire ceiling with these. It added a fun element to the party. This was a little harder to do, but that was only because I was stapling them to the ceiling.
There are endless ideas for decorating with tablecloths. If you want to create a pattern on the wall or need a different colored background than your wall color, use a tablecloth. It is an easy way to temporarily transform the color of your walls, ceiling, or any other area. This is also a simple way to create a photo booth background.
3. Color Coordination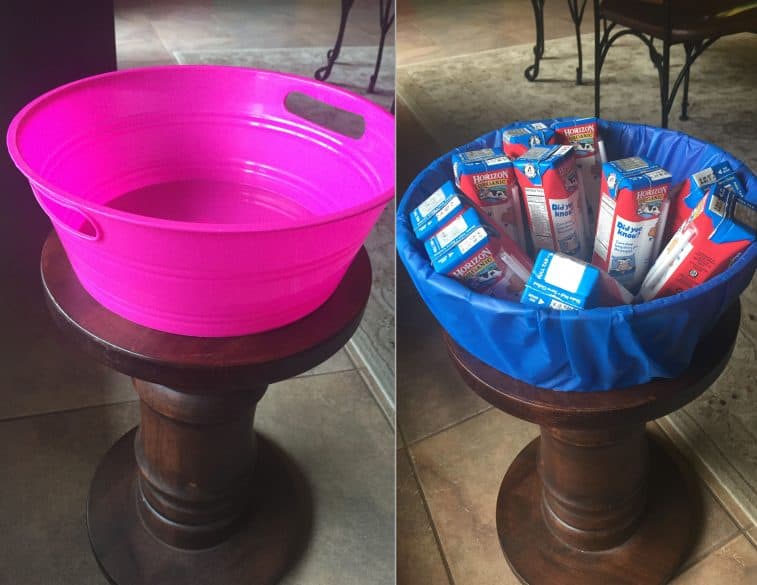 You can use plastic tablecloths to temporarily change the color of lots of things, not just the walls. I have some plastic tubs that I use for almost all of my parties. The problem is that they don't always match the color scheme. When this happens, I simply change the color of the tubs with a tablecloth. I get a plastic tablecloth that matches the color palette and I wrap the tubs in it. It only takes a minute to completely change the look of the tub. And when the party is over, I just unwrap it. This saves me so much money because I don't feel the need to buy matching tubs and serving pieces for every party I throw.
4. Gift Wrap
Wrapping paper can be expensive. And it seems that every time I need to wrap a gift, I don't have enough paper or an appropriate gift bag. A plastic tablecloth can be a great alternative. It is easy to cut, and you can use your regular gift wrapping tape on it. Just wrap the gift in it in the same way as if you were using wrapping paper. This is a great option whether you are using it in a pinch or to give your gifts a fresh look.
5. Filler for a Gift Basket
Gift baskets are great gift ideas for graduations, wedding showers, or even Christmas gifts for teachers. However, if you are putting one together yourself, you need something to use as filler. The pre-packaged stuff can be expensive. Why not use a plastic tablecloth instead? You can run it through your shredder, but I find that using scissors to cut it into small strips works better. A tablecloth does the job and can be just as colorful as the store-bought filler for much less money. This is a great use for those thinner dollar store tablecloths.
6. Packing Material
We all have those fragile holiday decorations that must be carefully packed away and stored when the holidays are over. Plastic tablecloths can be a great, low-cost packing material to use. You can shred them, cut them into smaller pieces, or just leave them as is and crumble them up. They are soft, lightweight, and can take up as much, or as little, space as you need. This is another area where I don't mind using the dollar store tablecloths.
7. A Screen/Room Divider
Whether you are having a garage sale, throwing a party, or hosting family for the holidays, sometimes you need a screen or room divider to hide things or block the view into an area of your house. When this need is temporary, try using a plastic tablecloth. You can do this in several different ways: tack it up in a doorway or across part of the room, throw it over the things you want to keep out of view or even attach it to a piece of plywood or a frame made out of PVC pipe. This would also be a good idea to use if you are throwing a pool party and need to set up a changing area.
8. Personalized Placemats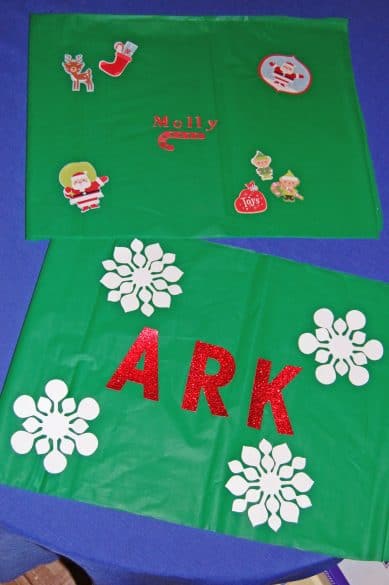 A fun idea for holiday gatherings, especially for the kids, is to make personalized placemats. You can use plastic tablecloths to do this without investing a lot of money. Simply cut the tablecloth into placemat-sized rectangles. Then use stickers, paint, cutouts, or other craft supplies to personalize them. You could even let the kids make their own placemats. This would be a fun activity for the kids to do while waiting on Christmas dinner to be served.
9. Drop Cloth
To control a mess, try using a plastic tablecloth as a drop cloth. Just put it down under the area where the mess will be. When finished, gather it up and toss it. This works well regardless of whether you are doing a painting project or letting the kids decorate cookies. You could even put one down under a highchair to help contain the mess when feeding your baby or toddler.
Plastic tablecloths can be used for so many things! I almost always have a stash of them on hand at my house because you never know when they will come in handy. These are 9 of my favorite unconventional ways to use plastic tablecloths. I hope you can use some of these ideas in your home soon!