Gifts for the Organizer on your list!
Are you shopping for an organization enthusiast this year? That special someone who loves categorizing, labeling, and being just a tad OCD? Well you've come to the right place, we're making it easy to check this one off your list. We've gathered our favorite organizing products that would also make beautiful gifts. These are items that help make things neat and tidy, and they look good while doing it.
This post may contain affiliate links. As an Amazon Associate I earn from qualifying purchases. For more information, see our disclosure.
Three rooms that always seem to need a little extra organization are the bedroom, office, and kitchen. So take a look at our favorite products for each space in the round ups below. You'll be sure to find a gift or two for that person on your list who appreciates a well-organized room. Or, add a few things to the shopping basket for yourself! We won't tell.
Bedroom / Bathroom Organizing Gifts
In the bedroom there always seem to be trinkets and accessories that don't have a home. A pretty scarf hanger, a well-placed dish for baubles, or a clever jewelry organizer can all do wonders. And no need to hide any of these items in the closet or cabinet, they're so pretty they demand to be out on display.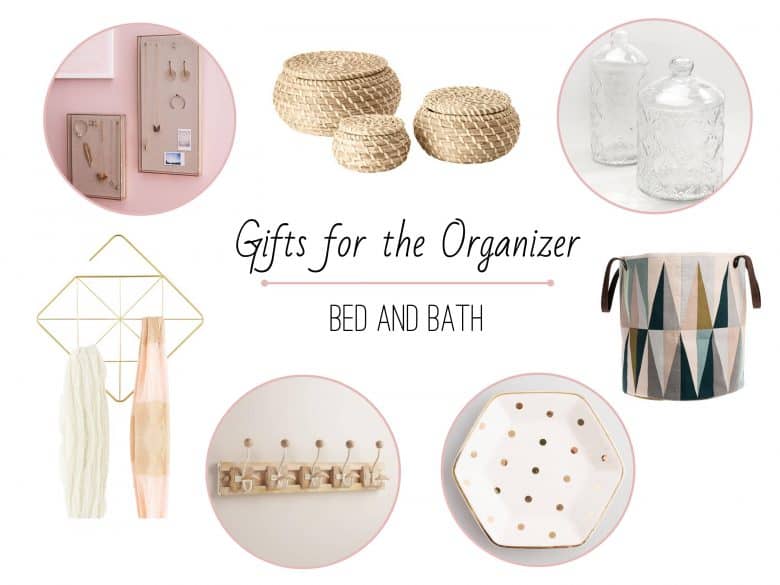 Clockwise from top left: Glass Shadow Box Wall Display Cases / FRYKEN Seagrass Boxes / Clear Tile Glass Canisters / Graphic Laundry Basket / Hexagon Trinket Dish / Wood Block 5 Hook Wall Storage / Square Pendant Scarf Organizer
Kitchen Organizing Gifts
Does the organizer on your list also love to cook? Then these products are right up his or her alley. A wall mounted magnetic strip keeps knives within reach. Attractive baskets can be used for holding fruit or napkins. Boldly labeled oil and vinegar bottles are attractive and functional. Plus, every kitchen could use a little sparkle – a metallic utensil holder or wall shelf would add just the right touch.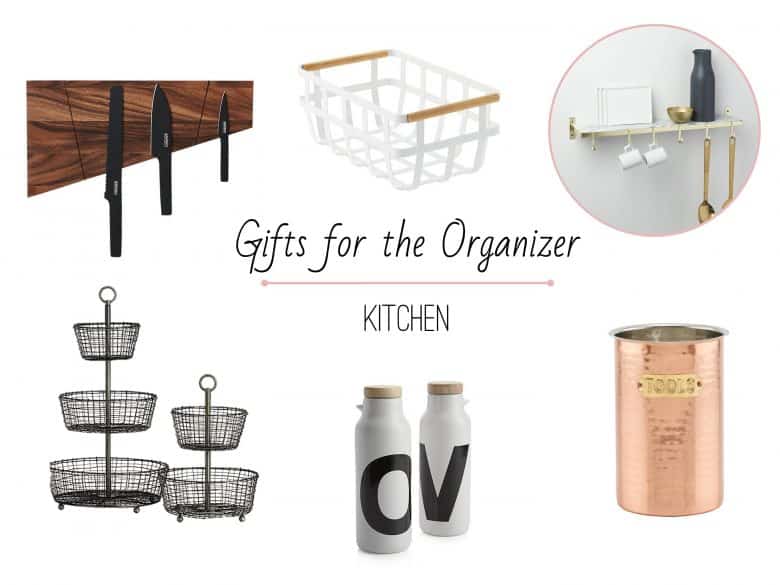 Clockwise from top left: Magnetic Knife Board / Basket with Wooden Handles / Marble Utility Shelf / Copper Utensil Crock / Oil and Vinegar Bottle Set / Rustic Tiered Fruit Baskets
Office Organizing Gifts
A lot of office organization products tend to be functional more than beautiful – but that doesn't have to be the case. These items will still get the job done, but will add a little cheerfulness and beauty at the same time. Try these gifts for an organization lover who also works from home.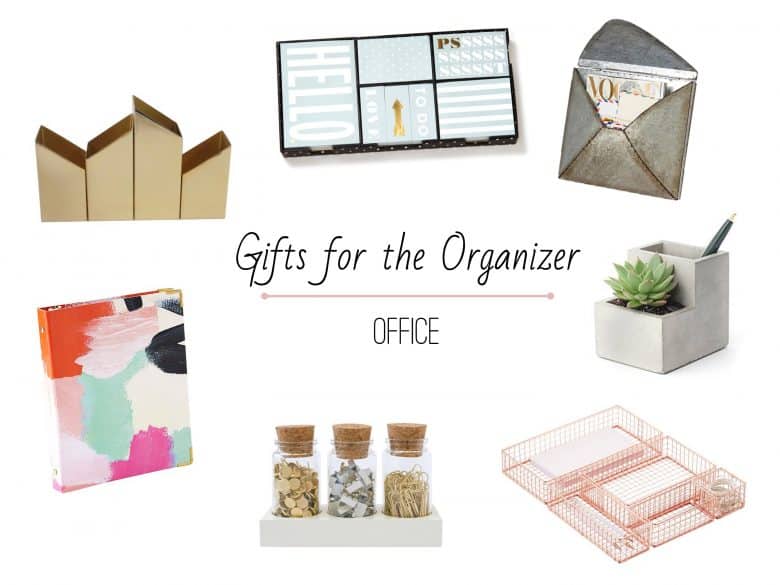 Clockwise from top left: Desktop Organizer / Kate Spade Sticky Pads / Welded Letter Holder / Concrete Planter And Pen Holder / Copper Wire Drawer Organizers / Office Supply Set in Corked Jars / Mini Three-Ring Binder