I love planning and hosting parties! They allow me to be creative in some really fun ways. Some of my go-to party supplies are things that you will never find at a party store. One of my favorites party supplies is kiddie pools. I'm talking about the hard plastic molded pools you can get almost anywhere during the summer. They usually cost between $5-20 depending on the size. They are just so versatile. I love these so much that I have 3 of them that I only use for parties! Here are 8 creative uses for a kiddie pool at a party.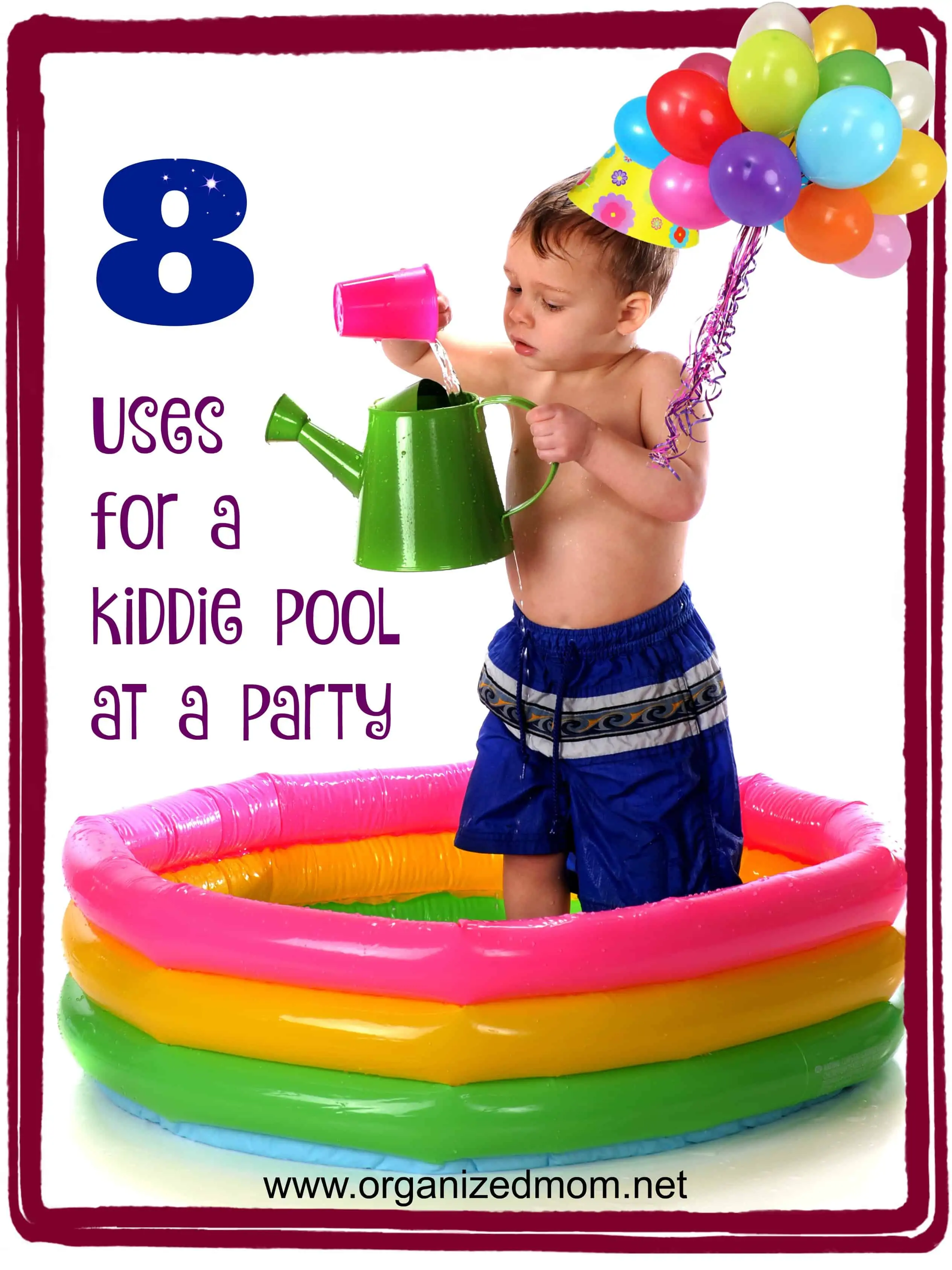 This post may contain affiliate links. As an Amazon Associate I earn from qualifying purchases. For more information, see our disclosure.
Now, regardless of whether you are throwing a child's birthday party, a block party, or a family get together, if kids are going to be present at your party, then you need activities to keep them entertained. So, most of the ideas on this list are children's activities. However, some of them could easily be adapted for adult entertainment if that is what you need. And none of these ideas involve swimming!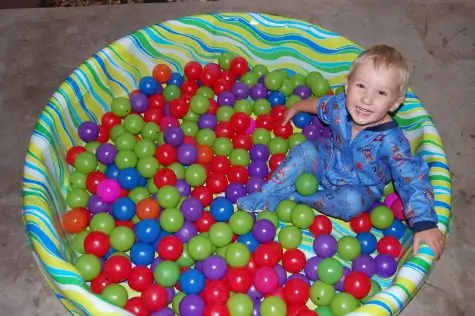 1. Ball Pit–This is my all-time favorite use of a kiddie pool. It is so easy to put together. It's a winner with kids of all ages. All you need is a bag of balls, which you can get at any toy store. Throw the balls into the kiddie pool and boom! Instant ball pit. I set up a ball pit at almost all of my parties. The kids will play in it for hours! It's a great way to entertain babies and toddlers too.
2. Drink Cooler–Instead of putting all your drinks in ice chests, try using a kiddie pool. Fill it a little less than halfway with ice. Then place your drinks in the ice all throughout the pool. This is a better alternative to the ice chests because it makes it easier for your guests to see and get their drinks. Plus, a kiddie pool will hold a lot more drinks than an ice chest!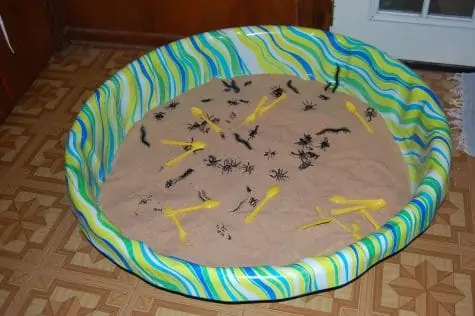 3. Sandbox–This one is easy to put together too. Just go to any toy store or garden center and get a few bags of play sand. Dump the sand into your kiddie pool and you are all set. This is a great idea because it can easily be adapted to so many different party themes simply by changing out the "accessories." Add some shovels, pails, and sand toys for a summer beach themed party. Leave the shovels, but switch out the sand toys for plastic bones and/or bugs to create a kid's archaeological dig site. Instead of bones and bugs, bury some plastic coins and other "treasures" for a pirate themed party.
4. Target Practice–Set up one or more kiddie pools. Give party guests frisbees, balls, beanbags, or whatever you want to use. See who can throw the most into the kiddie pool target. Competitors can either play as individuals or on teams. This game can be enjoyed by kids and adults alike. You can change it up to make it as easy or as difficult as you desire. For extra difficulty, try blindfolding the players or making them throw over their shoulders.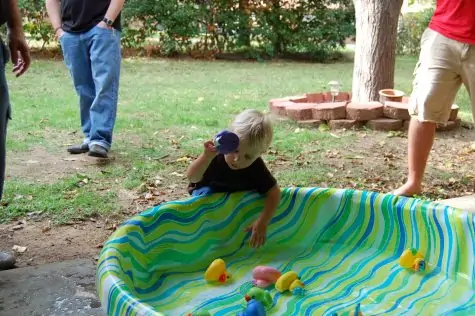 5. Duck Pond–For smaller kids, create a carnival-style duck pond. Fill the pool with a few inches of water. Then drop in some rubber ducks. You can put a mark on bottom of some of the ducks and let kids win a prize if they find a marked duck. I find, though, that little ones are just as happy to sit at the edge of the pool splashing around and playing with the ducks. You could also use this as party decor for some themed parties. For a hunting theme, you could use larger hunting decoys in the pond instead of the rubber ducks. For a Halloween party, you could add glow sticks or red dye to the water and fill it with plastic skulls, bones, and eyeballs.
6. Bobbing for Apples–Speaking of Halloween, if you are throwing a fall themed or Halloween party, you can use a kiddie pool to bob for apples. I would suggest using one of the smaller pools for this. Set it up on a table to make it a little easier for your guests to reach.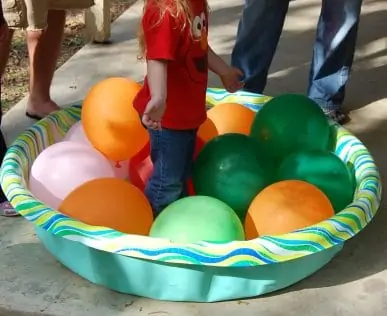 7. Balloon Pit–Similar to the ball pit, this idea can be enjoyed by kids of various ages. Blow up a bunch of balloons and fill the kiddie pool with them. Little kids enjoy crawling around in the midst of all the balloons. Older kids enjoy sitting on the balloons and trying to pop them. You could also put little prizes, gift cards, or money inside of the balloons for them to win if they pop the balloons. Using gift cards or money would be a fun activity at a graduation party or teen birthday party.
8. Mud Pit–This is a slight variation of the sand box. Instead of putting sand in the pool, fill it a few inches deep with dirt and then wet it down. You now have a contained mud pit. I will be using this one soon as a mud wrestling pit for my son's "messy party." If you are having an Army-themed party, this could be part of an obstacle course where kids have to belly crawl through the mud. For a farm-themed party, you could set this up and add in some plastic pigs for cute party decor. This is one that will appeal to little and big boys alike! If you would like a cleaner option of this, try using bubble bath instead of mud for a pool of bubbles.
So, there you have it. My 8 creative uses for a kiddie pool at a party that don't involve swimming! As you can see, all of these ideas are pretty easy to set up. And just as important, clean up for all these ideas is simple too. Even with the mud pit, all you have to do is hose down the pool when you are finished. No matter what your theme or what the ages of your party guests, a kiddie pool is one party supply that will always come in handy. Enjoy your next party!