It's never too early to start reading with your child! Books are a great way to promote language and encourage pre-literacy skills. My one-year-old loves to turn pages in books but sometimes has a hard time sitting through an entire book. Here are 7 tips for choosing age-appropriate books for children, toddlers under three and how to keep their attention while reading to them.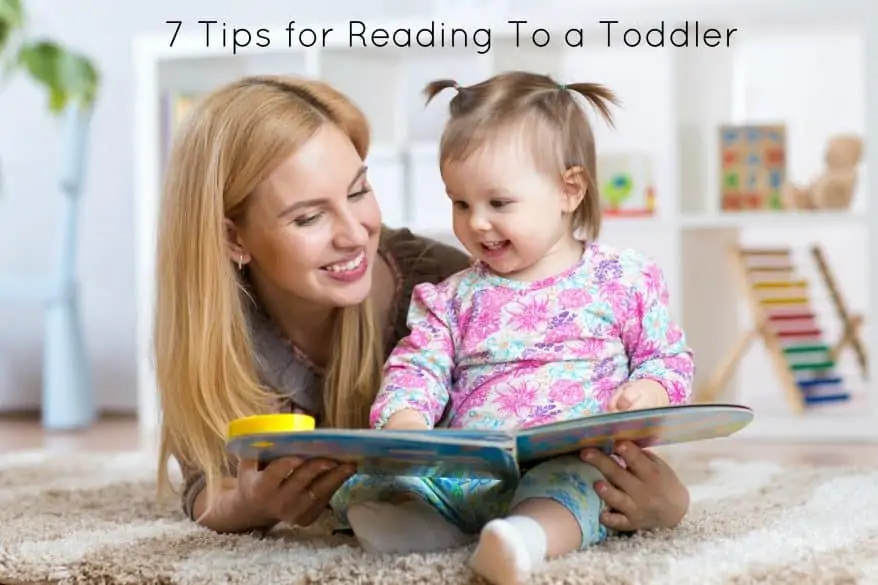 This post may contain affiliate links. As an Amazon Associate I earn from qualifying purchases. For more information, see our disclosure.
Choose colorful books with large simple pictures. If there are too many pictures on the page, it can be distracting. Kids this age also love any type of interactive books: touch and feel, lift the flaps, etc. Some of my favorites include: Toes, Ears, and Nose; Poke a Dot Old McDonald's Farm; That's Not My Puppy; Dear Zoo.
Choose books that are repetitive or predictable. Kids like to know what to expect. Simple, predictable storylines keep their attention. Think of books like "Brown Bear, Brown Bear, What Do You See?" (better yet, get the slide and find version!). Books like this are also great to work on fill-in-the-blank to encourage new words or naming skills. For example, you could say, "Brown Bear, Brown Bear, what do you… (see). I see a… (yellow duck) looking at me!" and pause so that your toddler can fill in the blank.
Choose books with clever rhymes. Young kids love the sing-song sound of simple rhyming books. Dr. Seuss and Sandra Boynton are great authors to look to for examples of this. Nursery rhymes are great examples as well. Rhyming helps kids with phonological awareness which is the recognition of sounds in words and their placement within the words.
Simplify the story if needed. Let's face it: kids have a short attention span. Especially young kids. If you want to read a book to them that has a lot of words or is a little above their age level, it's best to simplify with your own shortened version of the story. For example, my son loves the pictures in the book "The Little Engine That Could" but each page has 5-6 sentences which is way too long for his attention span. So I might simplify it to one sentence ("The train went up the hill.") or 2-3 words ("Train goes up."). You've got to keep the pages turning at a faster rate when "reading" to a younger child.
Talk about what you see. Reading to young kids can sometimes be as simple as pointing to pictures and labeling them or talking about what you see. Be careful not to get into the habit of asking too many questions (i.e. Where's the dog? What does the dog say?). This is fine to do every once in awhile, but if a child is bombarded with too many questions then they might lose interest.
Read with your child facing you. Most people love to have their kids on their lap when they read. And when you have a wiggly toddler, that is the only way to keep them wrangled in! But every once in awhile, try having your child sit in front of you on the floor while you read. This way, they can see your mouth and the words you're saying. You can also notice what things in the picture capture their attention by what they are looking at.
Make it fun! Use silly voices for different characters. Add hand actions. Use finger puppets. Let your child pick the book. The possibilities are endless.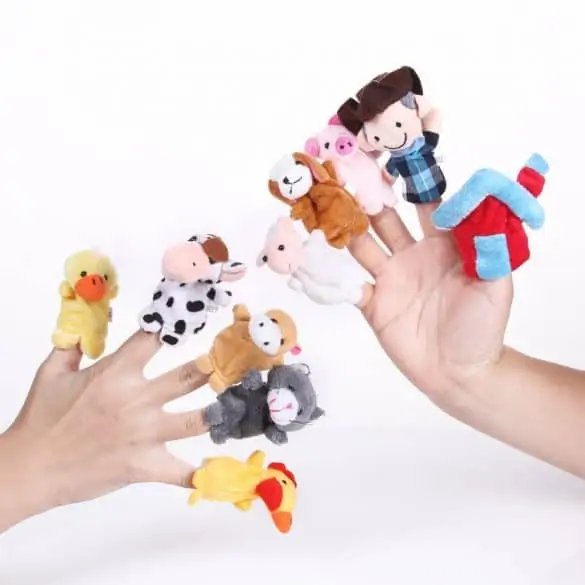 Erica is a speech pathologist at North Lake Pediatric Speech.