If you are like me, toy storage is a constant battle. It seems like every time I have a handle on it, someone gives my son something else. It's maddening! One of the biggest storage hogs in our house is jigsaw puzzles. The boxes are all different sizes, and they all seem to be much bigger than necessary.
Plus, these boxes are very durable. After a while, they get torn, smashed, or worn out. Because we have a lot of puzzles, which my son enjoys, I had to find a way to store them in a much more condensed and stronger way.
This post may contain affiliate links. As an Amazon Associate I earn from qualifying purchases. For more information, see our disclosure.
I found 2 puzzle storage solutions that have worked well for our family. Here, I will show you my ideas for compact storage for jigsaw puzzles.
How to Store Jigsaw Puzzles
Now, let's take a closer look at how to store jigsaw puzzles. The good news is these puzzle storage solutions are pretty simple!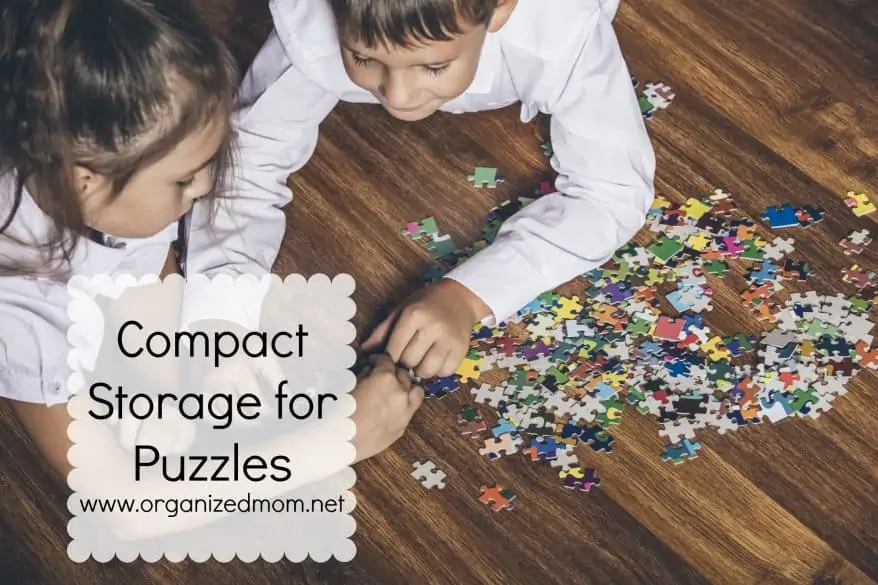 Jigsaw Puzzle Organization Solution #1, Use Multiple Puzzle Storage Boxes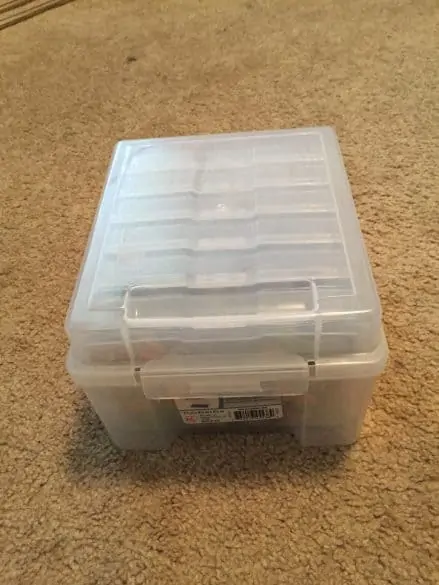 The first solution is a plastic photo box that contains 6 smaller cases inside. Each of the small cases is big enough to hold a stack of 5×7 photos.
In each of the small cases, I put the pieces to one jigsaw puzzle. I then labeled the case with the name of the puzzle using masking tape.
Now, I have 6 puzzles stored in the space of one cardboard puzzle box. This works well for preschool or small puzzles. This is a great solution that is also super portable.
It is easy to pack the photo box for traveling, and then when you arrive at your destination, your child will have multiple puzzles to play with.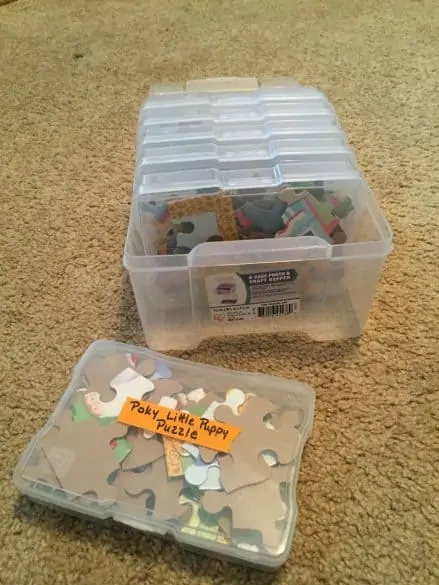 Jigsaw Puzzle Storage Solution #2, Scrapbooking Boxes for Puzzle Storage
The second fix that I found for our puzzle storage problem involves hard plastic scrapbook storage boxes. These are about 14″x 14″x 4″. They have a hinged lid that snaps shut.
They work well for large and small puzzles alike. Additionally, these boxes easily stack on top of each other.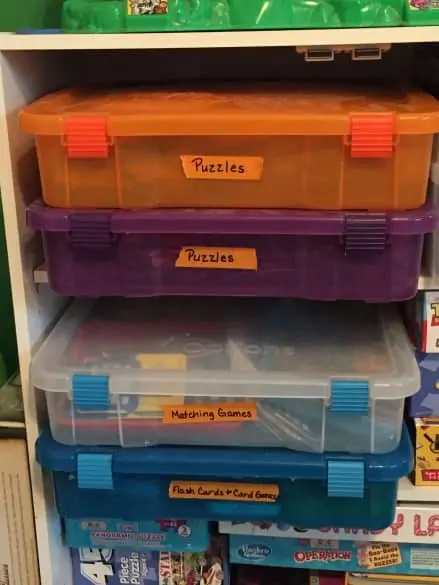 I took each puzzle and put it in a Ziploc bag. I cut the picture showing what the puzzle should look like off of the box and put it in the bag with the pieces.
Then, I put several bags of puzzles into each scrapbook box. I was able to fix 8-10 puzzles into one box. This means that I was able to store close to 20 puzzles in the same space that would have been taken up by 3 original puzzle boxes.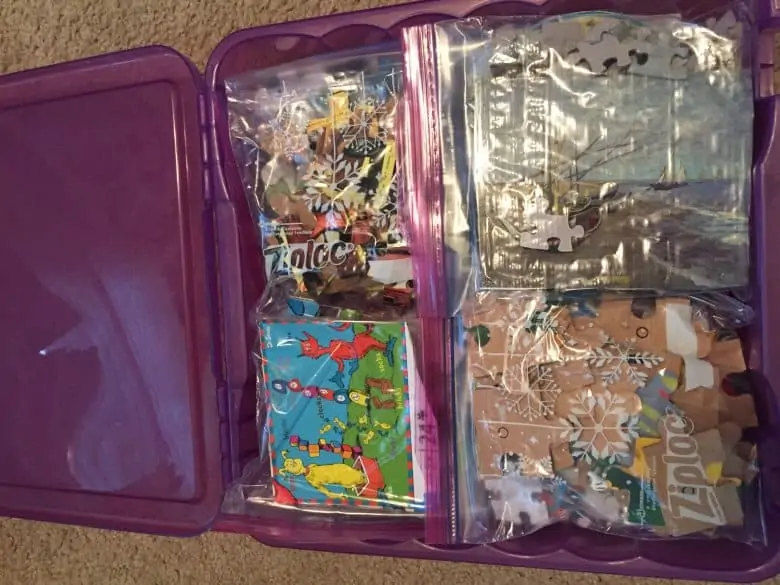 I also use these scrapbook boxes to hold card games, flash cards, and matching games. They also work great to store those small games that may not come in their own box, like tic-tac-toe or hangman type games.
I just put each game into its own Ziploc bag and then stack them inside the box. Next, I cut out the name of the game from its original box to put in the bag along with the game as a way to label the bag.
I used 4 scrapbook boxes to neatly store a whole cabinet full of puzzles and games!
If you have a pile of puzzles and are having a problem finding ways to store them effectively, then these solutions are for you! Hard plastic photo boxes and scrapbook boxes really do double as the best jigsaw puzzle organizers around. They truly are wonderful ways to concisely store a lot of puzzles, cards, and small games.
If space is at a premium for you, then these solutions should help because they take up such little room. Additionally, each box will hold multiple puzzles or games. The plastic boxes are much more durable than the cardboard boxes which the puzzles originally come in.
These storage boxes also stack easily and neatly. Your kids shouldn't have any problem accessing, and cleaning up, their puzzles with these boxes too. I hope that these simple storage boxes will help contain your toy madness as well as it did for me!