The 4th of July is one of those holidays that has a ton of super easy fun, and DIY party ideas and ideas to celebrate. When it comes to dessert, this is especially true because of the Fourth of July's colors – red, white, and blue! Now is the time to whip up a patriotic red white and blue dessert. To help you get started check out these yummy 4th of July desserts, cookies, bars, and treats
Easy 4th of July Dessert Ideas
If you're looking for some simple but lovely ideas for desserts at your 4th of July party, or looking to bring something impressive to a BBQ, look no further. We have something for everyone on this list!
This post may contain affiliate links. As an Amazon Associate I earn from qualifying purchases. For more information, see our disclosure.
Firecracker Strawberries
How cute are these firecracker strawberries! Start with some yummy red strawberries and then dip them in marshmallow fluff, melted white chocolate or almond bark to get the white color. Next, dip them in blue sprinkles to finish off the firecracker look. This dessert would look perfect on your 4th of July picnic table.
Patriotic Trifle Dessert
This patriotic trifle has layers of angel food cake, blueberries, cream cheese and sugar, and strawberries. To make it even more delicious the angel food cake has been brushed with a sugar, lemon juice, and almond extract mixture. I'll be the first to dive in to this trifle on the 4th of July.
4th of July Fudge
What's better than 4th of July fudge? The fact that this fudge has only 2 ingredients. For reals. 4.5 cups of white chocolate chips and 21 ounces of condensed milk. Finally add some food coloring and sprinkles to make it patriotic and this fudge just made the list of 4th of July desserts.
Patriotic Ice Cream Sandwiches
You start this ice cream sandwich with a yummy chocolate cookie of your choosing or use the recipe here and top it with red white and blue M&M's. Next, fill the cooled cookies with your favorite ice cream. Lastly, roll the edges of the cookies in festive red white and blue sprinkles. An eye pleasing and super tasty dessert for the 4th.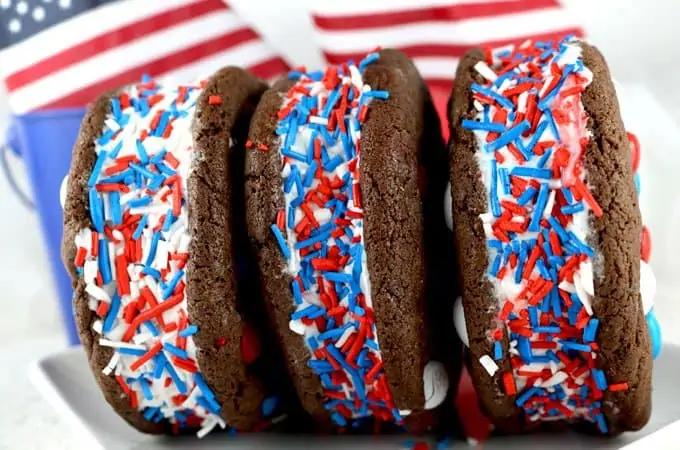 Flag Cake Dessert
If you are going for simple on the outside and show stopper on the inside this Betty Crocker cake is for you. It requires you to make 3 cakes and then assemble it in such a way that you get a flag when you cut into it. It can be hard to get a good red color when using liquid food coloring. Try using paste/gel food coloring instead to get the deep blue and dark red for this flag cake.
4th of July Pinwheel Cookies
These fun and festive pinwheel cookies are made from one dough. The dough is then divided into 3 equal parts with one being colored red, one blue, and one staying its original color for white. To get the full directions for these delicious cookies check out Tastes of Lizzy T.
Patriotic Bark
This bark screams 4th of July desserts especially with its star sprinkles. With white candy melts and cocoa candy melts you will be on your way to making this yummy bark. Add some peanut M&M's whole and crushed with some star sprinkles and you have yourself a delicious dessert.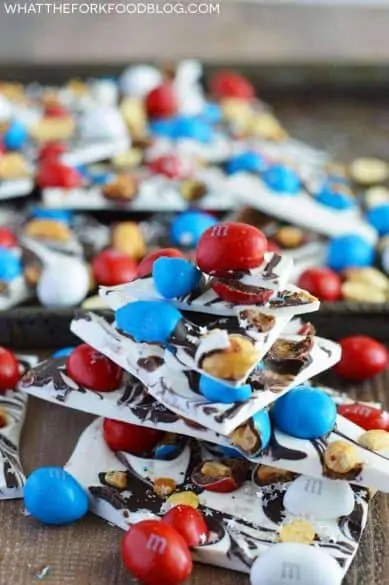 4th of July Treats That Won't Melt
Here are even more desserts that, that were not only easy, but could also withstand the elements of being outside, even in the heat! Get some red, white, and blue sprinkles or sugar, and you will have everything you need! No need to worry about refrigeration or anything melting with these treats when it comes to withstanding the heat!
Red, white and blue Sprinkle cookies
From Simply Gloria, these cookies are my favorite! Not only do they look yummy, but they are made from a cake mix, which get's an extra point for being easy!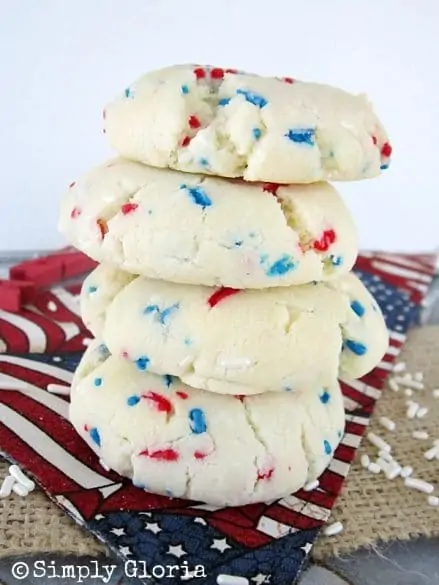 Patriotic Whoopie Pies
These cookies (like the sprinkled, cake mix cookies above, but this time with FROSTING!!)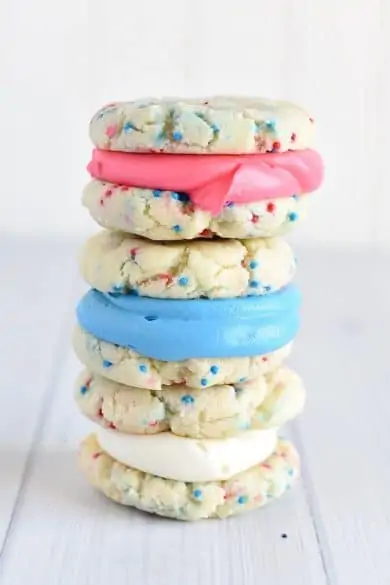 Patriotic Sugar Cookies with Fruit on Top
Even though there is fruit on these sugar cookies, I guarantee kids of all ages will go crazy for them! I love that berries are blue and red!! SO COOL.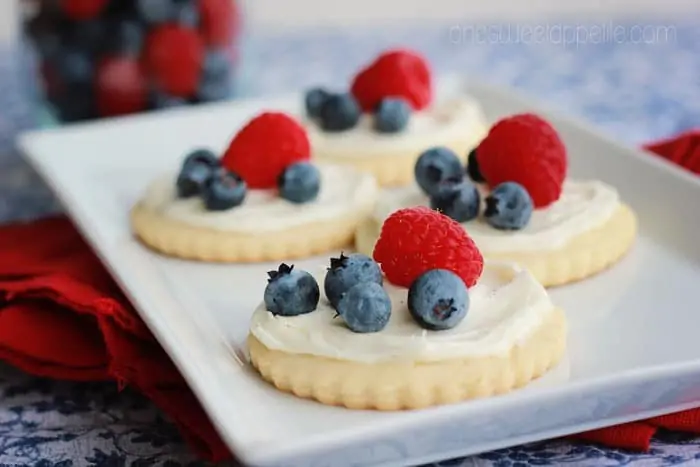 US Flag Cookies
From Pillsbury, THIS is the easiest one on the list!! Simply take the pillsbury, pre-made cookie dough and roll each ball of cookie dough into different colored sugar! Arrange on a tray to resemble a flag.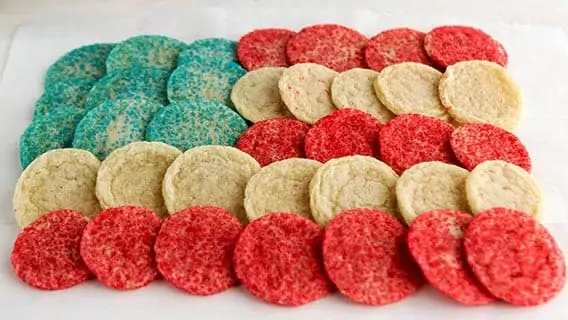 4th of July Spiral Cookies
I love these, and Crazy For Crust even shows an easy to follow video on Youtube to make them.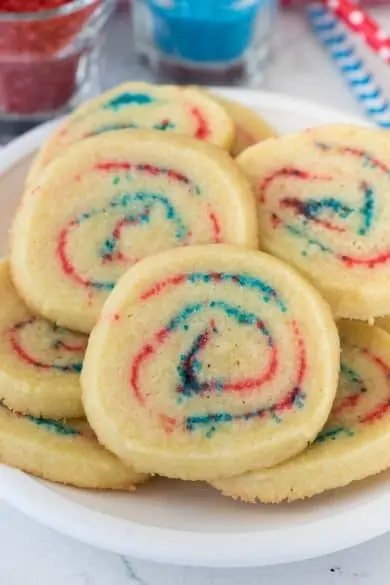 4th of July (round) cookies
These almost look like energy balls. I love the way these cookies keep their shape, and don't spread. Just different, but still yummy.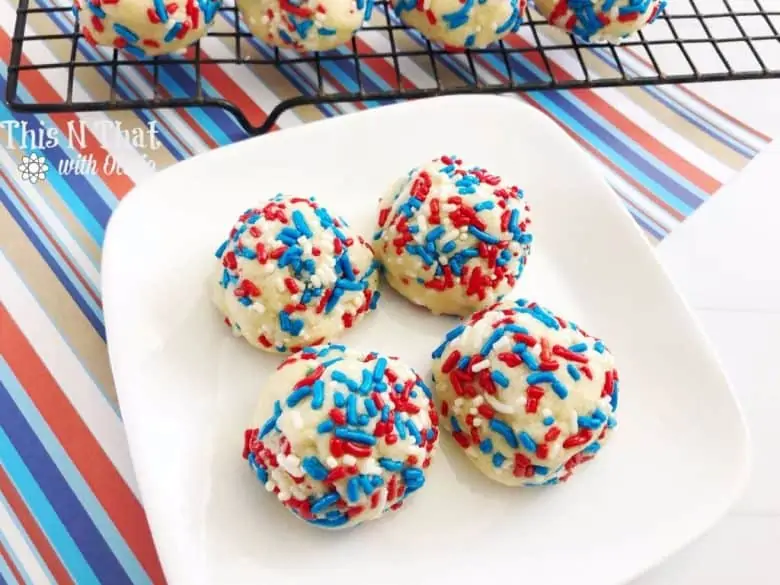 Swirled Cookie Bars
These look festive from Butter with a Side of Bread. Check out the recipe here.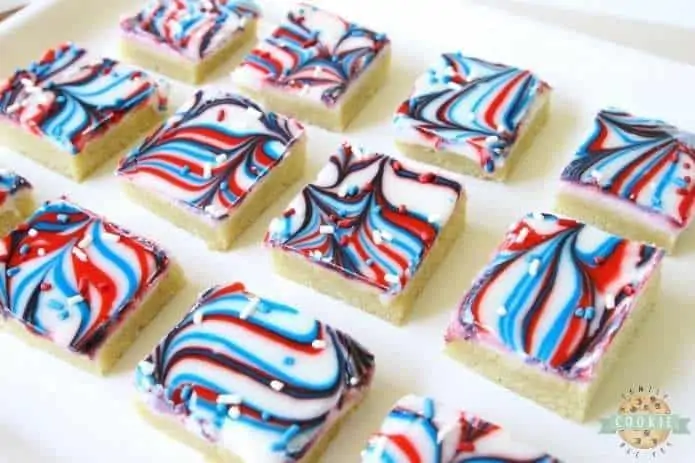 Red, White, and Blue Cookie bars
This Patriotic bar cookie recipe is interesting cause it has cream cheese in the cookies. I bet it makes them stay moist!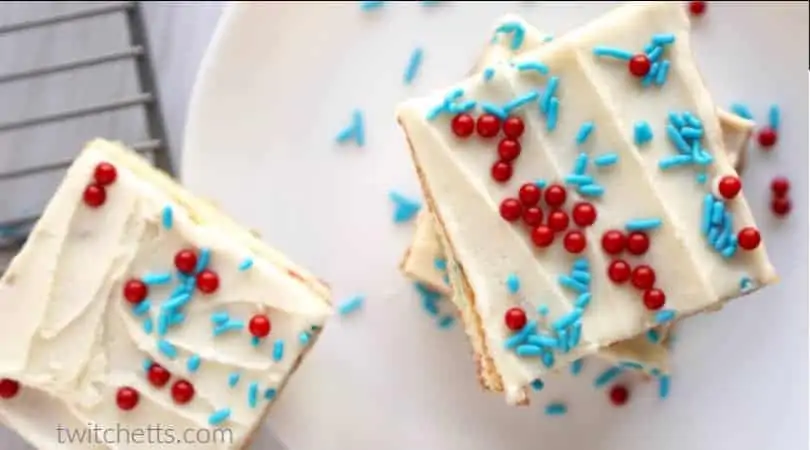 4th of July Rice Crispy Bars
There are some fun rice krispy treats that have food dyes and shaped like a flag, but look at how much easier this one is!! Sprinkles give it the only holiday flair it needs. Even easier, skip the cutting and the popsicle stick, and just sprinkle the bars right in the pan.
4th of July Treat Supplies
Here are some things that will be helpful when it comes to crafting your perfect 4th of July desserts and treats!
How to Make 4th of July Desserts
If you're mnaking your own 4th of July desserts, there are some essentials you have to have. The desserts in our list are so quick and easy, and here are the things you need to make them!
Classic red, white, and blue sprinkles.
This is a mix of red, white, and blue decorating sugar perfect for your treats.
These red, white, and blue stars look great on treats!
This food coloring kit is gel color, which is super strong and bring, and comes with red, white and blue. It also has yellow so you can make your own shades for other occasions.
This tasty sugar cookie mix is a great base for many treats.
This is a great gluten free and allergy friendly cookie mix for many treats!
Check out what else we have for the 4th of July!