Shoes are one of those items that tend to be left all over the house. Constantly picking up every family members' shoes – or yelling at them to do it – gets pretty old, pretty fast. Which is why we love to have a thoughtful solution when it comes to organizing shoes, not just a spot on the floor of the closet. The designated home for shoes should keep them not only tidy, but looking nice as well. Here are six of our favorite creative shoe organizing ideas.
1. DIY Shoe Ladder
With just a wooden ladder and several pine planks, you can make this beautiful shoe ladder. The planks are attached to the cross beams of the ladder with sturdy L-brackets. The finished product turns your shoes into a work of art.
This post may contain affiliate links. As an Amazon Associate I earn from qualifying purchases. For more information, see our disclosure.
Source: A Pair & A Spare
2. Glass Cabinet
Shoes don't have to be tucked away in a closet, especially when they're as pretty as these. Consider a glass door cabinet, or bookshelf to keep your shoes organized and out on display. This system adds a chic element to the decor of your bedroom.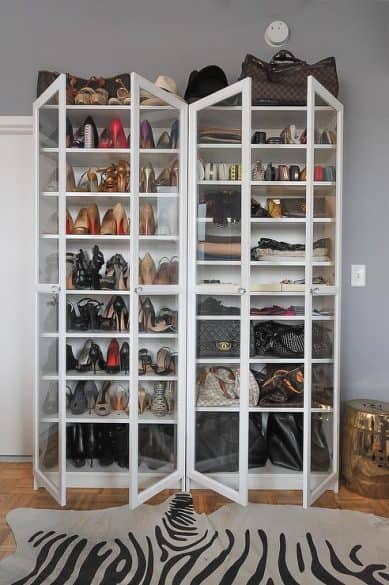 Source: Decorpad
3. A Basket for Flip Flops
Flip flops can be one of the more difficult type of shoes to keep organized. We love this wire basket idea. It makes the flip flops easily accessible and corralled.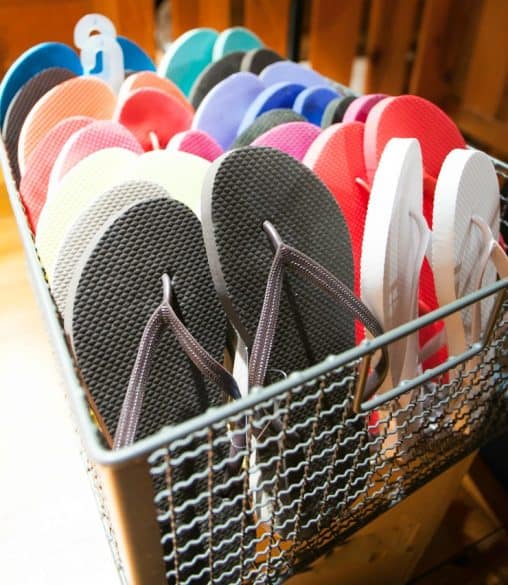 Source: Creative Cain Cabin
4. Shoe Cabinet Makeover
This stylish gray cabinet was actually an IKEA purchase. With some gray paint and beautiful gold hardware, the piece is elevated to look much more expensive. We love this solution if your kids or other family members tend to drop their shoes in a pile by the front door.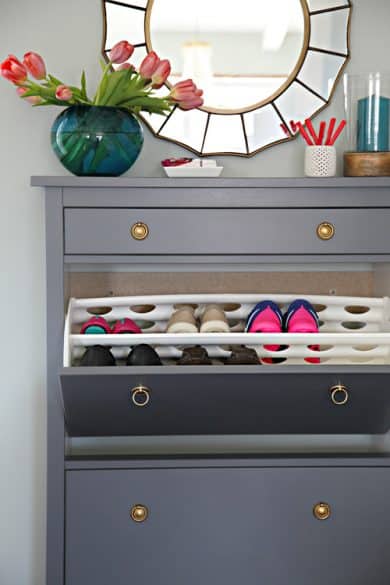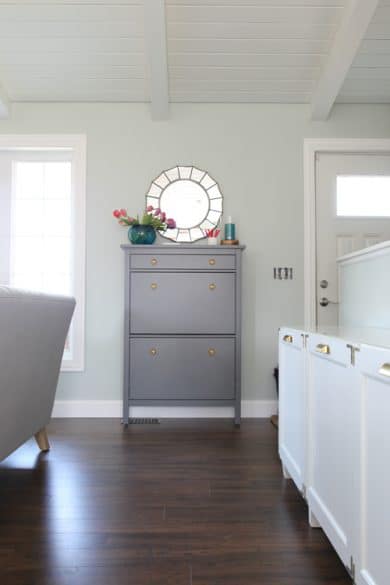 Source: I Heart Organizing
5. PVC Pipe Shoe Organizer
Another front door solution, this DIY PVC pipe shoe holder is so clever and cute. The PVC pipe was made to look like logs with a little paint and birch bark wallpaper. The logs are glued together with PVC glue and clamped in place while it dries.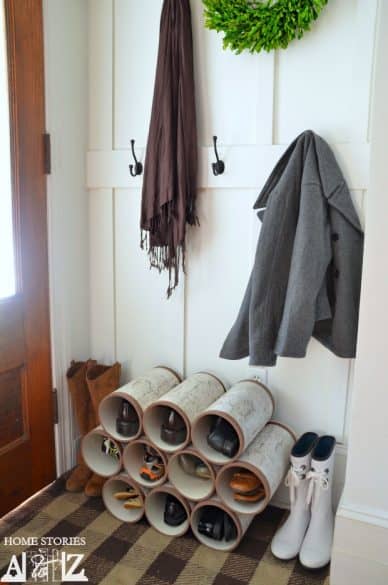 Source: Home Stories A to Z
6. Crown Molding Shoe Holder
If you have a lot of high heels, try this crown molding idea. Attach the molding in rows on your wall and transform it with a fun pop of bright paint. The molding creates the perfect ledge to hang heels. This would be great on the wall of a walk-in closet or even out in the bedroom.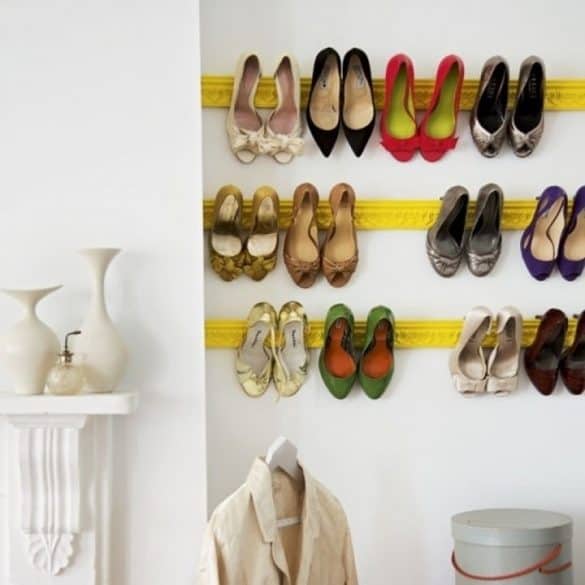 Source: Deliciously Organized