It's time to think beyond the traditional spice rack with these 7 clever ways to store spices. Whether you like your spices hidden away or displayed prominently, looking for a DIY project, or a quick option to buy, or have a small area to work with, you're sure to find something perfect for your kitchen on this list!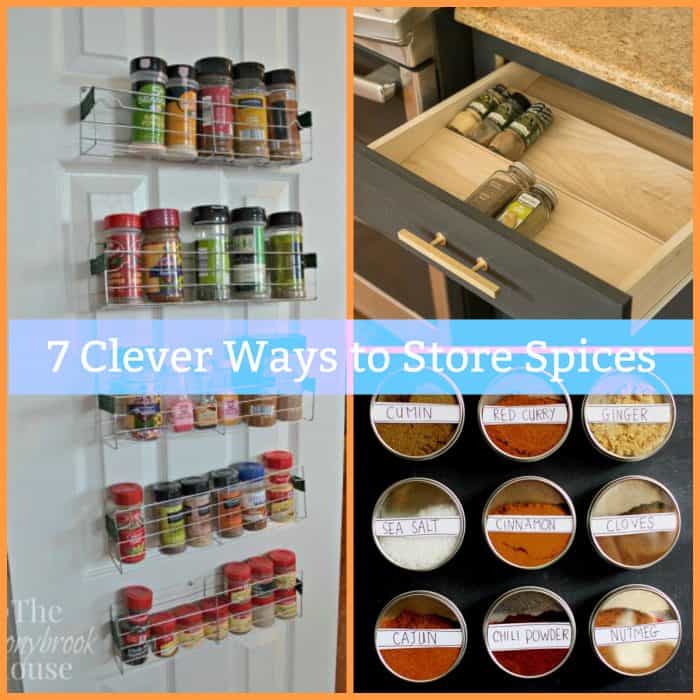 This post may contain affiliate links. As an Amazon Associate I earn from qualifying purchases. For more information, see our disclosure.
1. Use Magnets to Store Spices
Using magnets is a fun way to display your spices and also saves space! Now you just need to decide where to put them? The fridge is an easy option, but if you simply add metal strips to your kitchen, you can store your spices anywhere, even under the cabinets.
2. Create A Spice Drawer
If you are short on cabinet space consider using a drawer to store your spices. There are various drawer inserts to keep your spices organized. If you are trying to save money, you can even make your own!
3. Use a Lazy Susan
Using a Lazy Susan, or turntable, is a fast, easy way to store your spices.
3. Add Shelves
Whether you buy them or build them yourself, adding shelves to your spice cabinet makes sense. Instead of the spices getting stacked and lost, they are easy to see on their very own shelves.
3. Use the Pantry Door
If there are no free cabinets or drawers in your kitchen, use the inside of the pantry door.
Again, you can save money by making these shelves on your own, or find something similar in the stores.
4. Upcycle a Pallet
If an old fashioned spice rack doesn't match your decor, try your hand at this spice rack made from pallet wood which would look great in a modern farmhouse kitchen.
5. Display with Artwork
Make your spices part of your kitchen decor by displaying them prominently on your wall.
6. Pull-Out Drawer
These narrow pull out drawers are the perfect size for storing spices. If you are in the process of planning out your new kitchen, be sure to add this cool feature.
7. Under Cabinet Shelf
Adding a shelf under your cabinets is a great way to store spices. They are easy to reach, don't take up a lot of room, and still leave lots of counter space for other things.
Whether you are building a new kitchen, or just re-organizing your current one, hopefully you will find the perfect way to store your spices in this list!