My son and I love decorating pumpkins every October. But I hate carving them. It's so messy, and the carved pumpkins begin to rot after just a few days. So, we prefer decorating our pumpkins in other ways. Over the years, I've come up with several techniques to do this. Here are my favorite creative no-carve ideas for decorating pumpkins. Most of these ideas are easy for kids to do too.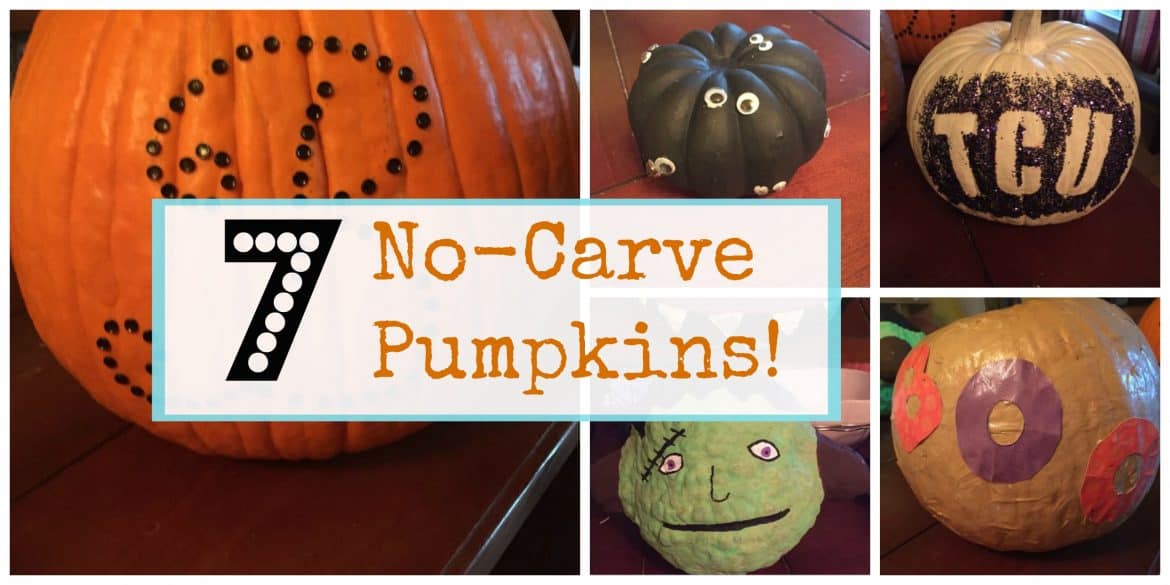 This post may contain affiliate links. As an Amazon Associate I earn from qualifying purchases. For more information, see our disclosure.
1. Paint
My favorite method for decorating pumpkins is to paint them. This is, by far, the easiest approach to use because you can create any design you want with paint. This year, we painted one pumpkin with a nighttime city skyline and made two others into monster heads. In the past, we have painted footballs, baseballs, polka dots, and stripes on our pumpkins. You can use ordinary craft paint to paint your creations.
2. Stickers
Another easy, kid-friendly way to decorate pumpkins is to use stickers. You can either put the stickers directly on the pumpkin or you can paint the pumpkin with a base coat of color and then put the stickers over that. This year, we painted one of our pumpkins solid black. We then used googly eye stickers to create the look of lots of eyes peering out from the dark. Like paint, stickers give you an unlimited array of designs.
3. Paper
Paper is a great option for decorating your pumpkins. All you need is some mod podge or glue to stick the paper onto the pumpkins. You can use whatever type of paper you want. Try using tissue paper, scrapbook paper, or even newspaper. This year, my son and I ripped some brown paper bags up and glued them all over one of our pumpkins. As a result of using the mod podge over the top of the brown paper, we got an almost worn leather look on the pumpkin. We then added the word "BOO" which we cut out of scrapbook paper. It makes for a unique look. While this process is a little messy, it is a lot of fun for kids to do.
4. Tacks or Brads
For a more sophisticated look, use furniture tacks or scrapbook brads. Just decide on a design, and then use a needle or thumbtack to "sketch" out your design on the pumpkin by poking tiny holes into it. Lastly, insert the tacks or brads directly into the pumpkin. That's it! It is probably the easiest method I've ever used! This is a great way to make monogrammed pumpkins. You can also try swirls or your favorite team logo.
5. Glitter
One easy way to add some bling to your pumpkins is to grab the glitter. For my glitter pumpkin, I first painted it with a base coat of white paint. I then put on some stickers. All around the stickers, I painted on a thin layer of glue. Next, I sprinkled the glitter over the top of the glue. Once the glue was all covered with glitter, I took the stickers off. It created a really interesting look by having the negative space be covered in glitter instead of the positive space.
6. Ribbon
I love using ribbon on my pumpkins too. You can use the ribbon in so many different ways. For example, you can tie a pretty bow around the stem or glue the ribbon in stripes around the pumpkin. On one of our pumpkins this year, we used ribbon to create a mummy pumpkin. I simply wrapped the whole pumpkin in ribbon. I used hot glue to occasionally glue the ribbon in place. Lastly, I added some googly eye stickers to create the mummy's eyes. It turned out really cute! It almost looks like a rose when looking at the pumpkin from the top, especially without the eyes!
7. Other Materials
There are lots of other materials that you can use to decorate your pumpkins. We glued cotton balls all over one pumpkin to make a sheep! We used craft foam to create his eyes, ears, and nose. I sandwiched toothpicks between two pieces of foam and then attached the ears to the pumpkin by pushing the toothpicks into it. You could also use garland, yarn, netting, tulle, or even plastic bugs and spiders! Another creative option would be to cover the pumpkin in fall leaves, either real or silk. You can use almost anything you can think of to decorate your pumpkins.
While carving is the most conventional way of decorating pumpkins, it's not the only way. If you put your mind to it, you can come up with hundreds of ways to decorate them that doesn't involve using a knife. You can craft unique, scary, sophisticated, or even cute pumpkins with any number of these approaches. These 7 methods are my favorite creative no-carve ideas for decorating pumpkins. I hope you try some of these methods the next time you decorate pumpkins at your house. Happy decorating!