I once heard someone say that writing thank you notes has become a lost art with the millennial generation – and it's easy to see why.
Our generation has been texting and instant messaging since we were children and teenagers. We're much more likely to send out a mass generic, "Thank You" message over social media or email. The thought of writing a stack of handwritten thank you notes can feel time consuming and overwhelming.
This post may contain affiliate links. As an Amazon Associate I earn from qualifying purchases. For more information, see our disclosure.
But it doesn't need to be!
In this article I will share a formula with you that will allow you to write personalized thank you notes with confidence and ease. So whether you need to write one thank you note or fifty, you'll be able to get the job done fast.
There are FIVE sections to an exceptionally well written thank you note:

The Greeting
Always address the individual by their name. You can choose to use either their first or last name, depending on how formal you want the thank you note to be.

Using someone's name on the note (and not just on the envelope) is a mark of personalization. It shows the giver that you are acknowledging them as an individual and not just writing them a generic letter.
Examples:
Dear Aunt Marsha,
Hello Beth and David,
Give Acknowledgment of the Specific Item or Service Received
You'll want to let them know that you are aware of the specific gift or service they gave you.
Examples:
Thank you for the adorable onesies and baby hats.
Thank you for the delicious meal you brought my family.
Although if someone gave you money, its tactful not to mention the specific dollar amount they gave you.
For example instead of saying, "Thank you for the $50 dollars."
You'll want to write, "Thank you for the birthday money, I'm excited to use it to buy a new pair of running shoes."

A Positive Thought or Statement About the Item or Service
Giving a positive thought or an extra detail about the item will add another layer of personalization. It also helps to make your note feel more natural and less awkward.
Examples:
I can't wait until Emma is big enough to wear them. She's going to look adorable.
Everyone loved it. It was exactly what we needed.
Give a Compliment About Your Relationship
By showing gratitude or giving a compliment about your relationship with the giver, you move the focus of your note away from the gift and onto the person themselves. This can help strengthen your relationship with them, which should be the main objective for your thank you notes anyways.
Examples:
I'm so grateful to have you as an Aunt. You always make family parties so much fun.
I'm so grateful to have you as our neighbors and friends.Your family is a big part of why we love living here.
If you don't have a strong relationship with the person, you can make a comment about how you're looking forward to getting to know them better. Or you can always just pay a compliment to them individually. For example: "I always enjoy our conversations together."
Closing Remarks
It's nice to finish your thank you note with one more expression of gratitude.
Examples:
Thank you again!
I appreciate your friendship so much.
Then you have a couple different options of how to end your note, depending on how personal or formal you want it to be.

Examples:
Sincerely,
With love,
Yours truly,
Sign your name at the bottom, and feel proud of yourself for how fast your got your personalized thank you notes written!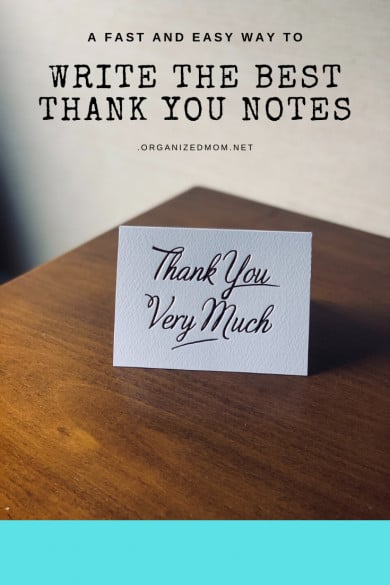 As moms we can teach our kids to write thank you cards as well! Help your kids have an attitude of gratitude.