I became obsessed with bullet journals when my paper planners continued to disappoint me! Many of them didn't have enough space in the daily pages, they were too bulky, and they didn't have enough empty pages for the trillions of lists I like to write and keep track of. As a result, I had piles of notebooks, each with a different purpose.
That all changed when I heard about bullet journals! I scoured the internet looking for creative bullet journal ideas and now I LOVE writing in my notebook! Every time I need to make a new list (shopping list, daily schedule, etc.) I have it all in ONE PLACE! It's brilliant.
This post may contain affiliate links. As an Amazon Associate I earn from qualifying purchases. For more information, see our disclosure.
To have the best bullet journal, you simply need to make it specific to your personal needs. I searched the internet for the best bullet journal spreads. Each one is unique.
For me, I wanted to do a round up of the pages that I have in mine, and that I use often. I hope these bullet journal ideas help you create your own awesome bullet journal pages.
The 19 bullet journal ideas for pages you must have
#1 – Title Page
Since my roots are in Franklin Covey planners, I love having a place to enter my Roles (wife, mother, business owner, etc), my Values (family, health, education, etc), and my Strengths (helping, problem solving, etc). Having these clearly defined, really helps me set the tone when I'm trying to organize my day, week and month.
With these Roles, Values, and Strengths understood, you can also create a mission statement for your life. As you start each new bullet journal add this mission statement and your Roles, Values, and Strengths to a title page to help you remember who you are and who you want to be as you get organized.
Boho Berry has some great worksheets on how to craft your own personal mission statement, and this beautiful sample mission statement page…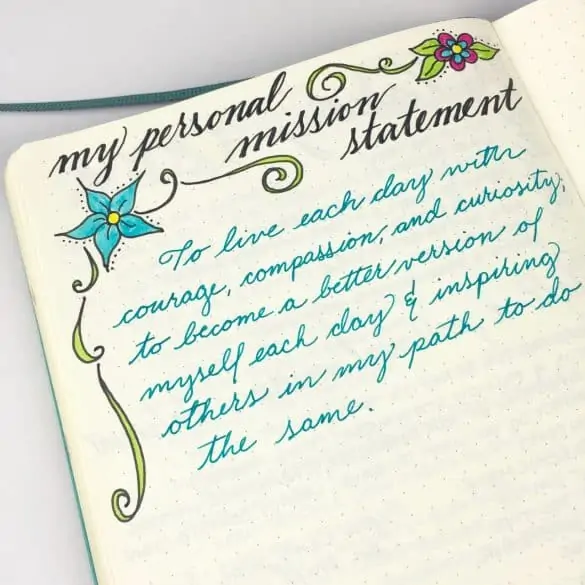 #2 – The Daily Spread
I didn't want to share any of my own pages, because my handwriting isn't as great as most people who post their pages, but I couldn't find anyone online that had what I do! So, here is my daily page: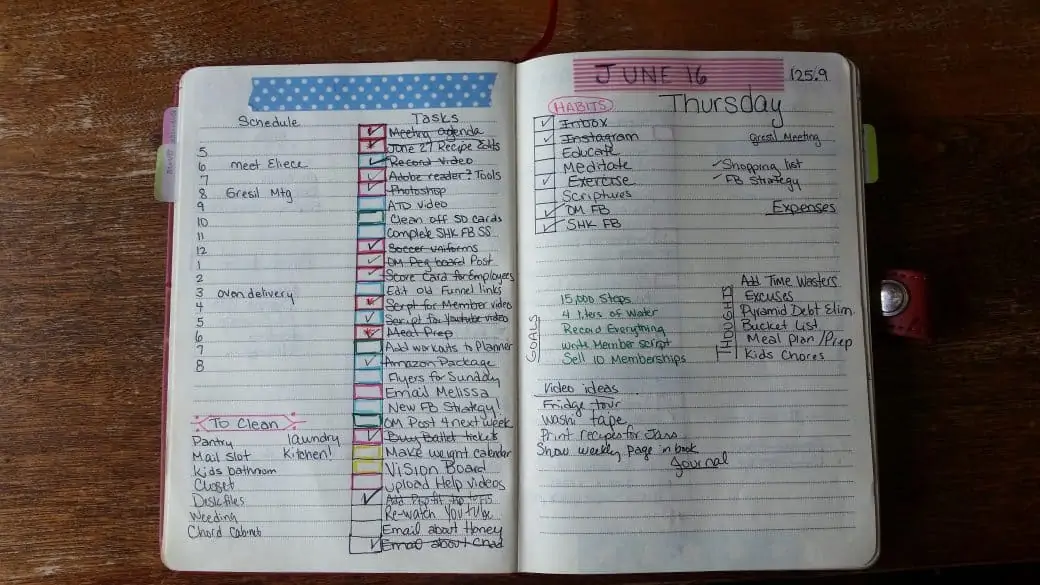 I like have my schedule, my tasks, and lots of places for notes! I also color code my tasks, so anything outlined in red must be done first!
#3 – A Weekly Spread
Even though I have most of my information on my daily pages, I like the look of a weekly spread to put dinner ideas, major appointments, exercise goals, and really just to see the week at a glance. Sometimes, I really appreciate seeing the week at a glance so I can have an idea when to fit other things in.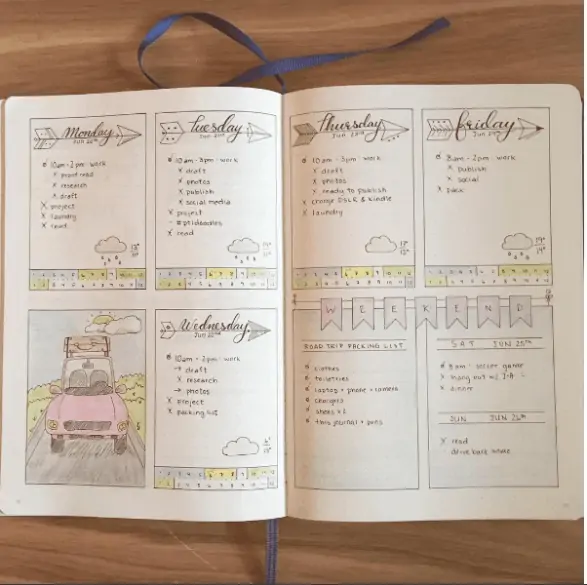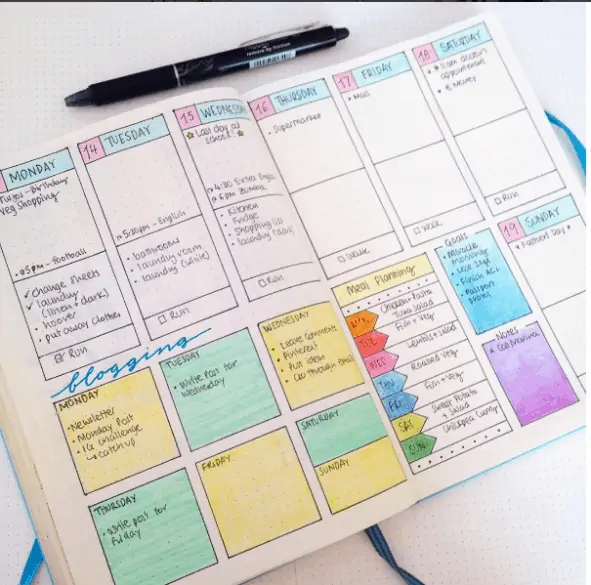 #4 – Your Goals
So many fun ways you can make your goals pages to fit your style! This simple one really resonates with me, but you can also set up a tracking page, or more specifics for each goal, such as steps to get there. Check out this post if you like to really get specific with your goals!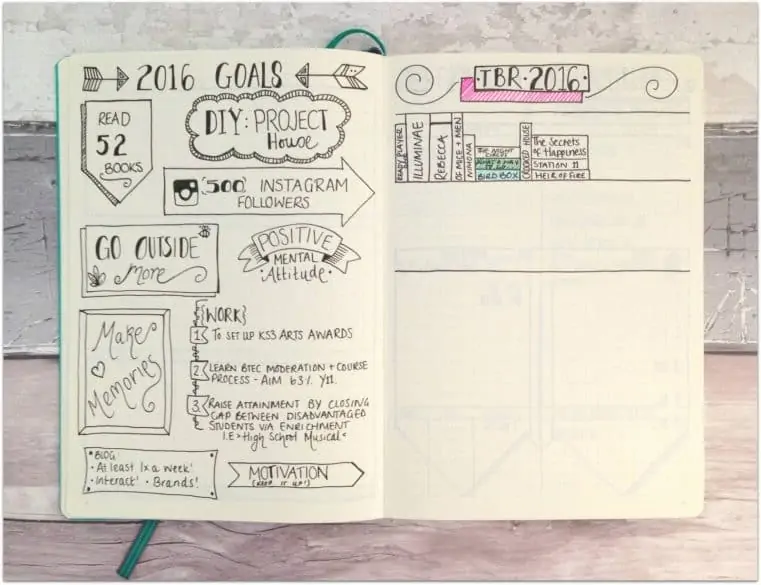 #5 – A Budget
Whether you are getting out of debt, or want to track expenses, your new bullet journal notebook can keep it all! Check out this page for a debt elimination snowball as well.
#6 – Meal Planner
It's no secret that I love meal planning, but what most people don't realize, is that I like ALL methods of meal planning! For now, I follow a paid meal plan, but I still add my meal plan prepping to my weekly spread.
Some ways people use meal planning for their bullet journals though is to use a page for their weekly plan, plus their shopping list, all on one spread like this: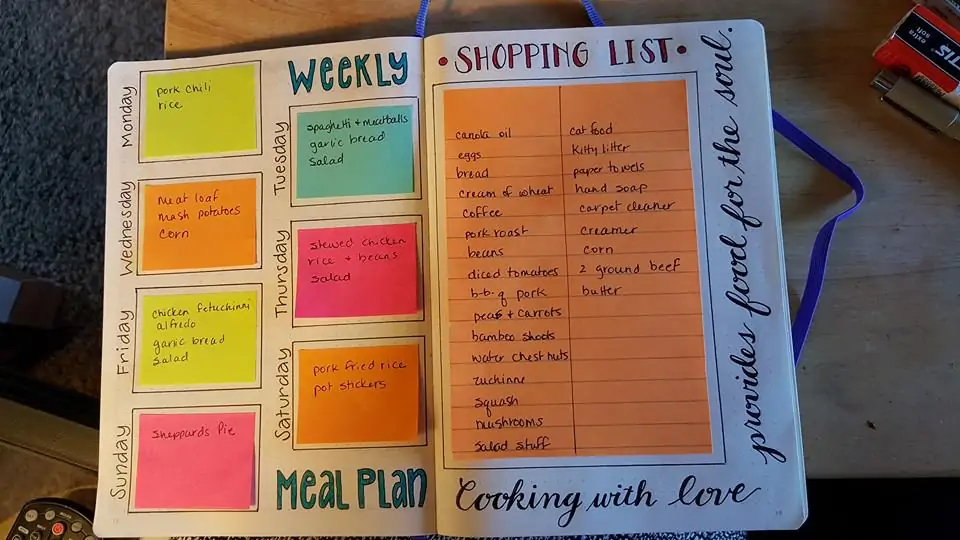 #7 – Books to Read and Other Lists
Oh my goodness, is this fun or what?? You can of course make a simple list, but how fun is this page to look at?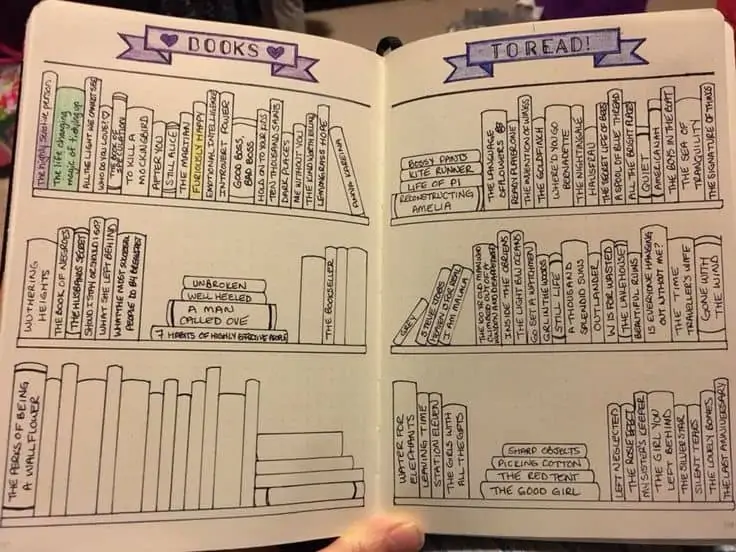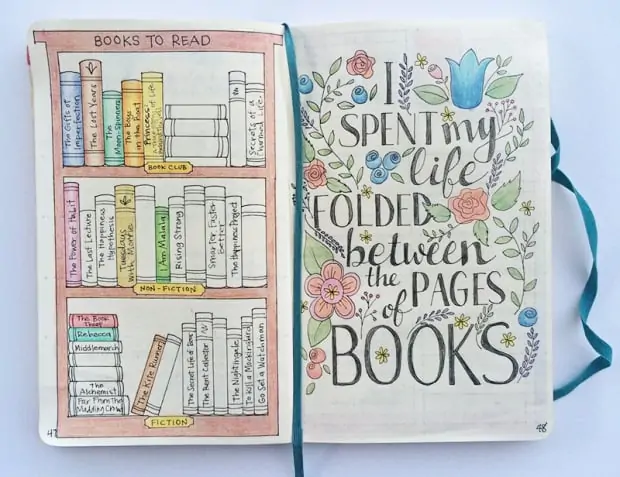 You can do something similar with Movies to Watch, TV shows to binge and more!
#8 – Wish Board
Get crazy with this! No one has to see your vision board. Cut out pictures of your ideal life, and glue them right inside your personal notebook!
#9 – Habit Tracker
I love the idea of a habit tracker! Once again, my favorite page in all the image searches keeps coming back to this same creative blogger, Christina! You might as well just go follow her for SO much inspiration! But here's the habit tracker she shared: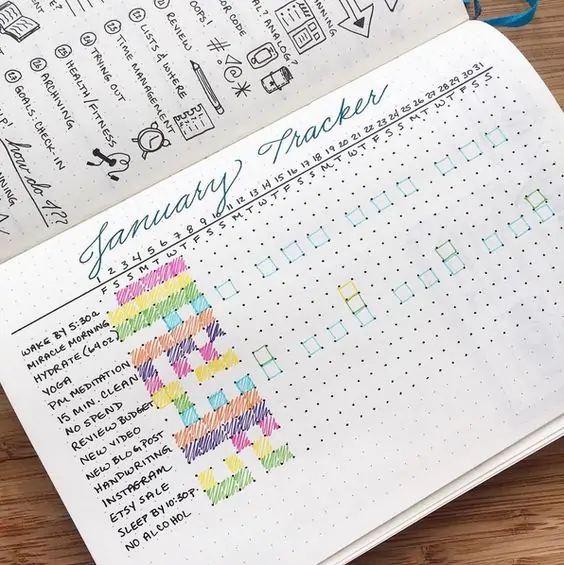 #10 – Quote Page
As a frequent quoter of movies, I LOVE to keep track of my favorite quotes. Looking at this page can give me new inspiration when I'm feeling a lack of motivation, or just make me laugh enough to continue my day!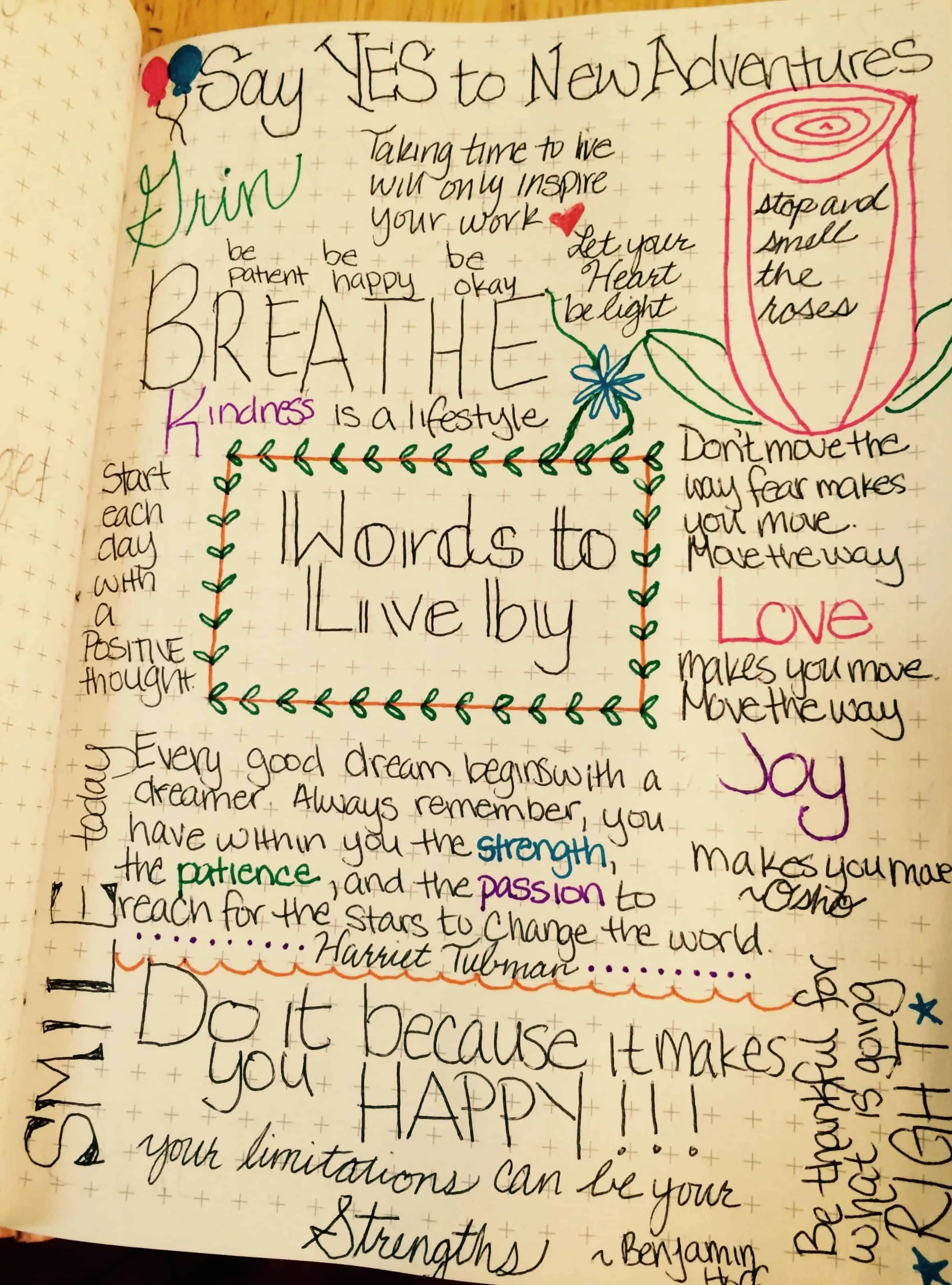 #11 – Birthday List
Although Facebook does a pretty good job keeping me in the loop on friends and relative's birthdays, it is definitely not perfect. If you are the kind of person who loves to send cards, gifts or even just a text for someone's birthday, having one place to find all of the birthdays you want to track in one spot is a great way to stay on top of it.
I love this one from @bujo.snowberry because it gives you room to add more as neeeded.
#12 – Progress Chart
Visualizing the progress on your goals can be extremely motivating! If you have a goal to lose 15 pounds similar to this one from Boho Berry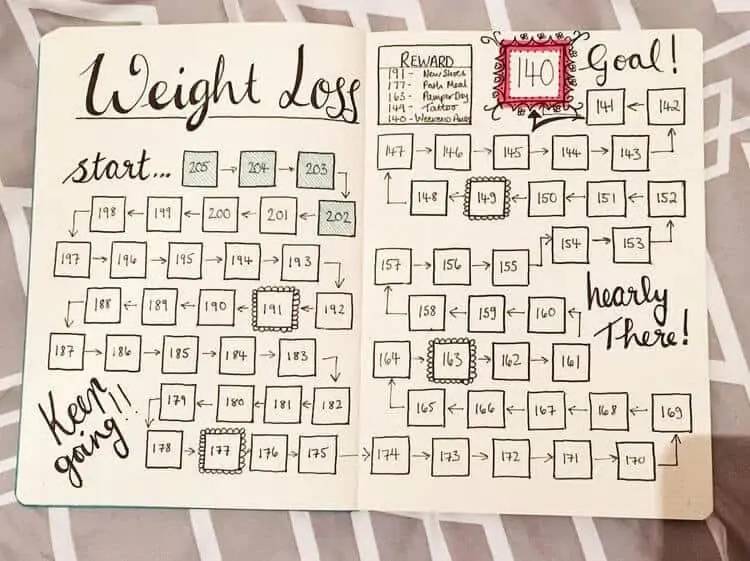 You can create something to color in for each pound lost. The same can be done for chapters of a book you want to read, or money you put in a savings account.
#13 – Month Review
I really love this idea of taking stock of your goals and habits at the end of each month. This also really helps make your Bullet Journal a real window into your life.
Many people want to keep a regular journal, but including this monthly review can help you keep a journal of your life, as well as keep you going in the direction you want. Here is a great template from Planning Mindfully.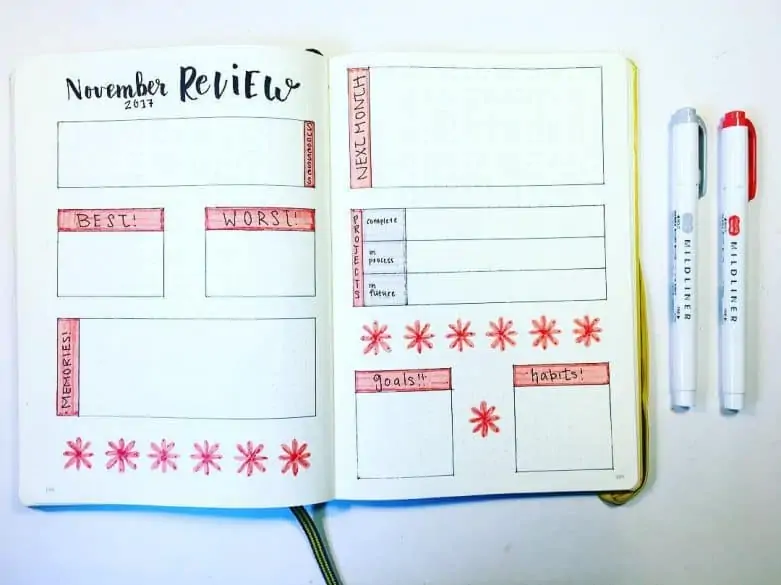 #14 – Daily Affirmations
To quote Stuart Smalley, "I am good enough, smart enough, and dog gonnit, people like me!" Daily affirmations are extremely motivating for people. I try to do daily affirmations with my kids every night as I'm tucking them in bed.
My friend does it as they leave for school. Honestly, if you tell yourself something enough times, you will really start to believe it!
#15 – Specialty Planning
Are you planning on taking a trip soon? Do you have a big project coming up? Do you need to plan an event? All of these things aren't necessarily daily, weekly or monthly tasks, they are specific to the event, project, or trip.
Keeping a separate section for these special events or projects can give you a more cohesive idea of how your planning is going for the event. You can transfer various to do items to your daily lists as needed, but you will know if you are completely ready for your event when the time comes if you have it all in one spot!
#16 – Chore Chart
Kids respond great to chore charts! Creating one for yourself can actually be just as motivating. Plus, it's a great idea to keep track of all of the daily, weekly, monthly and seasonal chores you need to do.
Even if you delegate a lot of the work to your children, you can monitor whether they have finished their tasks in your Bullet Journal so you know for sure that everything in the house is getting taken care of.
View this post on Instagram
#17 – What Have You Learned?
You know that old saying? You learn something new every day? Well, it is soooo true. I love to write down the one thing I learned new each day in one specific section of my journal so I can look back and see all of the amazing things I've learned!
#18 – Things to Buy
We all have grocery lists, and that is NOT what I'm talking about here. I'm talking about big things that you may want to buy. I like to write them down so when I have a little bit of extra cash I can check out my list and get something on it. Like a new rug, or a new bookshelf, or even something REALLY big like new flooring!
Keeping a list of these items can help you stop thinking about how nice it would be to have a new fridge, since you know it is already on your list. This could also include movies you want to purchase, and other smaller things you also want to keep track of, but not necessarily purchase today.
#19 – One Sentence A Day
Although a bullet journal is a great way to keep a journal of all of the things you are doing and accomplishing, it doesn't do much for how you are actually feeling each day, or the fun things your kid did that day.
Creating a section where you keep a growing log of just one or two sentences for each day describing how you felt, what was fun, or what your kids were up to, can really turn your bullet journal into a great way to keep an actual journal.
So, those are the pages I've used for my own journal. Most people like a monthly spread, but I have one, and I NEVER look at it! Some other bullet journal ideas that would be AWESOME!!
Restaurants to go to
Prayer journal
Gratitude page
Diet rules
Things that make you happy!
Period tracker
What other pages would you add?

How to Get Started with Bullet Journaling
Ready to get started? We have you covered. The single most important thing you will do is pick a notebook!
Here's one of our favorites that is very economical:
The best part? It comes in any color you could possibly want.
If you want more information on the best bullet journal notebooks around, don't miss our detailed guide!
More Bullet Journal Monthly Spreads
If you're looking for some bullet journal monthly inspiration, don't miss the complete collection of monthly bullet journal spreads we're building month by month!
February Bullet Journal Spreads
Bullet Journal Tips
I'm not the most artistic person out there, but I love my bullet journals! There's many great ways to enhance your bullet journal if you aren't artistic.
Be sure to check out one of my favorite Etsy shops, Stickerpalooza, for everything you need for your bullet journal, and use ORGANIZEDMOM15 for an exclusive 15% discount!
Here are some of my favorites:
Stickerpalooza Script Month Name Stickers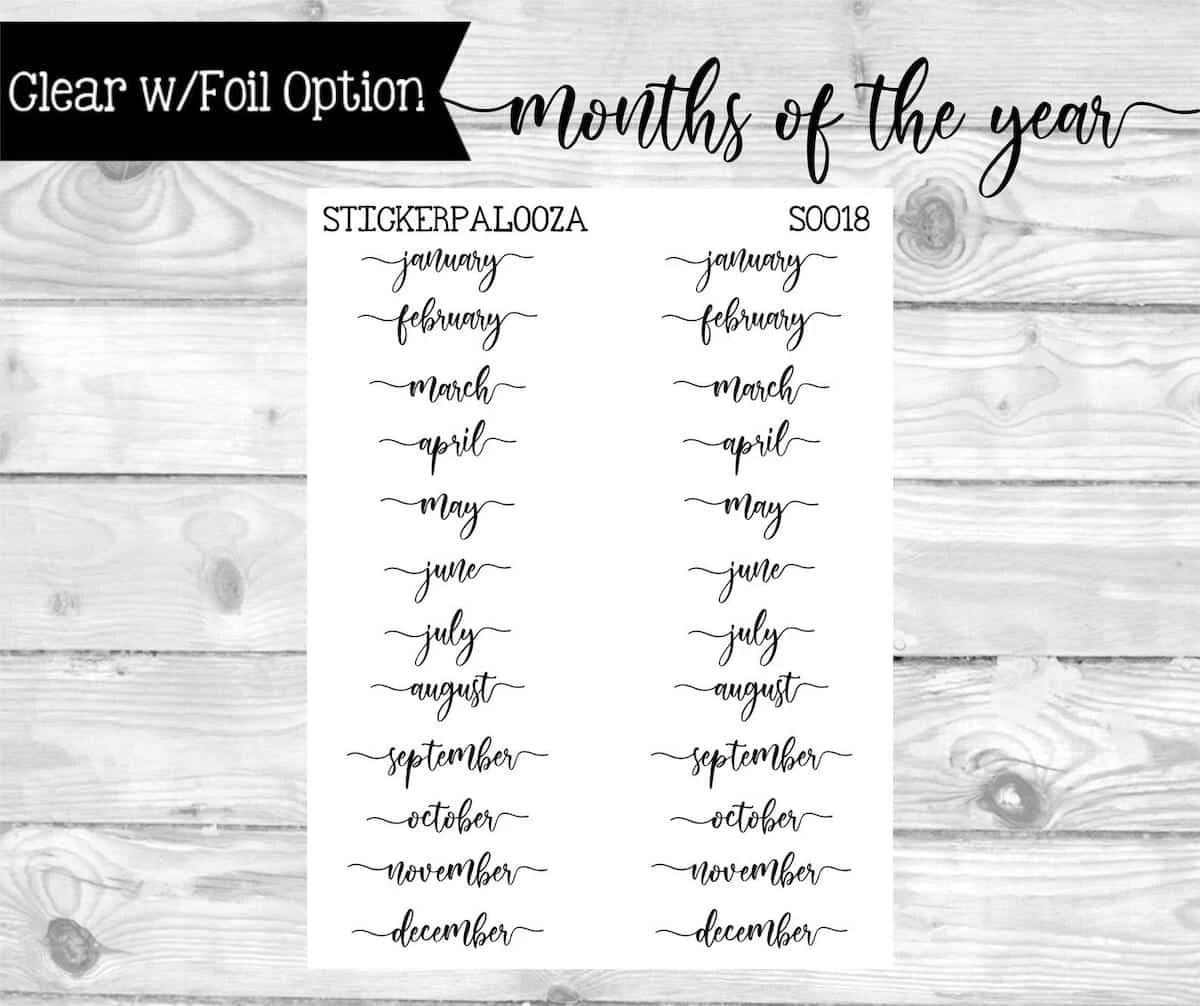 I love these stickers when I want to get creative with a monthly intro page, it saves me a ton of writing.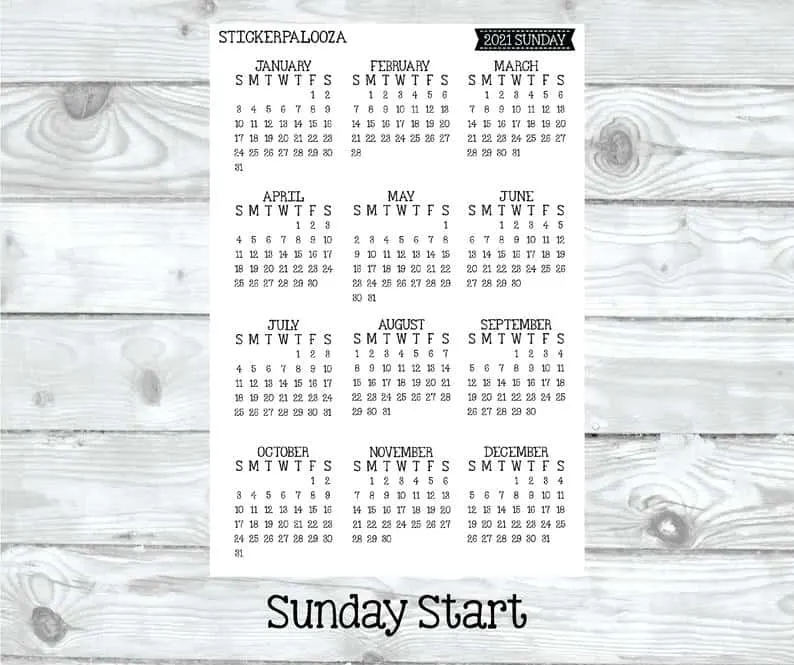 These are adorable little stickers to track the weather for the month or day.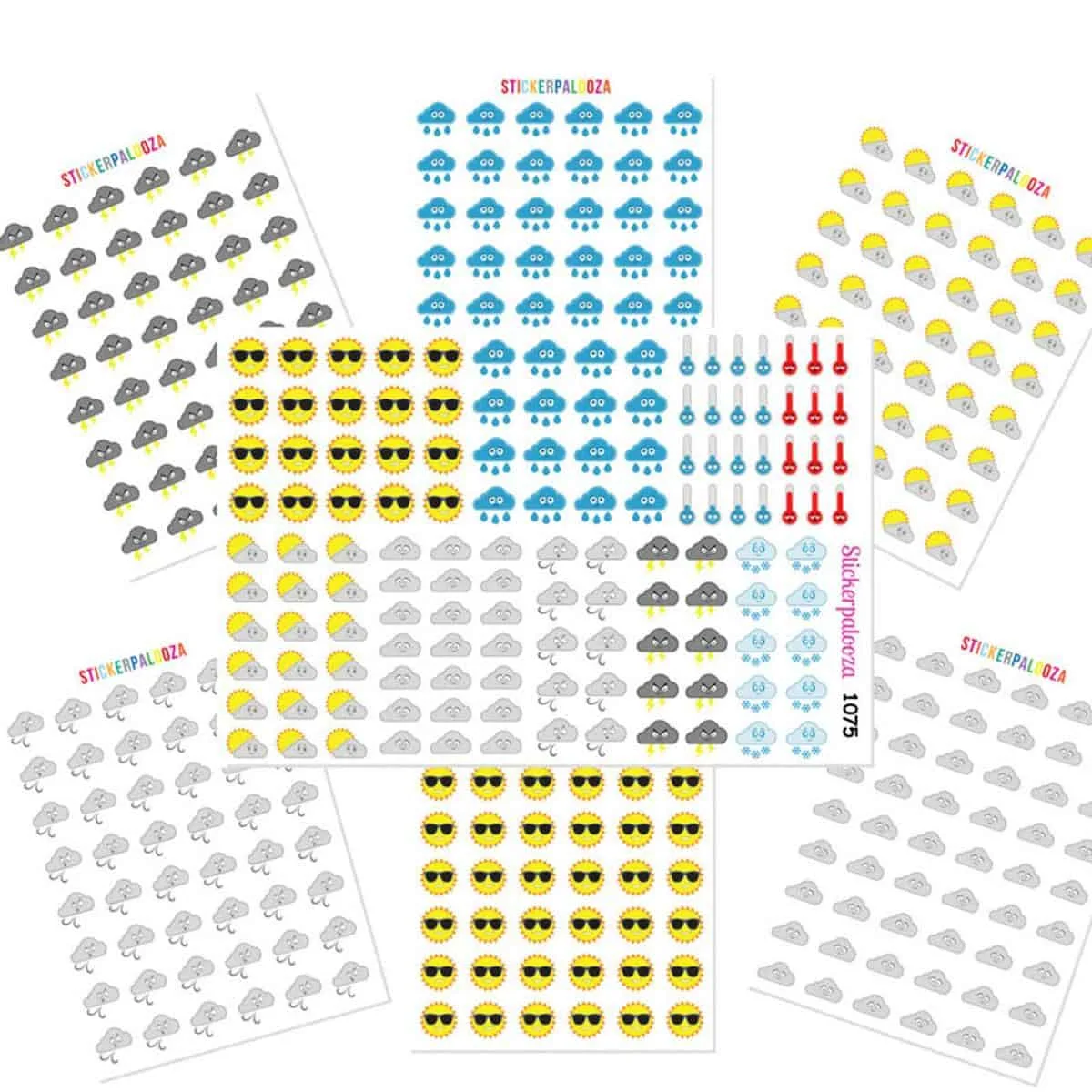 Be sure to use code ORGANIZEDMOM15 for an exclusive 15% discount!
Happy bullet journaling!