I became obsessed with bullet journals when my paper planners continued to disappoint me! IMany of them didn't have enough space in the daily pages, they were too bulky, and they didn't have enough empty pages for the trillions of lists I like to write and keep track of. As a result, I had piles of notebooks, each with a different purpose.  That all changed when I heard about bullet journals! I scoured the internet looking for creative bullet journal ideas and now I LOVE writing in my notebook! Every time I need to make a new list (shopping list, daily schedule, etc.) I have it all in ONE PLACE! It's brilliant.
To have the best bullet journal, you simply need to make it specific to your personal needs.  Each one is unique.  For me, I wanted to do a round up of the pages that I have in mine, and that I use often.  I hope these bullet journal ideas help you create your own awesome bullet journal pages.
The 9 bullet journal ideas everyone must have in their pages
#1 – The Daily Spread
I didn't want to share any of my own pages, because my handwriting isn't as great as most people who post their pages, but I couldn't find anyone online that had what I do!  So, here is my daily page: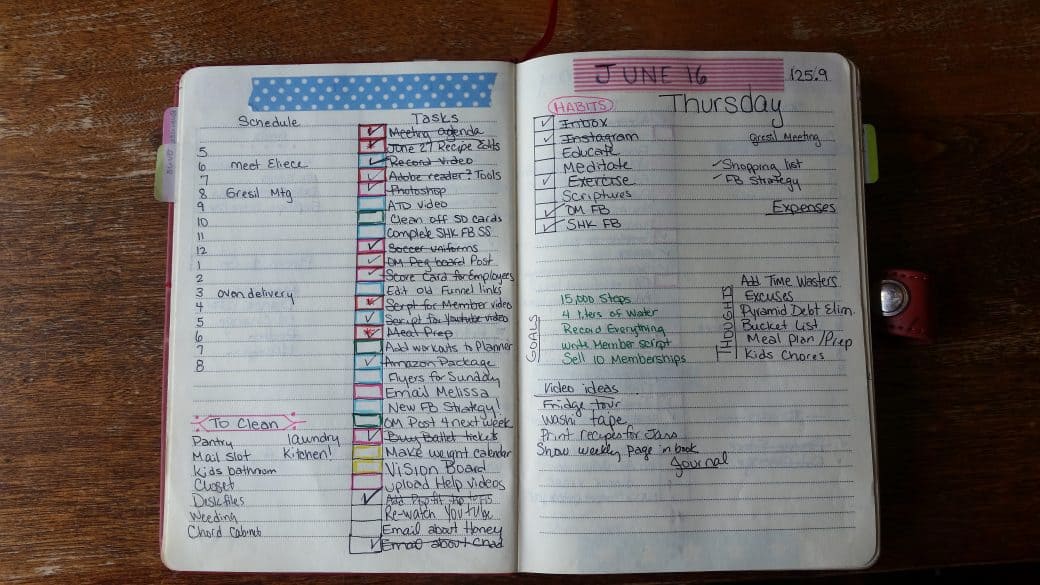 I like have my schedule, my tasks, and lots of places for notes!   I also color code my tasks, so anything outlined in red must be done first!
#2 – A Weekly Spread
Even though I have most of my information on my daily pages, I like the look of a weekly spread to put dinner ideas, major appointments, exercise goals, and really just to see the week at a glance. Sometimes, I really appreciate seeing the week at a glance so I can have an idea when to fit other things in.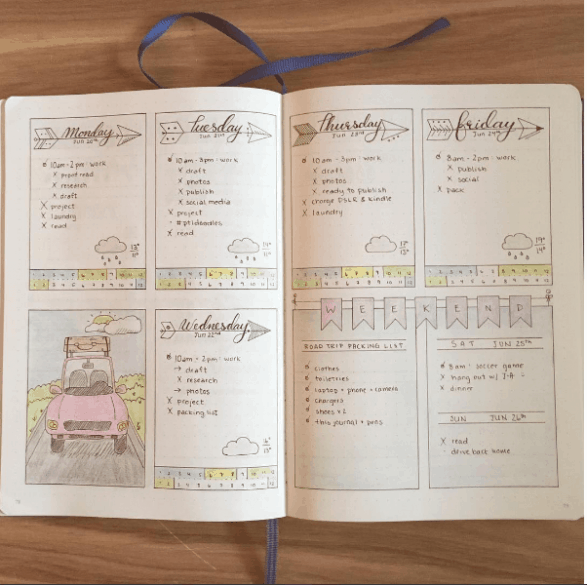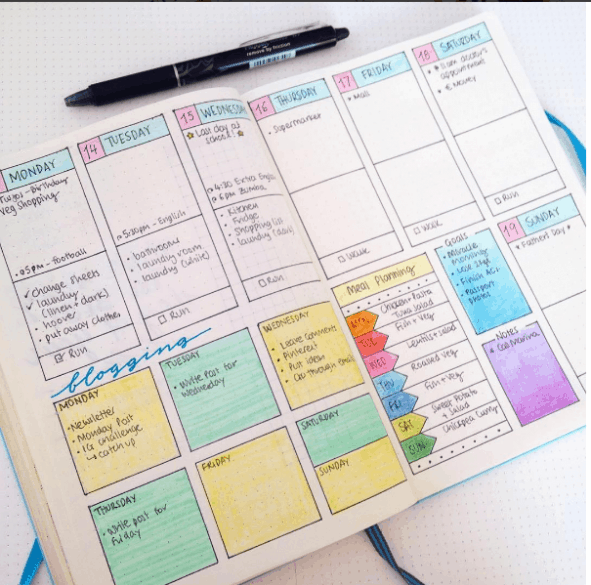 #3 – Your Goals
So many fun ways you can make your goals pages to fit your style!  This simple one really resonates with me, but you can also set up a tracking page, or more specifics for each goal, such as steps to get there.  Check out this post if you like to really get specific with your goals!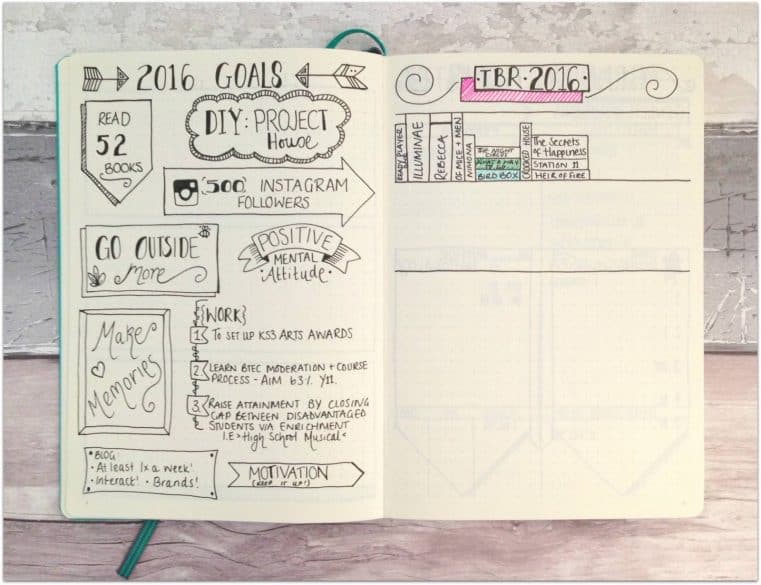 #4 – A Budget
Whether you are getting out of debt, or want to track expenses, your new bullet journal notebook can keep it all!  Check out this page for a debt elimination snowball as well.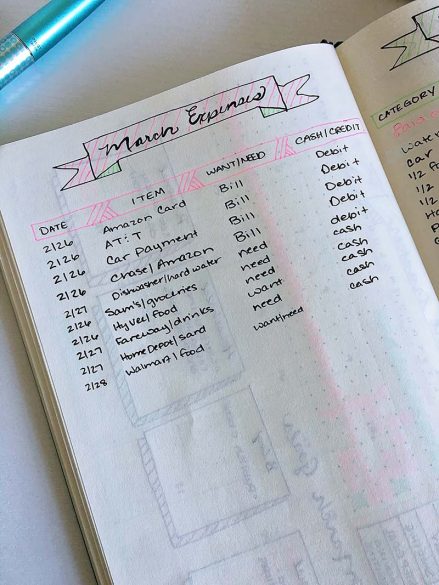 #5 – Meal Planner
It's no secret that I love meal planning, but what most people don't realize, is that I like ALL methods of meal planning!  For now, I follow the meal plans at Super Healthy Kids, but I still add my meal plan prepping to my weekly spread. Some ways people use meal planning for their bullet journals though is to use a page for their weekly plan, plus their shopping list, all on one spread like this: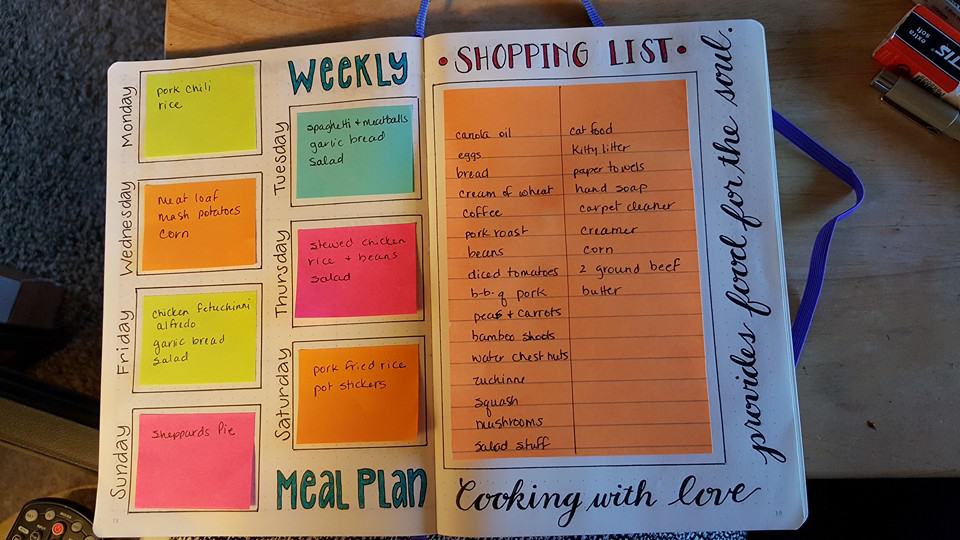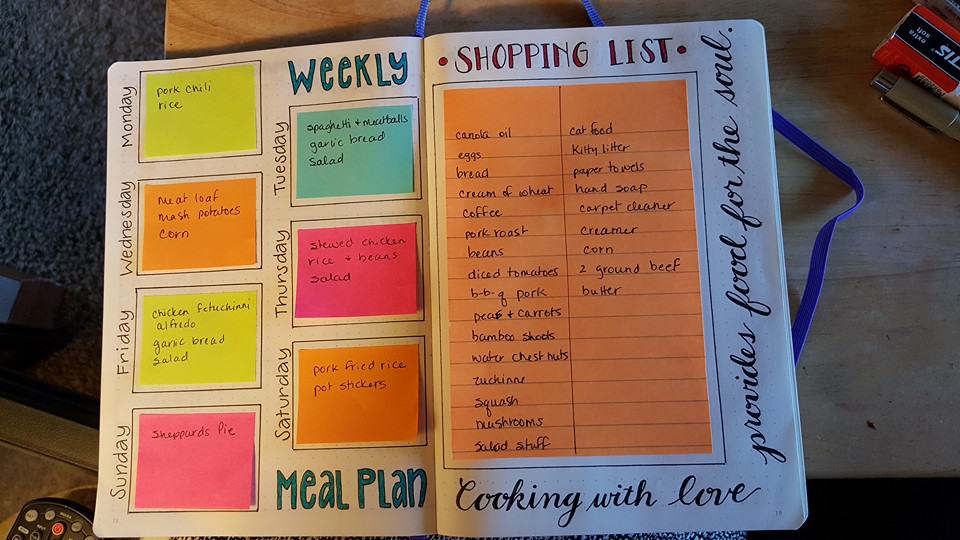 #6 – Books to Read and Other Lists
Oh my goodness, is this fun or what?? You can of course make a simple list, but how fun is this page to look at?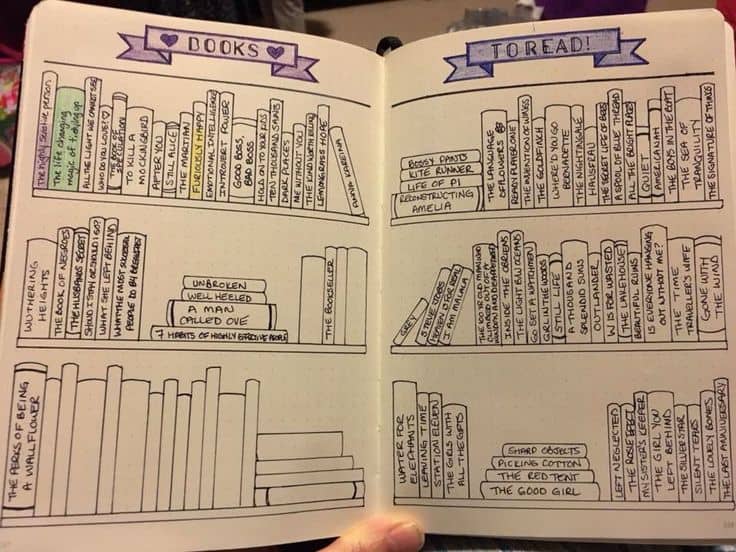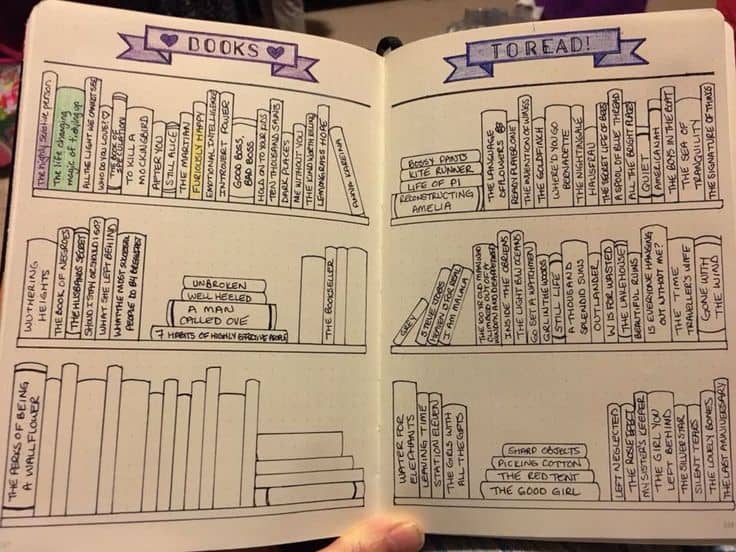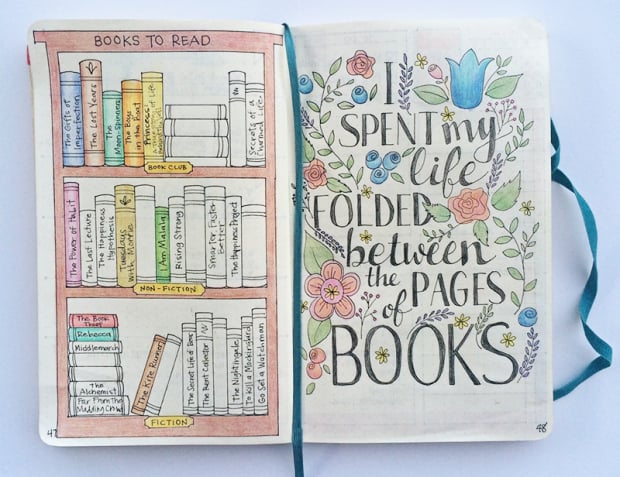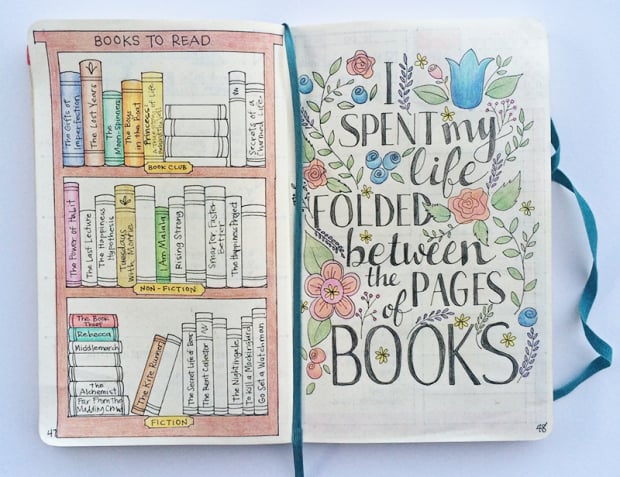 #7 – Wish Board
Get crazy with this! No one has to see your vision board. Cut out pictures of your ideal life, and glue them right inside your personal notebook!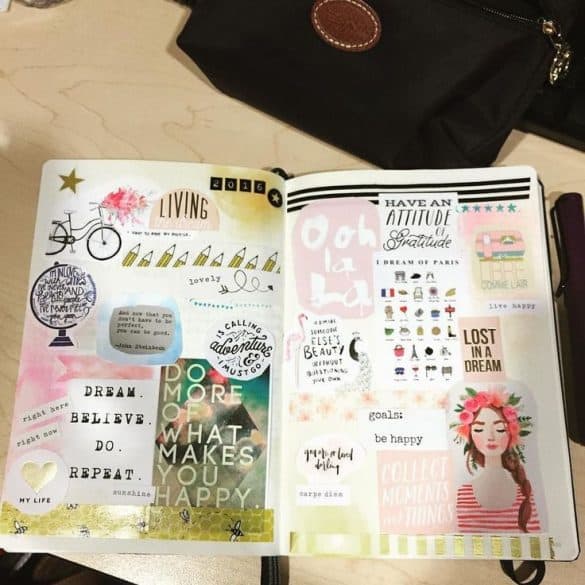 #8 – Habit Tracker
I love the idea of a habit tracker! Once again, my favorite page in all the image searches keeps coming back to this same creative blogger, Christina! You might as well just go follow her for SO much inspiration!  But here's the habit tracker she shared: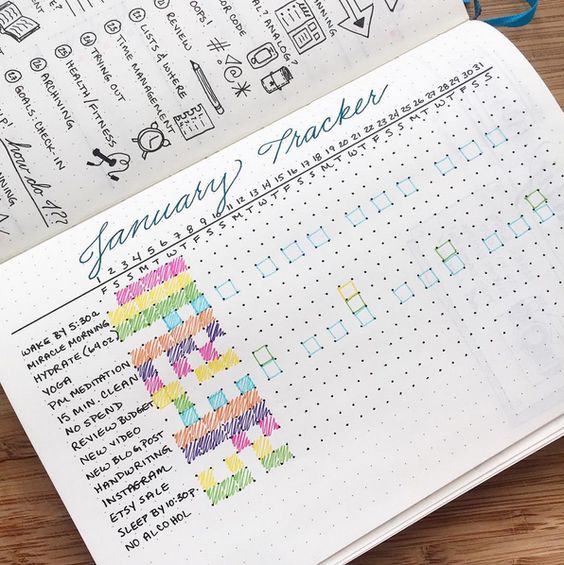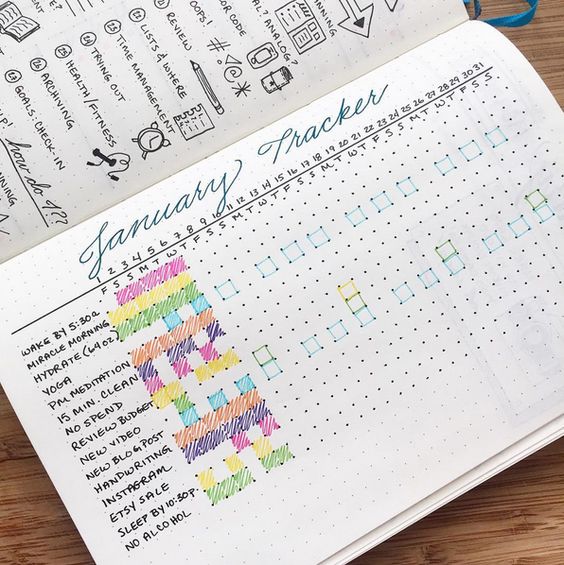 #9 – Quote Page
As a frequent quoter of movies, I LOVE to keep track of my favorite quotes. Looking at this page can give me new inspiration when I'm feeling a lack of motivation, or just make me laugh enough to continue my day!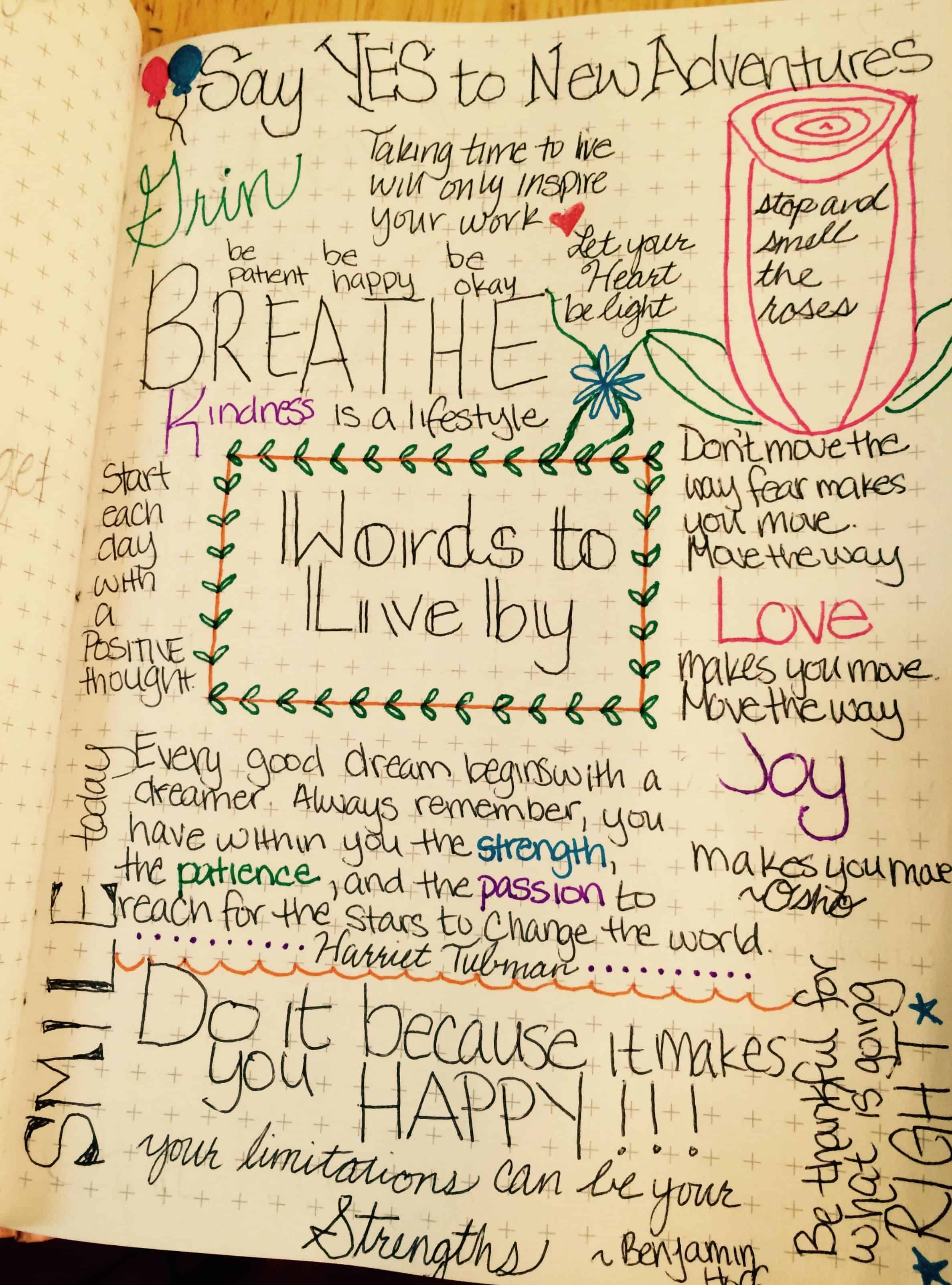 So, those are the pages I've used for my own journal. Most people like a monthly spread, but I have one, and I NEVER look at it!  Some other bullet journal ideas that would be AWESOME!!
Travel planning
Restaurants to go to
Prayer journal
Gratitude page
Diet rules
Things that make you happy!
TV shows you want to watch (your Netflix list!)
Period tracker
Birthday tracker
What other pages would you add?