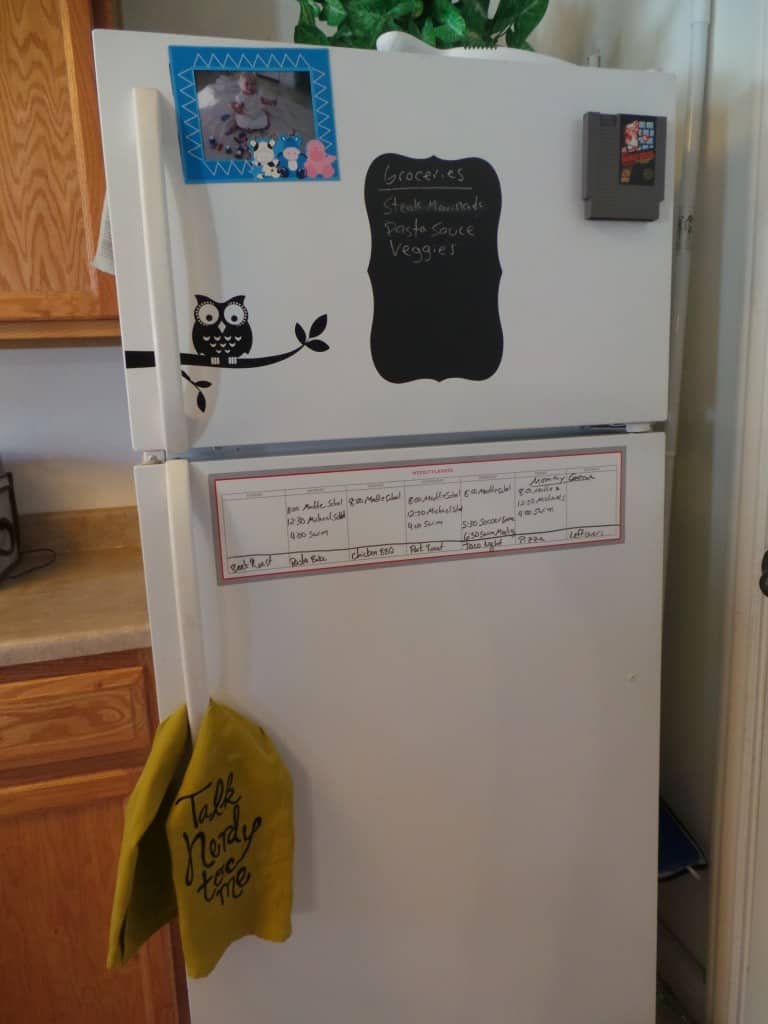 When it comes to being organized, really there is no one better at showing you how it's done in style than Martha Stewart. Her name has been synonymous with class and style for years (even while in jail, she was still looked up to and admired!) I was lucky enough to get an entire package to help me get ready to go "Back to Routine" as we are getting back to school and back to having our lives scheduled to the second again.
This post may contain affiliate links. As an Amazon Associate I earn from qualifying purchases. For more information, see our disclosure.
This year it's becoming tricky as the kids are growing up. My Son is in preschool now, and we are thinking of sticking him in some sports to find what he likes to do best. We have already figured that out with Maddie, and she has recently made the year round USA Swimming sanctioned swim team in our area. With that comes 3 days a week of hour long practice, and of course swim meets (which pretty much take all day when they happen). I also work full time, my husband started a new job, and we are still hobbling along with one car. It's definitely a challenge to keep everything on the same page. Also since I work from home, and spend most of my day in my office, my husband has complained on numerous occasions that my office is a mess. We definitely needed some help. Martha Stewart products from Staples to the rescue!
Pictured above you can see two of the products in use. The weekly planner is a great way to keep everyone on the same page. Even though I have my husbands and my Google Calendar's synced to our phones (with individual calendars for each of the kids as well), he barely looks at his phone's calendar. So this is a perfect way for him to see exactly what is going on. Each Sunday I grab my tablet and start copying from the calendar. I write down what we are having for dinner each day, which days there are preschool, swim team, etc etc. I don't necessarily put times on here, since really it's just for everyone to know what is going on for the day. I also have right on the fridge the chalk board decal, which helps us write down quickly when we notice something get all used up, or just to remind us what we need to add to the grocery list. Before I head to the store I transfer that list into my favorite Grocery Shopping app, Grocery IQ and then head on out.
I also love the decals I put on my kids doors…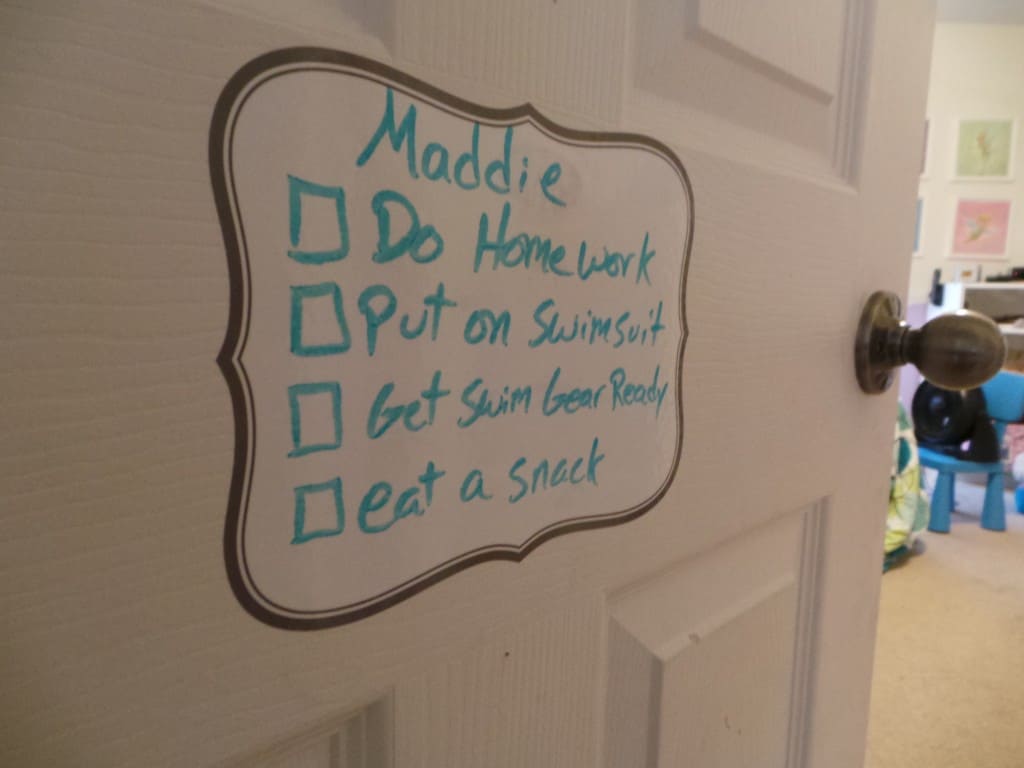 What I like about these, is I can let them know the things I would like them to accomplish when they get home, so we can be all ready to go. Not only does it put them in charge of themselves, which teaches them the skills to help them as they become adults, but it also frees me up to work while they get their tasks accomplished. I don't need to follow her around and tell her what to do next.
Let's also visit my office…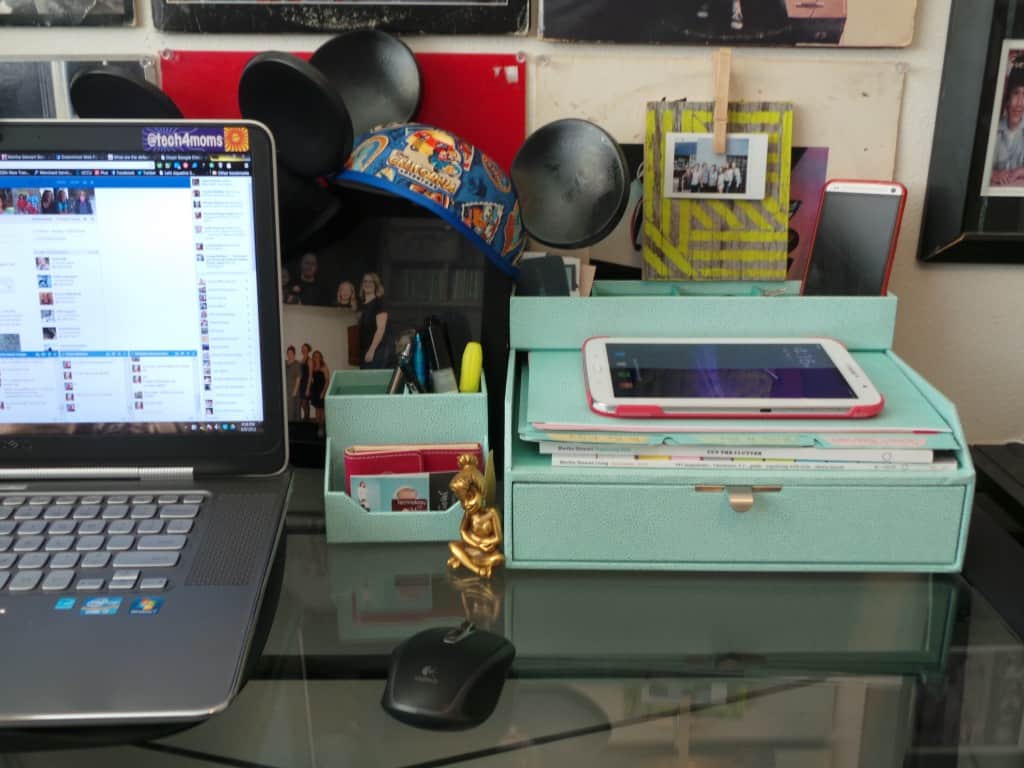 I can't even explain how much I love these stackable organizers. I use the top section to organize my inbox into folders. One for bills that need to be paid, school paperwork to look through, things to be permanently filed away, things to "digitize", receipts to process, etc. The drawer keeps notebooks, office supplies, etc, and I can easily store my phone and business cards I need to go through in the top section. Not to mention how insanely cute and stylish the whole line is!
Really, there is something for everyone in this line of products. I would probably just go to Staples and buy everything if I could. I could easily find a use for every single thing I was sent to facilitate this review, and I know you will find ways that the products could fit into your lives as well, to help you get back to your routines!