Going to the theater isn't what it used to be. So how about bringing the theater to your backyard. Use these tips to get started.
You're going to need two main things. First you will need a screen, and then you will need a projector.
DIY Backyard Theater Screens
This post may contain affiliate links. As an Amazon Associate I earn from qualifying purchases. For more information, see our disclosure.
Here are some ideas for what you can use as a backyard theater screen.
Garage Door
If you're going to have a backyard theater you are going to need a screen. Luckily there are a variety of options depending on your budget. This can be as simple as your garage door. Using your garage door allows for the BIG screen feel in your own back (or front) yard.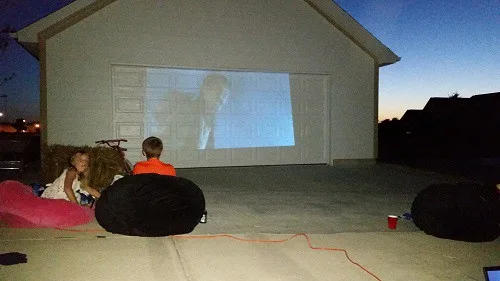 Bed Sheet
You can use a white sheet to make your movie screen. There are varying ways to hang it. You could put eyelets in the corners and bungee cord it so it stays tight.
You could also sew a little sleeve in the top and bottom and slide a PVC pipe in. This will help the sheet not blow in the wind and hold its theater screen shape.
Blow Up Screen
My neighbor has one of these and it looks so fun! It's a big blow up screen that gets inflated for outdoor movie night. The screen pictured below is a 16 foot inflatable screen.
Screen With A Stand
When bringing the theater to our backyard this is the set up we chose. It allows us to show the movie in different places in our yard depending on if we want to watch it from the trampoline or from the above ground pool.
We have even attached the screen (without the stand) to the fence. Lots of options with this type of screen.
Projectors
Let's take a look at some projectors that are great for the back yard!
Portable Mini Projector
If you are looking for a convenient portable way to bring the theater to your backyard this little guy might be just what you need. This portable mini projector allows you to stream from Amazon Prime, Netflix, or YouTube. Or you can use screen mirroring for an iPad or iPhone.
You can find this backyard theater projector at Amazon for under 300 dollars.
Indoor/Outdoor Projector
For our families backyard movie theater we use an indoor/outdoor projector. It's small enough to easily carry outside and set on a table and show on our big screen.
Yet, we can also use it indoors to show a movie on a wall. In fact, we often use it indoors and connect it to an xbox so the kids can play their video games. It's a versatile style of projector that will definitely be bringing the theater to your backyard.
iPad or Laptops
Don't count yourself out of the backyard theater scene if you don't have a screen or projector. You can still have an epic night under the stars enjoying a movie by simply using your iPad or laptop to stream a show.
This is an awesome time to be at home and enjoy the simple things in life. Watching a movie is one of those simple things we all like to do together. Take family movie watching to a whole new level by bringing the theater to your backyard.