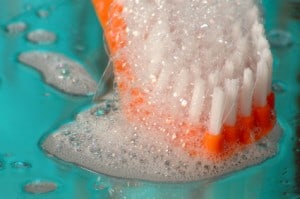 Cleaning doesn't have to be a chore, it can be quick and easy if done regularly. A clean bathroom is only 6 minutes away if you use these easy to follow steps!
Step One – Put away anything that is left out on the counter, and move the things that remain on the counter so you can clean underneath them.
This post may contain affiliate links. As an Amazon Associate I earn from qualifying purchases. For more information, see our disclosure.
Step Two – Spray everything down. Start with the shower using a cleaner designed to cut out soap scum like Scrubbing Bubbles® Mega Shower Foamer. Then move on to the counters and sink with an all purpose cleaner like Fantastik, do not start wiping yet! Let the products do the scrubbing for you by releasing the dirt underneath. Now spray the outsides of the toilet with an antibacterial cleanser like the Antibacterial Scrubbing Bubbles® Bathroom Cleaner.
Step Three – Clean the toilet bowl. Wipe the inside with a toilet bowl cleaner and brush like the Fresh Brush® from Scrubbing Bubbles. Leave the brush in the bowl while you go onto step four if there are some stains you will need to scrub out. When you are done with step four finish off the bowl by scrubbing out the stains with a pumice stone.
Step Four – Wipe all of the sprayed surfaces. Again start in the shower and wipe and wash away all of the cleaner, then move onto the counters and sink, and finally wipe the outside surfaces of the toilet.
Step Five – Wipe the mirror with a Windex Glass Wipe.
Step Six – Sweep and mop the floor at the same time with a microfiber cleaning cloth attached to your mop.
Take out the trash as you walk out of the room and you are done! Doing this process once a week will guarantee you always have a spotless bathroom, and will keep the cleaning time down since there will be no buildup to scrub!