Get your bathroom clean once and for all!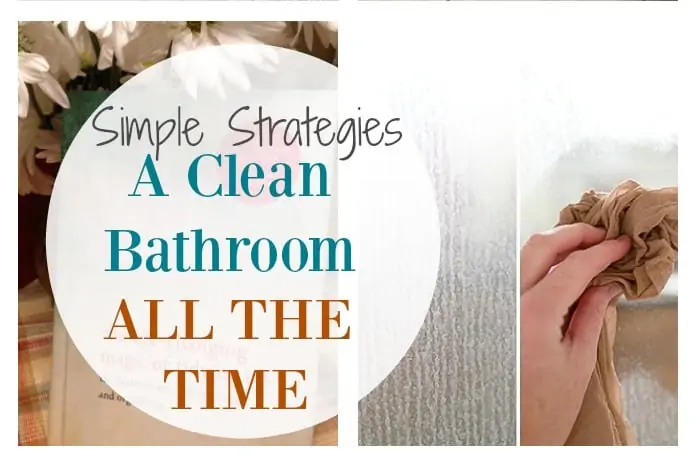 This post may contain affiliate links. As an Amazon Associate I earn from qualifying purchases. For more information, see our disclosure.
If you want your bathroom to not only BE clean, but to STAY clean, these tips are for you! You never know when that impromptu guest is going to come knocking on your door, and the bathroom is one place you can have magazine ready at all times! Here are the bathroom hacks that can get you to 100% clean, 100% of the time!
Store cleaning supplies under the sink – When your cleaning supplies are within reach at all times, it only takes 10 seconds to give that bathroom a good wipe down! In fact, who doesnt' love a few extra seconds of alone time after the deed is done! Stay in the habit, after every time you use the porcelien throne, pull the cleaning spray and paper towels out from under the sink and wipe down the counters and the sink. This image from Crafts a La Mode shows how easily it can all fit!

Use pump soap

– If you are still using a bar of soap next to your sink, that slimy little creature is likely to get soap scum all over the edges of your sink and counter. Get a pump soap (and preferably one that pumps foam) for the least amount of soap residue possible. And even better, make your own with this recipe from Don't Waste the Crumbs!
Have a squeegee on hand for after every bath or shower (or Magic Eraser or even Panty hose!!) Keeping current on this job is the single best way to never have to do an all day bathroom cleaning session. Commit to keeping up on this job and you will be forever glad you did.
Enlist the kids & teach them young. The very biggest problem we have with the bathroom and kids is first – the aim (if you know what I mean), and second, the TOOTHPASTE!! Oh my. How did toothpaste become the worst part of cleaning the bathroom?? The best solution we have seen for this is a hands free toothpaste pump. This limits the toothpaste overload that is then rinsed onto the edge of the sink, or wiped onto a clean counter top! Check out the hands free pump here.
Make the most of under the sink space (things stay hidden there) This is all about eliminating clutter! the more piles of q-tips, combs, and lotions you have on your countertops, the harder they are too wipe down every day, and the messier it looks!! Even in very small bathrooms, make the most of your under sink storage with baskets, and by hanging things on the shelf doors. For some easy and space effective storage ideas, check out Living Locurto.
Keep things OFF the floor! If you are familiar with the work of Don Aslett, he designed an entire house where nothing, not even furniture had to touch the floor! This made cleaning so simple. From affixing his bar stools to the cabinet, to built in shelving, nothing had to be moved to sweep or mop. Your bathroom can be the same. Do NOT leave on a bathroom floor, a laundry basket, your dirty clothes, potted plants, step stools, free standing shelves or anything that would require being moved to really scrub down the bathroom. If possible, even raise the garbage can off the floor, or keep it under the sink. Put it on your future wish list for your dream house, that everything is elevated, even this dog food drawer!
Use an easy to remove shower caddy. Too quickly and consistently clean the tub or shower, keep all the shampoo, shower gels, soaps and razor in a caddy for hanging. This leaves the edges of your tub perfect for a quick wipe down! No place for a shower caddy? Use a simple mesh tote and hang it from the shower rod!
Use bleach tabs in the toilet. Who doesn't love these new bleach tablets you can put into the tank of your toilet!! A refreshing cleanse with every flush. Plus, they smell clean! If a bathroom at least smells clean for me, it really doesn't have to be THAT clean for me to feel comfortable in it.
Let your cleaners work for you! So often, we're in a rush, that we spray and wipe. The problem with this is you're using elbow grease when you could be letting the cleansers do all the hard work! Let the cleaner soak for a few minutes before you wipe down everything. While it's doing it's magic, move onto wipe or clean another part of the bathroom and come back to this. The grime will be much easier to wipe up and you won't have to use so much power in scrubbing.
Minimize!! Marie Kondo had it right when she said it's MUCH easier to keep thing clean in your home, if there are less things to clean!! Minimize the products i your bathroom and you will be SHOCKED at how much cleaner it will feel. Do you have a lotion or body spray that has been in your cupboard for more than a year? Get rid of it! For real. You will be much happier with it out of your life than cluttering up your bathroom you can't keep clean. So, for heaven's sake! Before you do anything above, get rid of products you don't want or need any longer.
And there you have it! Let's get to work and keep our bathrooms clean!