Another classic storage solution that just may never go out of style… glass containers. When it comes to glass you just can't beat the fact it's always nice too see what is inside. Drinking glasses are an especially great item for storage. Cheap and boasting height, they can house many items. Consider a drinking glass for items like pens, pencils, scissors, toothbrushes, and makeup brushes.
Just remind your kids these glasses aren't for drinking. I learned that the hard way when I discovered about fifty homework pencils on the floor one day. I guess it was far more accessible to my three year old than the high up kitchen cupboard.
This post may contain affiliate links. As an Amazon Associate I earn from qualifying purchases. For more information, see our disclosure.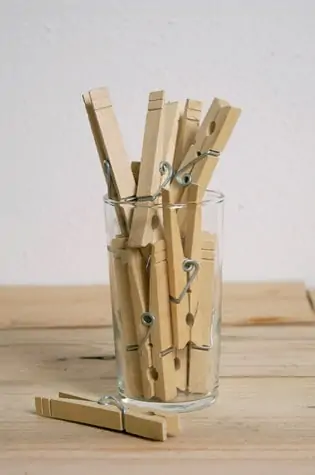 It's week #3 in our Creative Storage Solutions series! Today we are talking about vintage mason jars.
I know, I know, using vintage mason jars for storage is old news, right? But they still remain one of the most popular ways to store items for display. The problem is, they sell for almost $10 a piece on sites like Etsy and Ebay. Here's a little secret I bet you didn't know. You can purchase just the vintage lids and pair them with new jars from your local grocery store. Below I purchased a set of 12 lids for around $8, and paired them with brand new jars from Wal-Mart.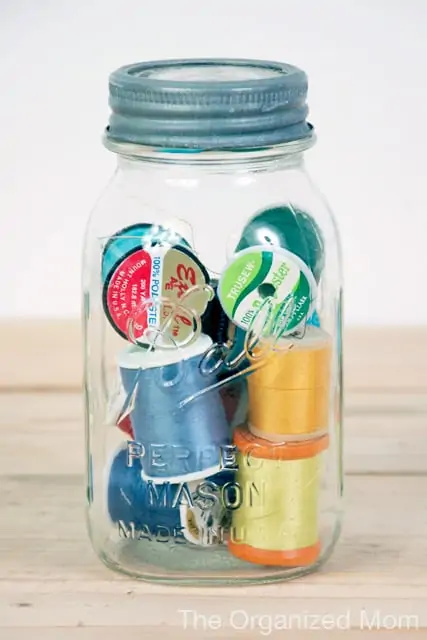 Still too pricey for your budget? Don't feel bad, I am cheap too. Try purchasing new metal lids instead, like in the middle crate below. Give them some color with spray paint found at your local hardware store.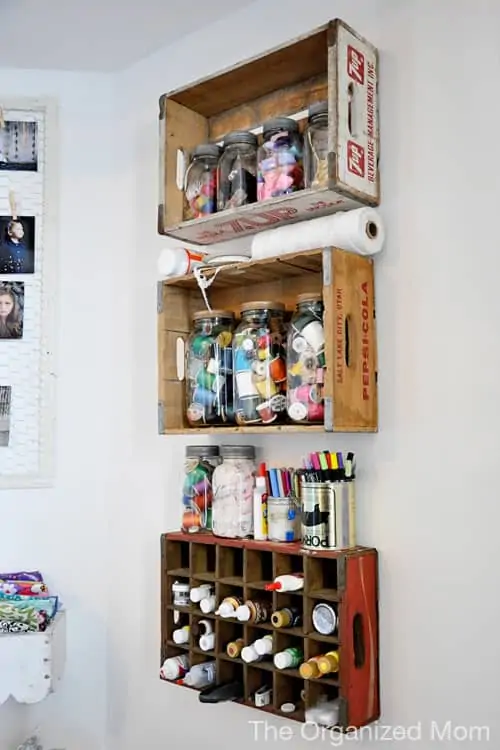 Plastic lids are great for kids rooms too. They are much easier to take off and put back on than glass jars. These lids below were sprayed with a spray paint intended for plastic.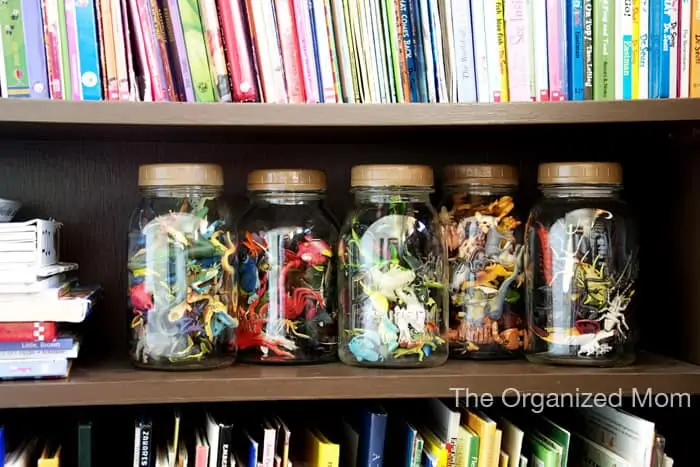 Nervous about jars made from glass holding small items around kids? Some stores offer similar looking jars in plastic too.
It's time for the fourth week in our Creative Storage Solutions series! This week we are talking about creative paper storage.
I swear half of my office storage space is for some sort of paper related item. I am always on the look out for a creative way to store paper that is easily accessible for myself, and my kids. This vintage storage box was originally intended to house 35mm slides.
Not really practical know since my kids have no idea what film even is.
So sad, right? Of course my dad said the same thing about me and 8 Track tapes, and I rolled my eyes then too.
After staring at the box for several weeks, I finally pulled the front door off, and decided it was the perfect box to sit on my desk and house paper. Now my kids have easy access to paper for writing and drawing, and my desk drawer is very much appreciative for receiving far less abuse.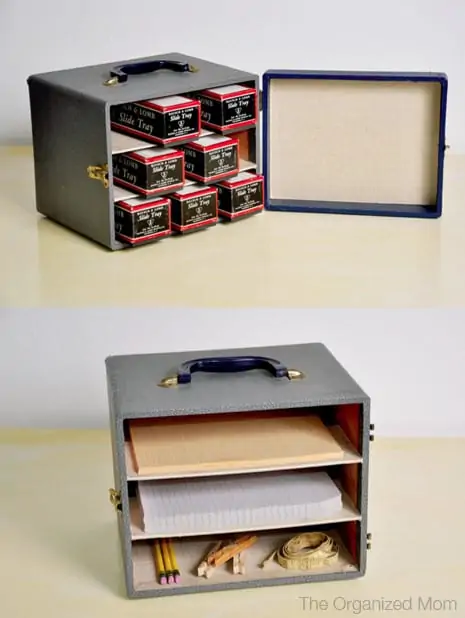 I am always in need of a greeting card. Whether it's for a child's birthday, or a get well card for a neighbor, I am always digging for something to personalize for a friend. To help remind me to remember to write a personal note, especially when a thank you is on order, I wanted to have a small box in my kitchen that had easily accessible blank note cards. One day while cruising the aisles at my local Habitat for Humanity ReStore, I came across this metal box traditionally used for electric work. For just fifty cents I picked up several, and they have become one of my favorite storage containers. I have used them to hold tape, post it notes, note cards, and paper scraps for grocery lists. The options are endless, and the purchase helped upcycle an item that might have eventually ended up in the trash.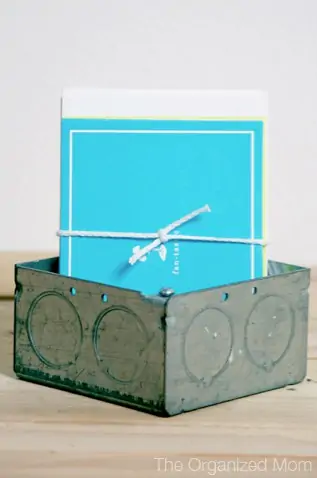 My grandfather was in the Air Force and was an incredibly organized man. One time in his car I noticed he had a label on the rear view mirror that stated "Rear View Mirror." I don't know what senile friends he lent his car to, but you never know!
I must have inherited the label everything gene, because I love organized labels. The great thing about labeling is it can be as inexpensive and creative as you make it.
A few months ago I found an old retro labeler for a few dollars at a consignment store.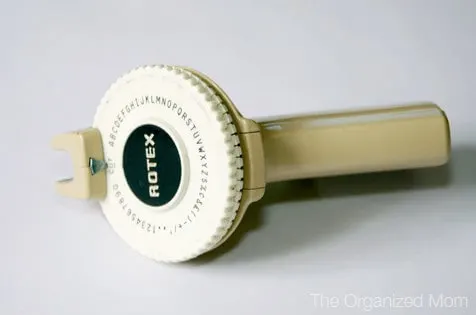 I took some red hatboxes I had in storage, gave them a fresh coat of white paint, and went to work labeling all of my craft supplies. I love the look of the labels so much better than just writing on plain white stickers by hand.
Chalk, paint, or even calligraphy are also great options for creatively labeling containers on display.
I cannot emphasize enough how much I love old tool boxes. The more rust and dents, the more I swoon. Strange, I know. But alas, it's still true. The great thing about tool boxes, old or new, they are both portable and organized. When I first started scrapbooking several years ago, I skipped all the traditional storage containers, and went straight to Home Depot and bought a tool box. Handle on top, lots of little compartments inside. Perfect for storing lots of small tools and craft items.
The red tool box below I keep near my sewing machine table. It holds sewing patterns and large spools of thread for my serger. On a site note, my mother will be so pleased that I at least blogged about my serger, since I never seem to have time to use it. You are welcome Mom. 🙂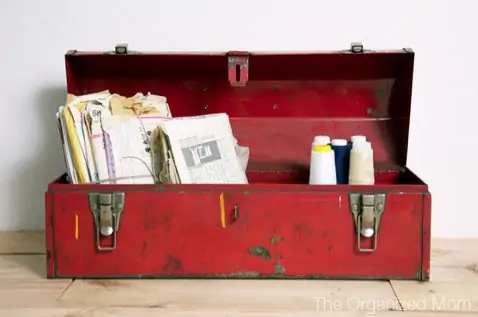 It's classic, natural (literally), and has been around storing people's crap since the beginning of man. Wood is cheap, and with a few basic tools, can be made into so many storage possibilities.
Just last year my husband expressed a desire to get into woodworking.
"If I let you buy all these tools, you will make me whatever I want, right?" I asked him as he pleaded one afternoon in the tool aisle of Home Depot.
I think he has regretted his yes ever since.
One of his first projects for me was making several wood boxes for storage. Pictured below you can see that a basic wood box combined with a lovely dark wood stain creates a classic piece of decorative storage. The great thing about DIY is that you get exactly the right size you need.
Don't have all the right tools? Ask you home improvement store how many free cuts they offer, or bake your famous cookies for your neighbor who just happens to own a saw.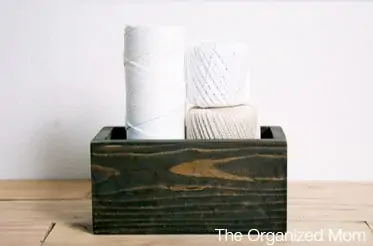 Current projects on my craft table look like they have imploded from the inside out. I get in a crafting mood, and before you know it my craft tools are buried in a mound of fabric, glue, and paper. I recognize that to be in my creative element I sometimes need to make a mess. I also recognize I will never be finished painting a craft if I can't even find my paintbrush in the mess. Resolution? Storage containers that are intended only for projects I am current working on.
I love making greeting cards with rubber stamps. Instead of pulling out my entire box of stamps on my desk, you can see below that only the stamps I am using are displayed. I now use this same metal container with just about every project I am currently working on. When I am beading it holds all my tools, and when I sew I will put zippers or thread I intend to use inside it. When a project is done, it is cleaned out and remains empty until I start a project again. It's a great size for carrying around, and when it's full it's a reminder to finish a project or clean up.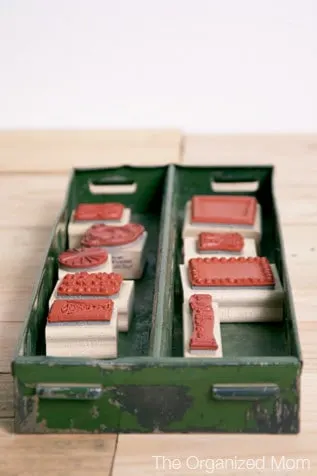 Collecting vintage and antique items is a hobby of many people, but I always love it when I see someone not just display an old item, buy reinvent and put it to use.
Several years ago I was invited to accompany my daughter on a preschool field trip. I was also asked to bring and be in charge of some basic first aid items. I pulled out my emergency kit, and knew instantly I would feel silly walking around with a big bright red bag with a white hospital cross on the side. I desperately searched my house for a different bag, but did not want to be carrying around two purses either. Inspiration hit when I walked past an old camera case on a bookcase. It was the perfect size to hold and protect first aid items. The strap was the right length to fit over my shoulder, and the front flap made reaching band aids easily accessible.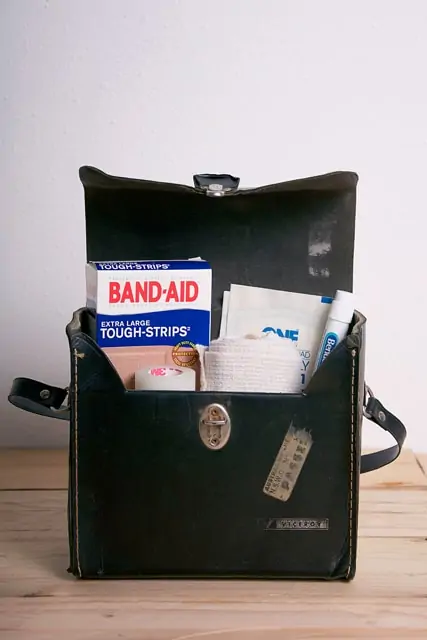 Though I fortunately only had to give out two band aids (and two hugs to match) several moms commented on how cute the case was. I have used it several times since to carry a compact camera or snacks on other family outings.
I have a real appreciation for pottery. I took a ceramics class when pregnant with my first child. I don't know if it was the hormones or horribly shaped clay constantly flying off the potter's wheel, but I would often leave the class in tears. Let's just say hormones, shall we?
I love pots, and have found they are far too often reserved just for potted plants or decorative candles. This pot below was a hand me down from my grandmother, (I sure didn't make it), and it's the perfect size for holding items in my laundry room.
Ceramic pots are also great for holding kitchen utensils, craft supplies, silverware at a dinner party, or even office supplies on a desk. My father had a small clay pot for years that held spare change in his closet. Though I must say it disappeared the first time my younger sister at the age of two digested her first penny.
Notice I said first time. 🙂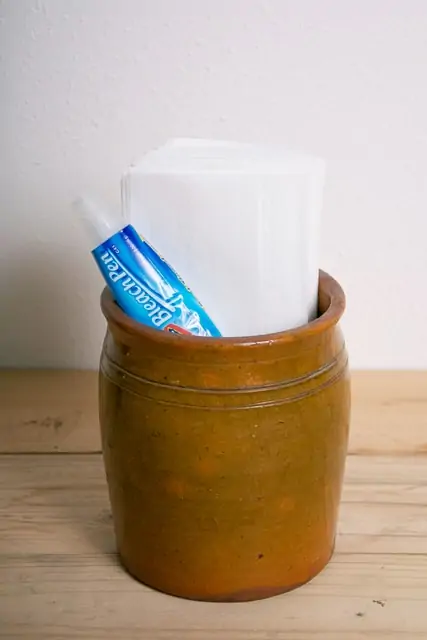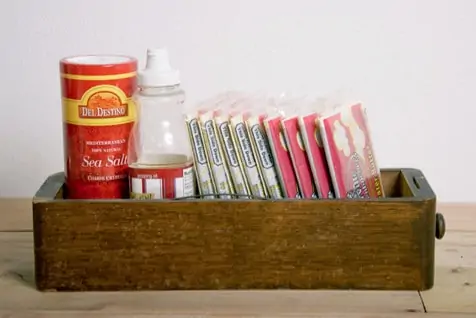 Forget the zombie infatuation that is currently rampant in the world, I think the beautifully decorated and organized pantry movement is far more frightening. Here's my advice on the pretty pantry movement… don't get carried away with overpriced containers. Try not to spend more on the container than the food that goes in it. Also, remember the food can spill and damage whatever holds it. I bought several fabric bins, and one still bears the after marks of several spilled and squished marshmallows.
When organizing my pantry I turned to an old sewing machine desk I intended to restore, but realized it was just too far gone to bring back to life. The drawers have proven to be excellent storage in my pantry since they are long and narrow. Contact paper on the bottom of the drawer also protects them from spills. I also have several clear plastic containers that hold snack type items. They may not all perfectly match, but they were affordable solutions in a hard to organize space.
Have you seen those fake books that you put on your bookshelf? You know, the ones where you you hide your spare cash, or keep important documents? I hate to tell you that it might not be such a good hiding place after all. Those ideas have been around long enough you just might be better off trying something new. Consider other decorative storage hiding places. We keep spare keys hidden in a decorative tin on a shelf.
Or at least we did. I should probably find a new hiding place now. 🙂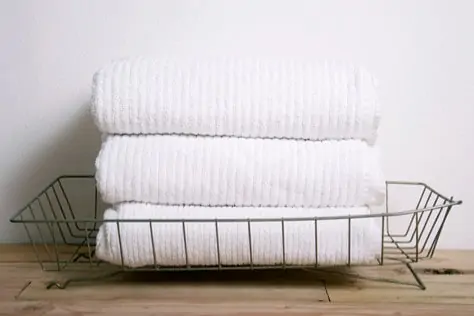 When my daughter was young I purchased a vintage pram and used it to stroll around the neighborhood. Adorable, I know. When she grew out of it I just couldn't part with the wire basket. Like any baby keepsake it reminded me of the days when she couldn't talk back to me, and napping was still an option. Oh how I miss the napping!
Now it lives in our master bathroom holding extra bath towels. Having a hard time parting with storage containers or favorite items that have meaning? Try reinventing them for other purposes. Otherwise, it just might be time to let go!
Unfortunately, sometimes buying one container just isn't enough. Don't discredit buying boxes or plastic storage containers in multiple sizes, especially when it comes to art or office supplies. My kids never craft in the same place. For us it makes sense to have small pots hold art supplies, all layered in a larger container allowing them to carry it around the house. When purchasing containers, don't be afraid to try them out in stores like Target and Walmart. A pot in the gardening center may fit perfectly in a decorative tray in the home décor section.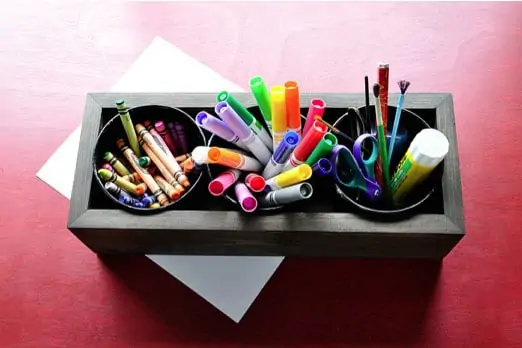 In my home I am constantly in need of storage hooks for items like jackets and back packs. With four growing kids we need a lot of hooks. After a recent outing to Wal-Mart I discovered that to purchase enough plain boring white plastic hooks would cost me a small fortune. It was definitely time to get creative.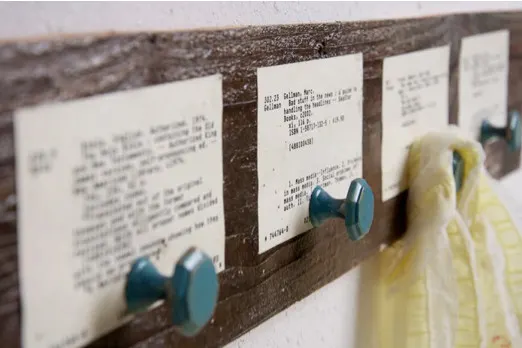 A trip to a local hardware store proved to be much more savvy. My local Lowe's happened to have brass hardware on clearance at fifty cents apiece. I picked up a can of spray paint, and used a piece of scrap wood at home to create several storage hooks for around the house. I even spiced it up with some vintage library catalogue cards. The hooks would have been fine without, but if you want to get really creative you could paint your child's initials, or post a favorite picture of each child above as well. In the end I was so glad I didn't go with traditional plastic hooks. The one I made turned out to be much more personal, and I get many compliments on it as well!
In my photo studio I have a small space designated for sewing and crafting. Since I often have small children inside for pictures I needed to have a storage space where little hands couldn't reach my supplies. Most of the time the space is hidden by backdrop paper, but on occasion is viewed by adults. What I really wanted was to have open storage that looked nice but was also easily accessible to me. These vintage soda crates were the perfect solution to my problem.
Vintage soda crates can easily be found on Ebay or Etsy for around $20 a piece. Sizes vary and can be great for storing big or small items.