Are you looking to change things up in your teen's room? I have a thorough list of items you will want for your DIY teen bedroom makeover.
We recently redid our tween and teen boy's bedrooms. We found some great items that helped us easily transform their rooms into something they love.
Items You'll Want for a Teen Bedroom Makeover
A New Bed and Bedding
This post may contain affiliate links. As an Amazon Associate I earn from qualifying purchases. For more information, see our disclosure.
First things first. The bedroom is where your teen does their sleeping so we should definitely start there with our DIY teen bedroom makeover.
The Bed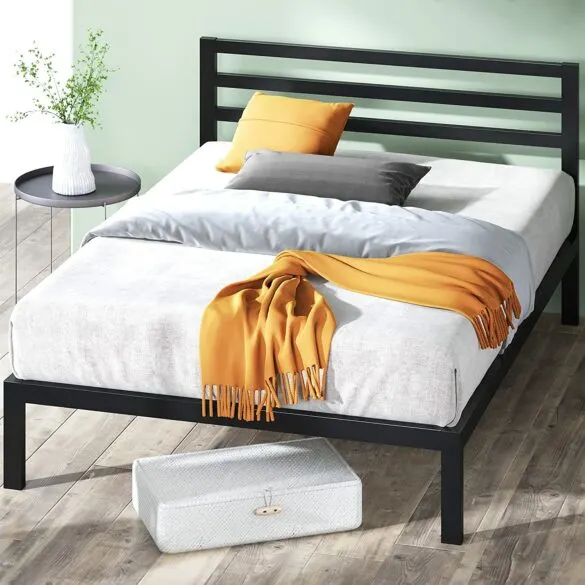 If you are looking for a modern type bed frame this find on Amazon might be just right for you. It's a quick set up, doesn't need a box spring and has a smaller price tag. Right now it's $98 for a twin size.
The Bedding
Every new bed deserves some new bedding. You will want to grab a new set of sheets and a comforter.
In the past we have used duvets and duvet covers. Yet, in an effort to simplify and avoid having to take the duvet cover on and off each time we wanted to wash it we went with a comforter this time.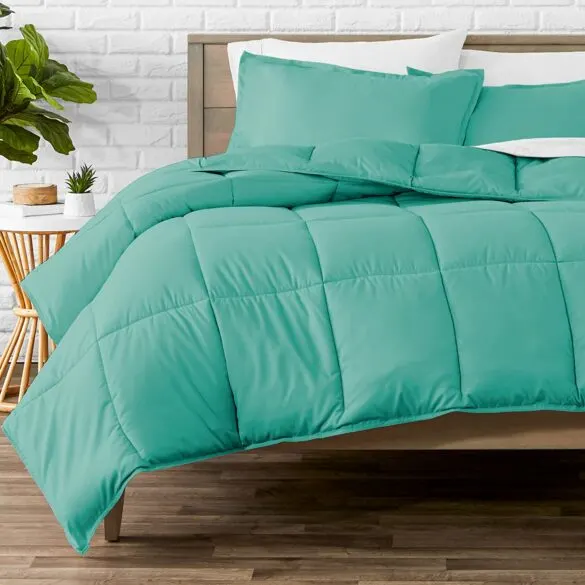 Check out this comforter from Amazon. We chose it for a few reasons.
For starters it had A LOT of positive reviews. It came in a variety of colors to choose from. Lastly, the price was right. A twin sized comforter was $38.99.
Decorative Pillows
To make the new bed and bedding feel even more inviting and homey some decorative pillows are the next step.
Knowing what size of pillows to buy is the another hurdle to overcome. I found this SUPER helpful article on Overstock that shows you king, queen and twin beds and a variety of pillow arrangements for each.
Once you've decided on your sizes you can choose the color scheme you want to stay in and then you are off. I had success finding decorative pillows (less than $20) at IKEA, ROSS and on Amazon.
Some I purchased the whole pillow. Others were just pillow covers and I bought a pillow for the inside. Also, I put covers on pillows I already had.
Rugs
Next on our list of items to help with our DIY teen bedroom makeover was to find a rug for each room.
Rugs make a space feel more warm and welcoming and add texture and dimension. When considering what rug to purchase there are a few things to keep in mind.
First, what size of rug will fit best in the bedroom? Second, what color of rug? Third, do you want a rug with a pattern or a solid color? Fourth, what texture of rug would go best in the room?
Rugs vary greatly in price. We averaged between $25-$50 on our rug purchases.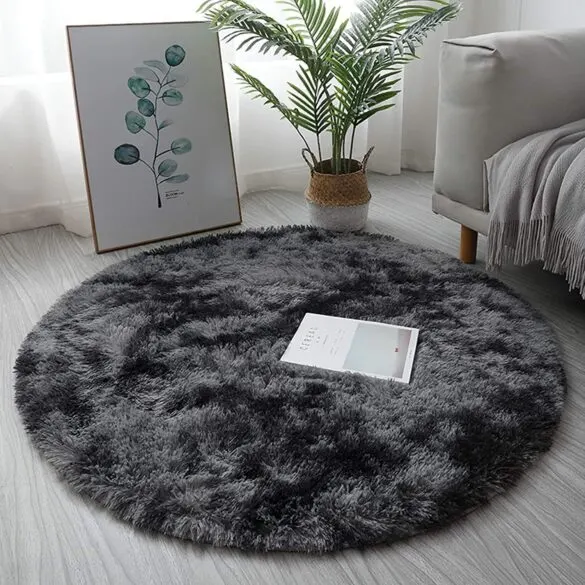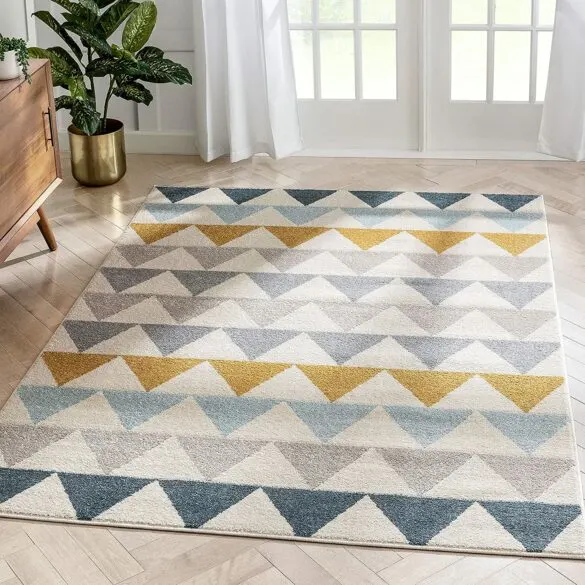 Sitting Space
In order for the teen in your life to have their room be a place where friends can hang out there needs to be some sort of seating.
It can be as simple as some chairs or as exciting as a hammock hung from the ceiling. When it comes to seating your options are almost endless.
We went with normal chairs in our first son's room. He enjoys playing the guitar and a simple chair seemed to fit more with his lifestyle than say an egg shaped chair.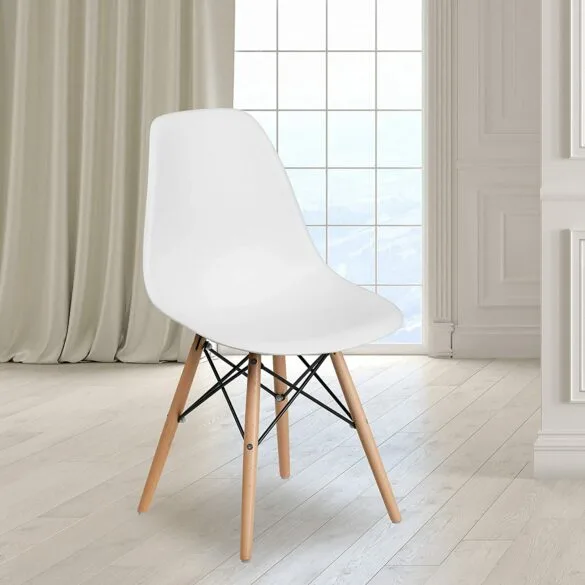 This white plastic chair was the winner for us. It came in a 2 pack from Amazon for $101. Having 2 chairs gives him somewhere to sit as well as a friend. These chairs also come in a variety of colors and were surprisingly comfortable.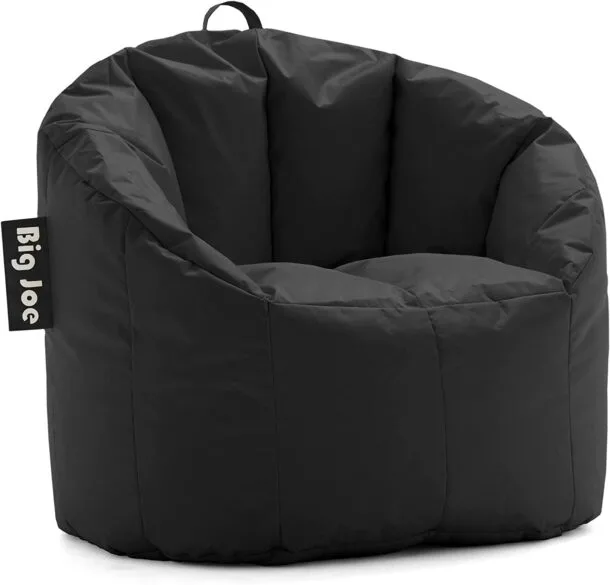 Our other son just needed somewhere comfortable to sit and hang out or read. So we opted for this Big Joe beanbag chair ($52.99).
A couple things to note about this chair. We ordered a medium size and it fits our son comfortably as well as myself. It isn't squishy like other bean bag chairs. Though it does hold its shape a little better than a normal bean bag.
If your DIY teen bedroom makeover includes a desk then the desk chair also offers additional seating in the room. We purchased this desk chair from IKEA ($49.99).
Wall Decor
The ideas for wall decorations are endless! Which can be super overwhelming when trying to give your teen's room a makeover. We stumbled upon a wall decorating life hack for our boys rooms.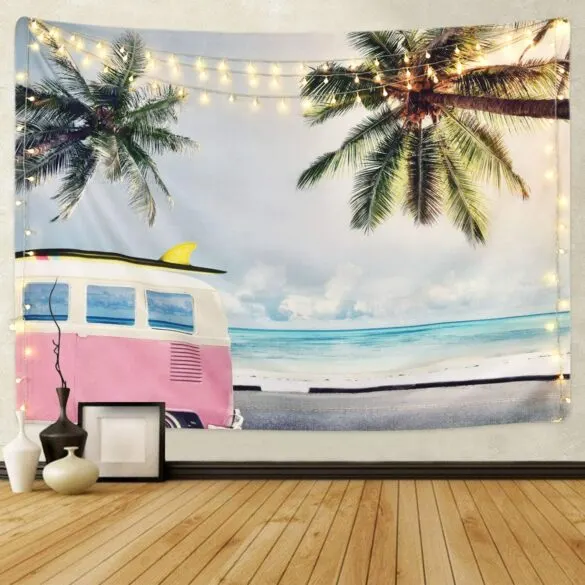 The tapestry. It's a game changer for sure. Tapestries are super cheap (usually less than $20). They come in a variety of sizes to fit your space. There are SO many kinds and designs and even ones that can be personalized.
They are also super easy to hang. We just used clear push pins on each of the corners. Easy peasy.
Mirror
It's pretty much a no brainer that every teen is going to want a mirror of some sort in their bedroom. There are all kinds of mirrors out there. Big and small, expensive and cheap. We found the best fit was this full length mirror from Walmart.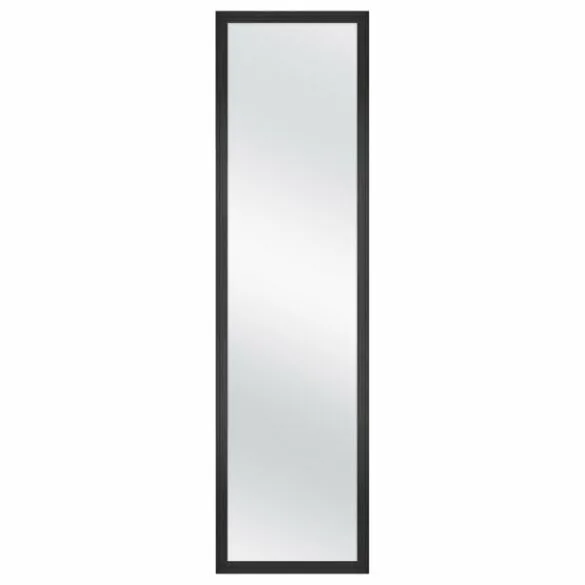 The full length rectangular mirror is awesome. It can easily be hung from the back of the door or on the wall with Command velcro strips. That's not even the best part. This mirror from Walmart is only $7! It doesn't get better than that.
Lights
You can add lights to your bedroom makeover with lamps or a new light fixture. For our boy's rooms we decided to go with strip lighting which was only $20 for 50ft.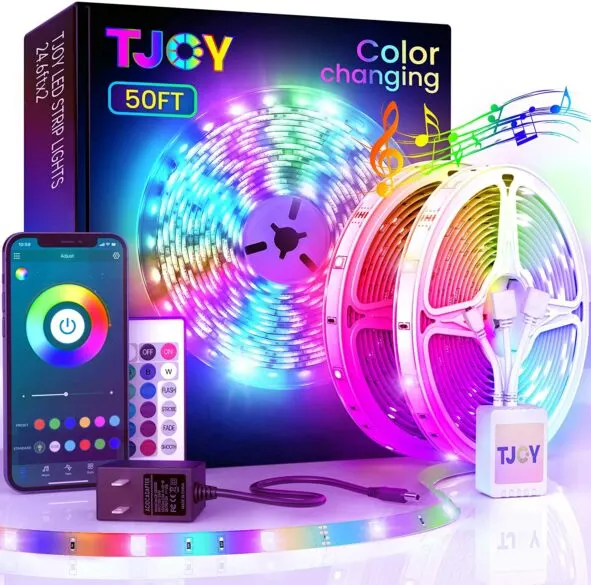 These lights have been a HUGE hit! You can run them along the top of the baseboard in the bedroom. They can be bright enough that you can still read a book by them or dim enough to be used as a nightlight. They are remote controlled or can be controlled by your smart phone as well.
Have confidence in your DIY teen room makeover. It can be a fun and simple process when you find an item in each category (bedding, rug, seating, wall decor, mirror and lights).