Have you been putting off preparing your family for an emergency? It is a task that often gets moved to the bottom of my to-do list since it never feels urgent. It also can be overwhelming with a never ending list of emergency situations to be prepared for.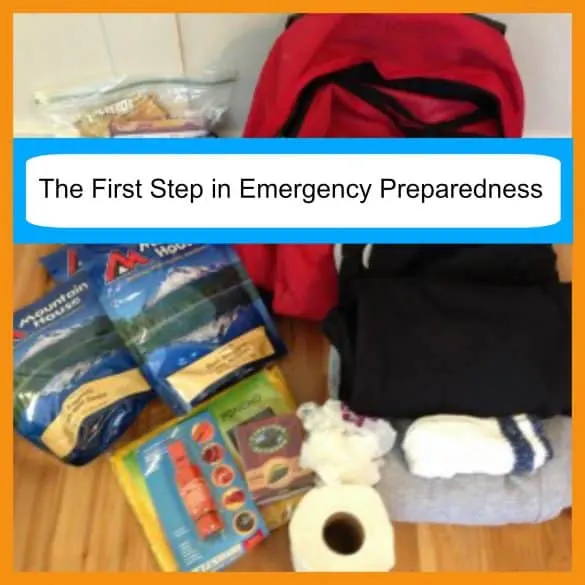 This post may contain affiliate links. As an Amazon Associate I earn from qualifying purchases. For more information, see our disclosure.
72 hour kits are a great way to start organizing your family for an emergency. A 72 hour kit is something you can grab quickly if you needed to vacate your home, and would sustain you for 3 days or more. Think of a situiation such as Hurricane Katrina. Families had to leave their homes quickly and many ended up taking shelter in less than desirable places with not enough food or other necessities. If you had to evacuate your home quickly (it could be minutes in the case of a flood or other natural disaster), a 72 hour kit should be handy to grab and go. Our family members each have their own kit. Each person has a backpack with their name on it and I store them in the garage for easy access.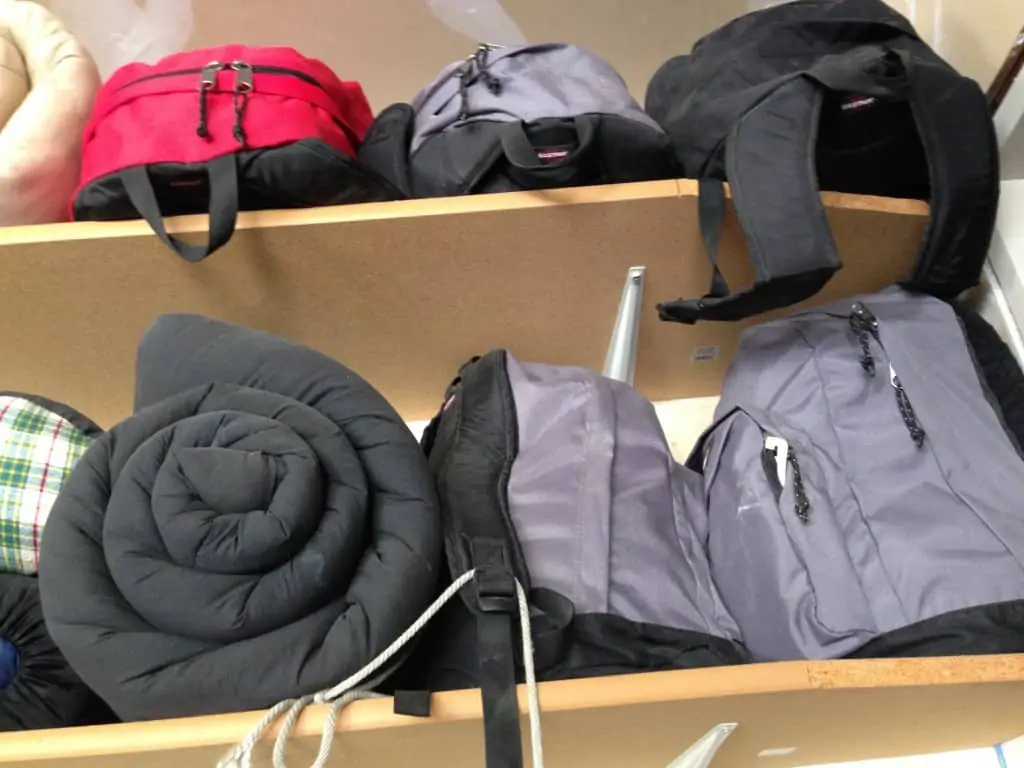 What goes into a 72 hour kit? That will vary according to needs, age, climate, etc. Of greatest importance would be 3 days worth of food. There are many menus available online such as this one:
DAY ONE
BREAKFAST 1 oatmeal & 1 hot cocoa
LUNCH 1 cup soup, 1 granola bar, 1 beef stick, 1 hot cocoa
DINNER 1 can chicken noodle soup, 1 applesauce
SNACK 3 pieces of candy, 1 stick of gum
DAY TWO
BREAKFAST 1 oatmeal & 1 hot cocoa
LUNCH 1 cup soup, 1 beef stick, 1 applesauce
DINNER 1 can ravioli, 1 fruit snack, 1 hot cocoa
SNACK 3 pieces of candy, 1 stick of gum
DAY THREE
BREAKFAST 1 oatmeal & 1 hot cocoa
LUNCH 1 beef stick, 1 fruit snack, 1 hot cocoa
DINNER 1 cup soup, 1 trail mix
SNACK 3 pieces of candy, 1 stick of gum
WATER
Water also needs to be added. I keep 2 liter bottles full of water near our kits. I plan 1 bottle per person. Store the food in ziplock bags to help keep it dry and protect other items from leakage.
MENU
I changed the menu up a bit for our family. I am not very good at keeping things rotated so I wanted a longer shelf life on some of the food items. Our lunch and breakfast items are similar to the above menu, but I used freeze dried food packets for dinner. Freeze dried food is much more expensive, but has a shelf life of 20 plus years. I felt it was worth the investment for our family.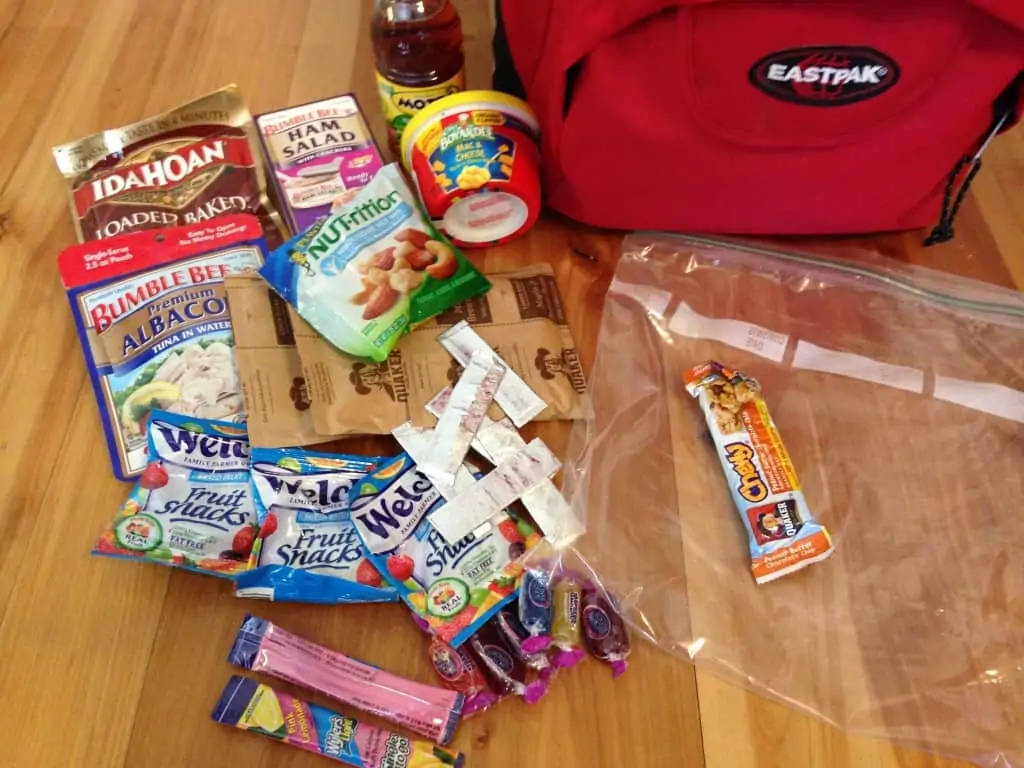 CLOTHING
Next item in our kit is warm clothing. I bought each person a cheap, but warm set of sweats. I bought them big so they could layer over other clothing, and also to allow for growth with my children. A change of underwear, warm socks, and a rain poncho are the final clothing items I added. I also put in a set of hand warmers. I would like to add a mylar blanket to each kit for extra warmth needs and sleeping.
Add hygiene items to your kits as needed. Ours have a roll of toilet paper, small toothpaste and brush, soap and washcloth. I put a supply of tampons in my personal kit. If you have a baby, add diapers. Consider medical needs. I still need to add small first aid kits.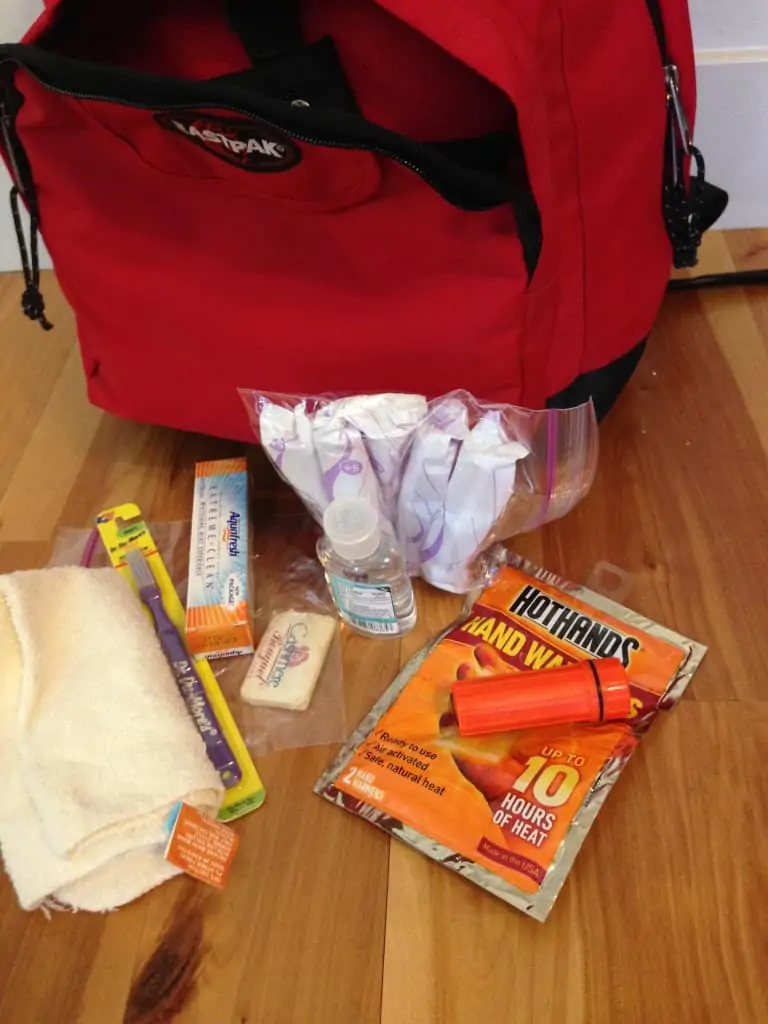 Those are the most basic items, but of course you can add more things as budget and space allow. I have an emergency whistle in mine, as well as matches in a water-proof container. The next item I plan on purchasing is a water bottle with a purifier. This is a good investment for me since it could also be used for hiking and camping.
More bonus items would be cash and medicinal items. Children' s kits should include contact information for the parents.
START PREPARING NOW
Don't get overwhelmed by the process of being prepared for emergencies. Commit to prepare in some way each month and soon you'll see your supply growing. Here are supplies needed in list form:
backpack (labeled with emergency information inside)
change of clothing, underwear, and socks
rain poncho
hand warmers
food items (use menu above or buy freeze dried)
hygiene items
first aid and medical needs
cash
other: water purifier, matches, flashlight, whistle, etc.
Remember water! If there is not room in your kit, keep a supply nearby for easy grab and go.
Putting some time into getting your family organized for emergencies gives peace of mind. It is a good project to do as a whole family. For example, we went shopping as a family to pick out sweats. I did the grocery shopping for food items then each person put their ziplock bag together and added it to their kit. We have enjoyed working together as a family to be prepared. My kids favorite part: eating the food supply when we update to keep things from expiring. They love the novelty of getting to eat individual serving sized items that I don't normally buy. Hold a family meeting and get your children's input on what your family should do first. No more excuses . . . get started on emergency planning! And stay in touch for future posts on food storage planning.