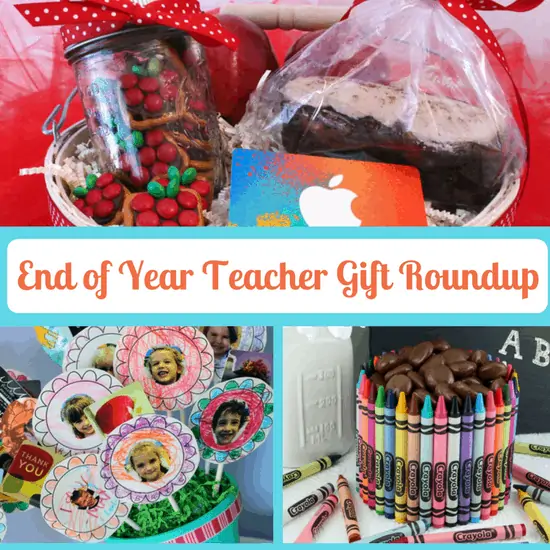 Did your child have an amazing teacher this year? The end of the school year is rapidly approaching. Now is a great time to show your family's favorite teachers how much you appreciate everything they've done to care for and educate your child this year. Here is a roundup of the best end of year teacher gift ideas from around the web for your favorite educator.
End of Year Teacher Gift Ideas
DIY Gifts and Sweets
This post may contain affiliate links. As an Amazon Associate I earn from qualifying purchases. For more information, see our disclosure.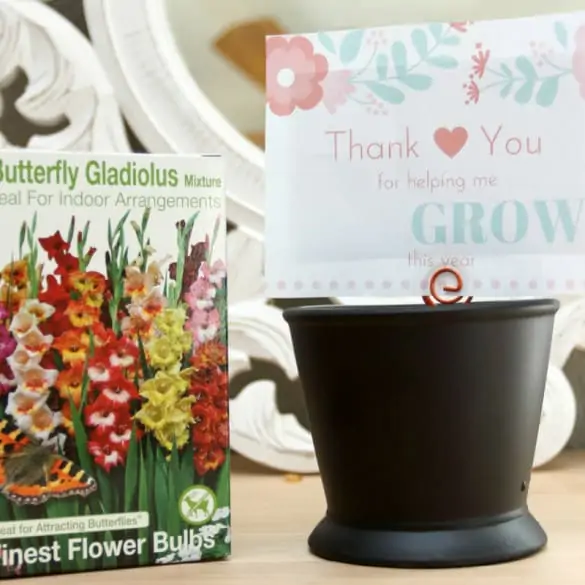 This is a simple DIY gift that is easily customizable for your child's favorite teacher. A packet of seeds or a potted plant would both fit nicely into a flower pot. Your child can decorate the pot with paint for a fun personal touch, depending on their age. Or you can help them create a card to go with their gift.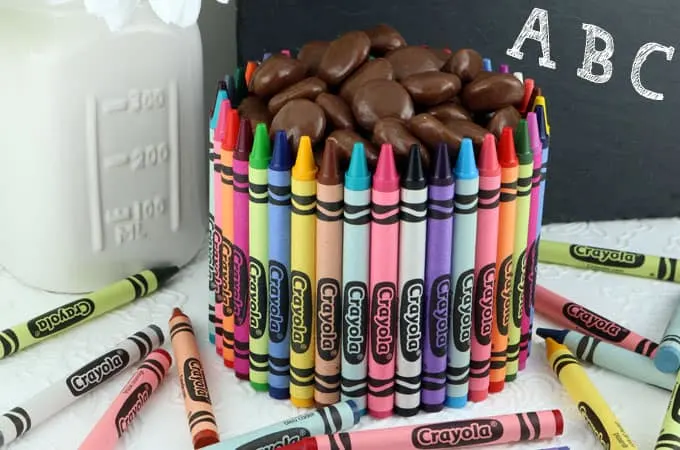 This DIY teacher gift is easy and inexpensive. I've seen these filled with all varieties of candy and treats. Since I am not super skilled at crafts, I like that this one is simple and requires very little artistic skill on the part of a parent making it. And it's colorful and fun. A great way to say thank you to a favorite teacher.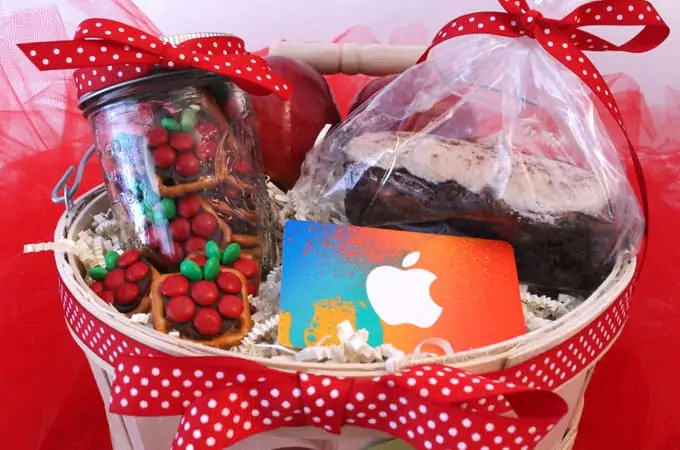 This lovely basket is a beautiful way to thank your favorite teacher for all their hard work. You can customize the basket's contents with a variety of goodies centered around the apple theme. And it's generous if you are able to include the Apple gift card.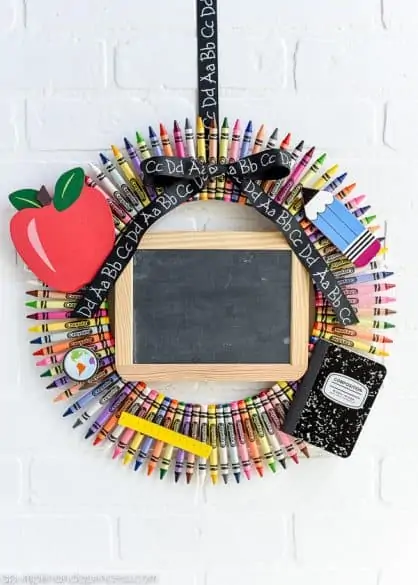 For moms with some serious DIY skills, putting them to use on this chalkboard crayon wreath is sure to be appreciated by your child's teacher at the end of this school year.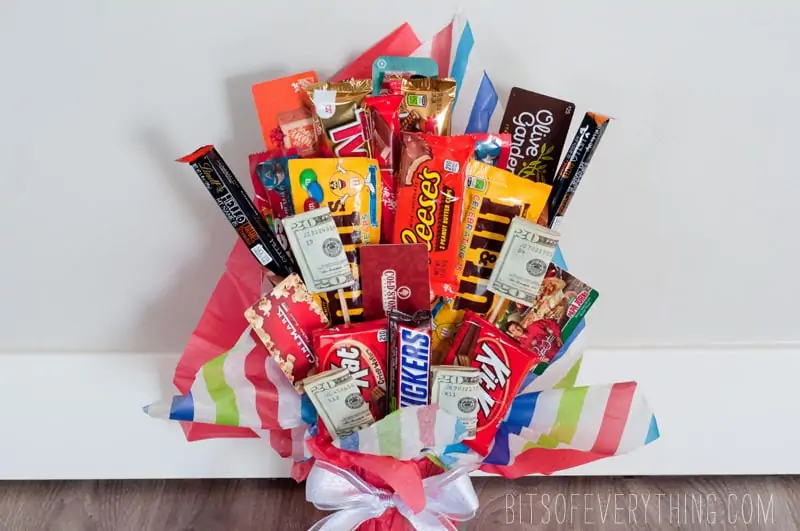 A fun and relatively inexpensive way to gift your sweetest teacher with some treats is a candy bar bouquet. The most difficult part of making this teacher gift will probably be keeping your kids out of the candy bars. You can include gift cards or personal notes in the bouquet if you want to avoid the cash pictured.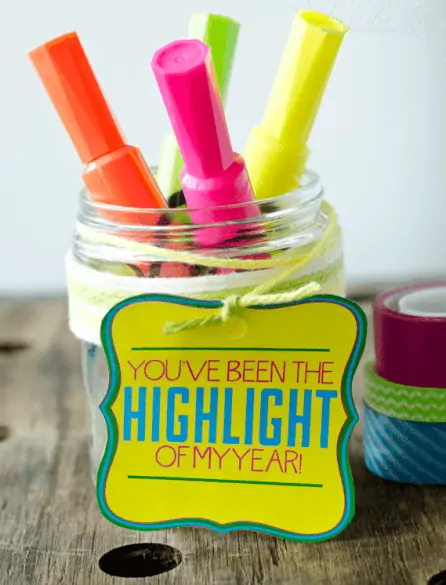 Teaching Supplies
Many teachers pay for classroom supplies out of their own pocket throughout the year. Consider what supplies would be most useful in their classroom for next year that the school might not provide. This can be art supplies, or special pens, or books for the classroom. Your child might have some suggestions. Or, go to the source, and ask your child's teacher what they would like as a gift for their classroom. And if you want to jazz up your gift of school supplies, add one of these fun printables to your end of year teacher gifts. Several are perfect to add to your gift of classroom supplies like pens, rulers, or hand soap. I love the tag for the highlighters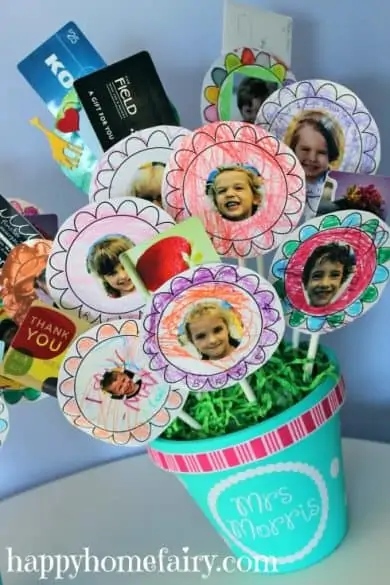 Gift Cards
As much fun as it is to give special teachers something crafty and colorful or a basket of sweet treats, a number of teachers have told me how much they appreciate gift cards. The thought behind a kid-created project or a basket of treats is wonderful. But when teachers receive 25 gifts at a time it can be difficult to find a place to store them all. Especially when you receive a fresh supply every year of a long teaching career.
Consider whether a gift card might be a more thoughtful way to give a special thank you to your child's teacher. And if you still want to make something fun and crafty, take a look at this teacher appreciation gift card bouquet.
Personalized Cards or Letters
However you choose to show your child's teacher your appreciation at the end of this school year, please include a personal letter or note from you or your child. Every teacher I spoke to said it's the personal notes of thanks and letters of appreciation that mean the most to them. They've been caring for and educating your child all year and chances are they will miss them. Help your child write a few sentences to let their teacher know they appreciate the time they spent with them this year.
Thank Them For All They Do!
Teachers are an important part of your children's lives. It's important to recognize the important role they play and all the hard work they put into caring for and teaching your child and a classroom full of their peers. I hope you can use these gift ideas to show your child's favorite teacher you appreciate all that they do.